Alabama-Mississippi All-Star Practice Top Performers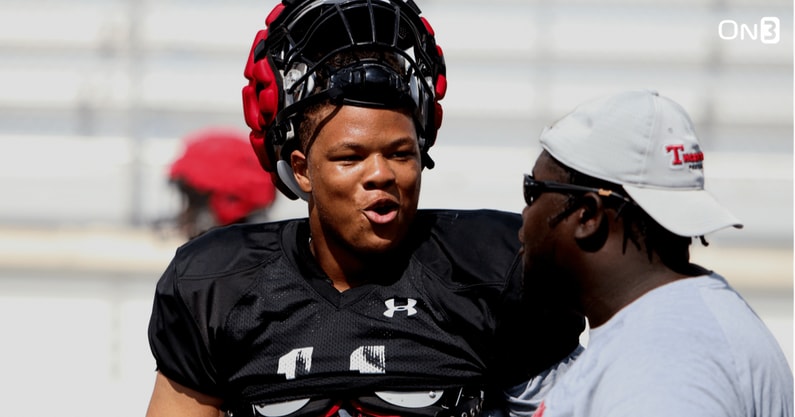 MOBILE, Ala. – A number of top 2023 prospects from Alabama and Mississippi are in Mobile, Alabama to take part in the 36th annual Alabama-Mississippi All-Star Game.
The game will be played on Saturday, December 10 at South Alabama's Hancock Whitney Stadium. Practices began on Tuesday night and will continued on Wednesday. On3 was on hand for the first three practices and brings standouts from talent-rich event.
AL-MS All-Star Practice Live Updates: Day 1 | AL-MS All-Star Game Live Updates: Day 2
On3 MVP: DL Peter Woods – Clemson
Peter Woods turned in a dominant showing at Alabama's practice on Wednesday morning. The Alabaster (Ala.) Thompson product was unblockable in inside drills and 11-on-11 sessions. Woods lived in the backfield all morning and teed off on the opposing offensive linemen. It looked like he and the talented Alabama defensive line made it difficult for the offense to get much done in the practice session.
Woods lined up all over the defensive front, even kicking out to defensive end at times. His initial quickness off the ball and ability to convert speed to power was readily apparent. The Clemson pledge has a compact build at around 6-foot-2 and uses the lower center of gravity to his advantage in exploiting leverage. We saw Woods get underneath the pads of taller offensive linemen and use his strong base and heavy hands to walk the linemen back to the quarterback. He really took off in pass rush situations, showing some eye-catching burst and bend around the edge. We were also highly impressed with Woods' overall effort level. He practiced the hardest of any player for Alabama on Wednesday and it showed. Even towards the end of practice, Woods was chasing after running backs from sideline-to-sideline. The Yellowhammer State standout ranks as the No. 48 overall prospect in the 2023 On300.
2. LB Suntarine Perkins – Ole Miss
Suntarine Perkins entered the week as On3's top-ranked 2023 prospect in the state of Mississippi and more than lived up to the lofty billing. The 6-foot-3, 210-pounder immediately sticks out on a team full of Power Five and FBS prospects. Perkins has a long, lean and muscular build with an ideal linebacker frame. The Raleigh (Miss.) star turned in a dominating performance in Mississippi's Tuesday night practice and followed that up with another strong showing on Wednesday. He showed a wide repertoire of skills in 11-on-11 work, recording a sack and tackle for loss off the edge before kicking out to cover slot receivers. On Wednesday we saw Perkins chase down Alabama safety commit Bray Hubbard (playing quarterback this week) from behind for a would-be sack. The ability to diagnose plays and finish with physicality was also apparent.
A prolific multi-positional high school player, Perkins primarily working at linebacker at Alabama-Mississippi practices, but may see some carries throughout the week. Alabama-Mississippi marks a whirlwind run for the top 100 prospect, as he turned in a historic showing in leading his team to a state title last week.Based on the end of his senior season and the showing in Mobile, Perkins looks like one of the top linebacker prospects in the 2023 cycle. Perkins ranks as the No. 78 overall prospect in the On300.
3. WR Ayden Williams – Ole Miss
Ayden Williams showed why he's the top wide receiver prospect in the state of Mississippi. The 6-foot-2, 190-pounder has looked like one of the best route-runners in the 2023 cycle dating back to his junior season and off-season events. That skill set was on display once again in Mobile, as Williams was the top receiver on hand for either team. The Ridgeland (Miss.) product was able to create separation on a consistent basis. He's advanced as a route-runner and understands how to read and set up defensive backs. Williams got vertical for a long touchdown on Tuesday night. On Wednesday, we saw him square off with Kelley Jones on several reps, winning one with a nasty inside move. Williams looks like a potential early contributor in Oxford given his technical polish. The Ole Miss pledge ranks as the No. 190 overall prospect in the On300.
4. EDGE Yhonzae Pierre – Alabama
Yhonzae Pierre worked with the Alabama linebacker group through the first three practices. The 6-foot-3, 220-pounder turned in a strong showing on Wednesday morning, making a number of plays in pursuit and in his limited reps as a pass rusher. The Eufaula (Ala.) product is one of the more violent and disruptive defenders in the 2023 cycle off of senior video. He showed some of that disruptive ability off the edge on Wednesday morning. After Peter Woods, Pierre probably made the second most plays for the Alabama defense, at least on a per snap basis. The Crimson Tide commit showed the bend and curvilinear movement around the edge while working as a standup pass rusher. Pierre will benefit from time in a SEC strength program, but the pass rush skills and upside were evident. He ranks as the No. 34 overall prospect in the On300.
5. CB Kelley Jones – Mississippi State
There isn't a defensive back in Mobile who passes the eye test or made more plays on the football than Kelley Jones. He played on both sides of the ball for Clarksdale (Miss.) High primiarilyas a quarterback and safety, but is working at cornerback at Alabama-Mississippi. Jones looks to be at or over 6-foot-3 with considerable length. He's a natural at defensive back and didn't have much trouble in sticking with a good group of Mississippi receivers. Jones used his length and ball skills to make a number of plays in coverage on Tuesday evening. He had an even better day on Wednesday afternoon, coming down with two interceptions and an impressive pass-breakup against Ayden Williams in the corner of the end zone. Mississippi State has made a living on landing tall, rangy corners as of late and Jones looks to be the next in line given his considerable physical gifts and upside.
6. DL Kelby Collins – Florida
Kelby Collins turned in a strong practice on Wednesday afternoon. The 6-foot-4, 265-pounder often worked as a big defensive end and made plays as a pass rusher. We saw Collins lock horns with Stanton Ramil on a number of occasions with each having their moments. Collins' flashes were among the best of the loaded Alabama defensive front. The Gardendale (Ala.) product is a smooth, coordinated athlete. He's capable of timing up the snap and using his short area quickness to knife into the backfield. Collins' physicality and consistency from snap to snap can continue to improve but his upside was on display in Mobile. The Florida pledge ranks as the No. 133 overall prospect in the On300.
7. OT Stanton Ramil – Michigan State
Stanton Ramil was the top offensive lineman for the Alabama team. Ramil held down the left tackle spot and impressed with his physicality and polish. The 6-foot-6, 310-pounder caught our eye on inside drills, showing functional athleticism in moving to the second level to block linebackers. Ramil was physical on contact and created a push once engaged with defensive linemen. We also liked what we saw from the Michigan State commit in pass protection as he looked smooth and coordinated in his pass set in facing a talented defensive line group. Ramil ranks as the No. 297 overall prospect in the On300.
8. RB Jeremiah Cobb – Auburn
Jeremiah Cobb was the top skill player for the Alabama squad through three practices. The 5-foot-10.5 185-pounder has a well-rounded skillset as an every down back. Cobb showed burst in getting to the perimeter and was able to outrun a speedy Alabama front seven on a handful of occasions. He was also a consistent target for the Alabama quarterbacks out of the backfield. Cobb looked to be the most natural pass catcher of the Alabama running backs and projects as a legitimate receiving threat out of the backfield at the college level. A prolific rusher at Montgomery (Ala.) Montgomery Catholic, Cobb ranks as the No. 167 overall prospect in the On300.
9. DL Jamarious Brown – Ole Miss
Jamarious Brown was the most disruptive defensive lineman for Mississippi on Tuesday and Wednesday. The 6-foot-2, 270-pounder is a bit undersized but showed a lightning quick first step and burst off the ball. Brown employed a highly effective swim move over the course of both practices, often leaving the Mississippi interior offensive line grasping at air. He's been a multi-positional player at Moss Point (Miss.) High, working as a running back, linebacker and pass rusher. Brown will need some time to bulk up but has the skill set to be a penetrating three-technique at the next level. The Ole Miss commit ranks as the No. 110 overall prospect in the On300.
10. S DaKaari Nelson – Penn State
Penn State safety commit DaKaari Nelson caught our eye with his plus size and range as a run defender. Nelson is the biggest of the Alabama defensive backs, looking around 6-foot-3, 195 pounds. He drew praise from the coaching staff on a number of occasions for his effort and effectiveness in pursuit drills. We also saw Nelson close on play and break up a pass in 11-on-11 work in Wednesday's morning practice. It will be interesting to see where Nelson ends up from a size perspective after he spends time in a college strength program, given his size and frame.
Additional Notes
+ Clemson quarterback commit Christopher Vizzina showed the arm and physical skill set that made hm a national recruit at the position. The 6-foot-4, 205-pounder made a number of nice downfield throws on Tuesday night and continued to show the ability to drive the football vertically on Wednesday. It was tough sledding for the Alabama offense as a unit on Wednesday and Vizzina was under siege for much of the practice. With that said, the top 100 prospect's physical tools were apparent over the two practices.
Alabama safety commit Bray Hubbard and Utah pledge Mack Howard worked at quarterback for the Mississippi team. Hubbard showed some of his athleticism on a designed run in red zone work on Wednesday afternoon. Howard looked to be fairly consistent and threw some nice passes of the course of both days.
+ Vanderbilt offensive tackle pledge Anthony Miles was the second-best offensive lineman for the Alabama team over the course of the three practices, in our opinion. The Birmingham Ramsay product has a projectable frame and high-end length, looking to be around 6-foot-6, 285 pounds. Miles moved well and held his own against a tough defensive line. He looks to have longterm developmental upside.
+ On300 Oregon running back commit Dante Dowdell is fresh off a stellar senior season that saw him lead Picayune High to a state title. Dowdell's skill set as a big, downhill back with nice pace and initial burst was on display in Mobile.
+ Auburn corner pledge Jacorious Hart made the most plays on the ball of any Alabama defensive back we saw on Tuesday and Wednesday. Hart has plus size at around 6-foot-2 and showed coverage instincts.
+ No defensive lineman in attendance passes the eye test as well as Florida State commit Keldric Faulk. Faulk looks to be around 6-foot-6 with plus length. He's added considerable mass over the past year and now looks to be north of 250 pounds. Faulk is a good athlete who played on both sides of the ball in a lower classification. He may need some time to adjust to the speed of the game, but has a lot to work with.
+ Alabama defensive line commit Hunter Osborne is a powerful defender who is at his best as a run defender and edge setter at this stage. Osborne primarily worked inside on Wednesday afternoon and looked at home taking on blocks in run support drills.
+ Amari Smith and Mississippi State commit Zay Alexander looked like the top two offensive linemen on the Mississippi side. Both are big bodies at tackle and each showed some promising movement in pass protection.
+ The Mississippi secondary featured several big safeties with a few having notable moments. Tennessee commit John Slaughter showed the ability to close quickly in addition to making some nice plays in covering the slot. Slaughter is a physical striker who likely would've had some big hits had the practice sessions been full contact. Mississippi State commit Jaylen Aborom played on both sides of the ball in high school, but projects at defensive back long-term. Aborom blocked two field goals on Wednesday. Another name to keep an eye on among the Mississippi secondary is Christavious Savior out of Louisville (Miss.) High. The 5-foot-11, 160-pounder was sound in coverage over both practices.
+ Southern Miss commit Javieon Butler (Mississippi) and Arkansas pledge Davion Dozier (Alabama) were the most physically-imposing pass catchers on their respective teams. Both had big senior seasons and made some plays in practice.