Why wait? Here's who will win the major college football awards in 2022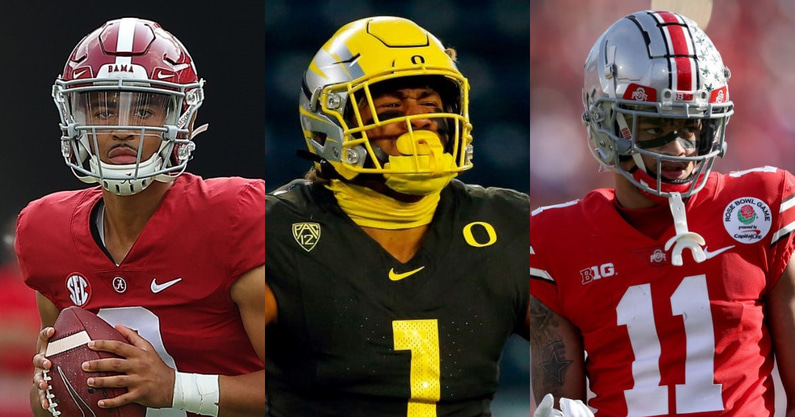 We're still a bit more than three months from the start of the 2022 college football season, but that means we're just a bit more than two months away from the start of summer camp, so college football isn't as far away as you think.
Still, being two months-plus out is leaving us feeling a little antsy, so what better way to get over that feeling than by looking to the end of the season. December is when they hand out all the award hardware, but why wait: Here's an educated guess as to who will win each of the big college football awards this season.
Heisman
Last season: Alabama QB Bryce Young
2022 pick: Alabama QB Bryce Young
Legit dark horse: Oklahoma QB Dillon Gabriel
The buzz: Young would be just the second two-time Heisman winner, joining Ohio State RB Archie Griffin. Ohio State QB C.J. Stroud figures to be the top challenger. Gabriel, a transfer from UCF, should put up big numbers; remember that three previous OU quarterback transfers (Baker Mayfield, Kyler Murray and Jalen Hurts) did pretty well in Heisman voting.
Bednarik (top defender)
Last season: Georgia DL Jordan Davis
2022 pick: Alabama EDGE Will Anderson Jr.
Legit dark horse: Notre Dame EDGE Isaiah Foskey
The buzz: Anderson was a one-man wrecking crew as a true sophomore last season, and if he gets any better, pray for opposing quarterbacks. Foskey was overshadowed a bit last season, but his second year in Marcus Freeman's defense should see him better his totals of 11 sacks and 12.5 tackles for loss from last season.
Biletnikoff (receiver)
Last season: Pitt's Jordan Addison
2022 pick: Ohio State's Jaxon Smith-Njigba
Legit dark horse: Wake Forest's A.T. Perry
The buzz: Addison will be a leading contender – at USC, not Pitt – but a case can be made that Smith-Njigba was Ohio State's best receiver last season despite splitting catches with first-rounders Garrett Wilson and Chris Olave. Huge numbers await. Perry averaged 18.2 yards per catch and had 15 TDs (tied for third nationally with Jameson Williams) last season. He will be Wake's unquestioned No. 1 receiver this season and again will team with Sam Hartman as the Demon Deacons will score with the best of them.
Butkus (linebacker)
Last season: Georgia's Nakobe Dean
2022 pick: Oregon's Noah Sewell
Legit dark horse: Iowa's Jack Campbell
The buzz: Sewell figures to be the second member of his family, joining OT brother Penei, as an NFL first-round pick. Sewell is an old-fashioned thumper, but he also can flow sideline to sideline and looked solid in pass coverage last season (an interception, five pass breakups). Campbell led the nation with 143 tackles last season and should be right around 140-150 again. He also had two picks and six pass breakups.
Davey O'Brien (quarterback)
Last season: Alabama's Bryce Young
2022 pick: Alabama's Bryce Young
Legit dark horse: Wake Forest's Sam Hartman
The buzz: Here's Mr. Young again. He threw for 4,872 yards and 47 TDs last season; can he top those totals? That's a tough ask, especially considering his receivers won't be as good. Still, he's going to be in the spotlight all season and he handled all the attention with aplomb last season. Hartman threw for 4,228 yards and 39 TDs and also rushed for 363 yards and 11 TDs in 2021. The call here: He accounts for at least 55 TDs this fall.
Doak Walker (running back)
Last season: Michigan State's Kenneth Walker III
2022 pick: Texas' Bijan Robinson
Legit dark horse: UCLA's Zach Charbonnet
The buzz: Robinson is an ultra-talented glider who missed the final two games last season with a dislocated elbow. Robinson, who also is a good receiver, still ran for 1,127 yards in 2021; this season, he should be the fourth Longhorns back to hit the 1,400-yard mark since 1998 (when Ricky Williams ran for 2,124). Last season, Charbonnet ran for 1,137 yards and 13 TDs and also was an effective receiver in his first year with the Bruins after transferring from Michigan. Expect better numbers this fall; how much better is the question.
Groza (kicker)
Last season: Michigan's Jake Moody
2022 pick: Missouri's Harrison Mevis
Legit dark horse: Boise State's Jonah Dalmas
The buzz: Mevis was the On3 All-American kicker last season, when he was 23-of-25, including 11-of-13 between 40-49 yards and 3-of-3 beyond 50, with a long of 56. No one in the country made more field goals of 40-plus yards than Mevis' 14. Dalmas led the nation with 26 field goals last season
Mackey (tight end)
Last season: Colorado State's Trey McBride
2022 pick: Georgia's Brock Bowers
Legit dark horse: Stanford's Benjamin Yurosek
The buzz: Bowers was Georgia's leading receiver last season (25 more than anyone else) and should be again. He scored 13 TDs last season and is a legit deep threat. Yurosek should be the best tight end on the West Coast, and he figures to be a prime target for QB Tanner McKee.
Nagurski (defender)
Last season: Alabama EDGE Will Anderson Jr.
2022 pick: Alabama EDGE Will Anderson Jr.
Legit dark horse: Notre Dame EDGE Isaiah Foskey
The buzz: Hey, it's the same two guys that are listed for the Bednarik.
Outland (interior lineman)
Last season: Georgia DL Jordan Davis
2022 pick: Georgia DL Jalen Carter
Legit dark horse: Northwestern OT Peter Skoronski
The buzz: Georgia had six defenders go in the first round in the 2022 NFL Draft. If everything comes together like it should for Carter this fall, he will go quite early in the 2023 draft; indeed, when all is said and done, he might end up being the most talented player on Georgia's 2021 defense. Skoronski stood out on a bad team last season. He will be excellent again, and the Wildcats should be better, too.
Ray Guy (punter)
Last season: San Diego State's Matt Araiza
2022 pick: Rutgers' Adam Korsak
Legit dark horse: Louisiana's Rhys Byrns
The buzz: Korsak, an Australian, has a big leg (45.82 yards per punt on 71 attempts, with zero touchbacks) and helped Rutgers lead the nation in net punting last season (45.3 yards per punt). Byrns, also an Aussie, averaged 46.1 yards per attempt last season.
Rimington (center)
Last season: Iowa's Tyler Linderbaum
2022 pick: Michigan's Olusegun Oluwatimi
Legit dark horse: NC State's Grant Gibson
The buzz: Oluwatimi began his career at Air Force, then transferred to Virginia and was a three-year starter; now, he'll be the new guy for a Wolverines offensive line that returns four starters. Last season, he was a second-team All-ACC selection and one of three finalists for the Rimington. Gibson is the key guy up front for the Wolfpack, who are a prime contender for the ACC title. An aside: Gibson lined up next to former Georgia star Jordan Davis along the defensive line at Charlotte Mallard Creek.
Thorpe (defensive back)
Last season: Cincinnati CB Coby Bryant
2022 pick: Alabama S Jordan Battle
Legit dark horse: Utah CB Clark Phillips
The buzz: Battle is heady, steady and a playmaker, to boot; he had three interceptions last season and took two back for TDs. Phillips was a highly touted recruit in the 2020 signing class and has been a starter since stepping on campus. He should go from All-Pac-12 guy in 2021 to All-America this season.