Unveiling the final 2023 On300 rankings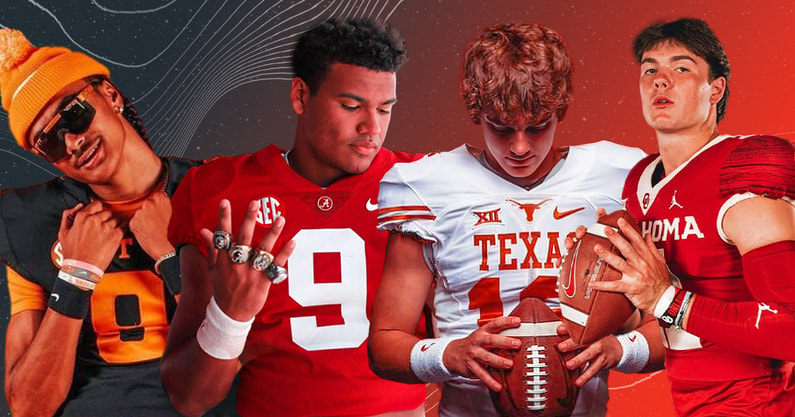 On3 has released its football prospect rankings for the 2023 cycle. This rankings release marks the final update and is heavily informed by continued senior season evaluations and national all-star games that featured nearly 200 of the nation's top prospects.
We heavily prioritize the senior season in our evaluation process as it has proven to be among the more predictive evaluation points over the course of a high school prospect's development. The several weeks since the season ended provided time to sift through each position group and dive into the senior campaigns. In-person all-star evaluations both in regional and national games also prove highly instructive and have a track record of being strong indicators. After two weeks on the road at the Under Armour All-America Game and the All-American Bowl, we feel good about our grip on the 2023 cycle.
Our goal is to assess a prospect's long-term potential in college football, as manifested by the NFL Draft. We work towards finishing with 32 five-stars every cycle. That group is minted in this final release.
Let's get into the big storylines surrounding the final 2023 On300.
The race for No. 1
There is a new No. 1 overall prospect in the final On300 rankings, with Tennessee quarterback signee Nico Iamaleava narrowly beating out Alabama EDGE signee Keon Keeley (No. 2) and the incumbent No. 1, Texas quarterback signee Arch Manning (No. 3).
Similar to the 2022 cycle, there was not a runaway No. 1, in our opinion. While Manning sat atop the rankings for the entirety of the cycle, we've been transparent that his grip on No. 1 was tenuous.
Both Manning and Iamaleava are physically gifted passers with the upside to be a No. 1 draft pick. With that said, neither are truly dominant high school players. I personally don't view either to be as "can't miss" as recent No. 1 quarterbacks Bryce Young and Caleb Williams were at the same stage.
Viewing Manning and Iamaleava as a No. 1 overall prospect requires a degree of projection that is less than ideal. Given the amount of projection with both, we're going with the quarterback with the most physical ability: Nico Iamaleava. The Tennessee signee is a big-armed, twitchy athlete who fares better against pressure than Manning. There is also a little less ambiguity with Iamaleava as we've seen him compete and star in a neutral setting, while Manning has been confined strictly to his high school football team while facing varying levels of competition.
Keon Keeley made a real run at the No. 1 overall prospect, backing up a strong senior season with a dominant showing at the All-American Bowl. The Alabama signee flashed a combination of size, athleticism, power, bend and pass rush polish that puts him in the pantheon of top EDGE prospects in recent cycles.
Ultimately, it was a tough call and not one we took lightly. Iamaleava, Manning and Keeley all have the potential to be a No. 1 overall pick. Much of how the quarterbacks shake out will hinge on their development in college. The top three prospects all have ratings of 99 from On3, as do the rest of the top eight, including the third-ranked quarterback, Oklahoma signee Jackson Arnold (No. 6).
Rounding out the top ten
Oklahoma EDGE signee Adepoju Adebawore (No. 4) jumps into the top five after a strong showing at the Under Armour All-America Game. The Kansas City native has a freaky combination of length and athleticism as a pass rusher. Adebawore is just scratching the surface of his immense potential, but is already one of the best pass rushers nationally despite his room for continued development.
USC wide receiver signee Zachariah Branch (No. 5) remains a top five prospect for On3 and is the most electric skill player in the cycle. The 5-foot-10, 170-pounder has true game-breaking ability with the ball in his hands. His ability to harness the elite top-end speed as a route-runner and after the catch makes for a special receiver prospect.
Oklahoma quarterback signee Jackson Arnold (No. 6) moves into the top ten after a very productive senior season and strong showing at Under Armour. Arnold was the most productive five-star quarterback, while playing against the toughest competition of the group. The Denton (Texas) Ryan standout is the most ready to play quarterback prospect in the 2023 cycle, in our opinion. We saw Arnold continue to improve as a senior, particularly with his pocket presence.
We view the 2023 cycle to be very strong along the offensive line. Georgia offensive tackle signee Monroe Freeling (No. 7) comes in at the top of the position group. Freeling has what we feel is the best senior video among the offensive tackles and backed that up by looking like the top lineman in what was a loaded group at the All-American Bowl. The Mount Pleasant (S.C.) Oceanside Collegiate star has elite flexibility and movement skills at 6-foot-7, 295 pounds. He also added functional strength and explosive power as a senior.
Alabama safety signee Caleb Downs (No. 8) rounds out the group of five-stars with 99 ratings. Downs has a complete skill set at the position and was arguably the top high school football player in the country this fall. He is a playmaker on both sides of the ball, scoring 25 touchdowns to go with 19 career interceptions. Downs' instincts, cover ability and physicality in run support make him a prime candidate to be an impact freshman at Alabama.
Penn State interior offensive line signee Jven Williams (No. 9) remains in the top ten. The 6-foot-4, 290-pounder is one of the more mobile offensive linemen we've evaluated in recent memory. Williams is a weapon in the run game and has shown signs of being special in working at the second level.
Alabama signee James Smith (No. 10) remains the top-ranked defensive lineman. Smith was back at Montgomery (Ala.) Carver as a senior after spending part of his junior year at IMG Academy. He trimmed down to around 295 pounds in the off-season and continued to show his first-step quickness and ability to disrupt.
New five-stars
Monroe Freeling is joined by eight new five-star prospects.
Georgia defensive line signee Jordan Hall (No. 13) has been a five-star contender for some time. The Jacksonville (Fla.) Westside product breaks through in part due to a great showing at the All-American Bowl. Hall's first-step quickness and plus length (34+ inch arms) at 6-foot-3, 315 pounds makes for a mismatch on the interior.
Jermaine Mathews (No. 14) was the best 2023 corner we saw all year – on film and in person. Though Mathews was not at an All-American game, the Ohio State pledge did enough this fall to merit his rise to the No. 1 corner spot and earn five-star status. Mathews was dominant at LSU's camp in June. He's around 5-foot-11, with good length and ran 4.35 and 4.40 at two different college camps. What he showed over the summer carried over to Friday nights, where Mathews showed outstanding ball production (five interceptions) along with general playmaking ability as a defender (multiple forced fumbles) and return man.
Yhonzae Pierre (No. 17) was on the cusp of adding his fifth star and made the decision easy with his showings at the Alabama-Mississippi All-Star Game and the All-American Bowl. Pierre is an explosive, violent defender with pass rush skills that really shined in the all-star setting. We rarely saw the 6-foot-3, 225-pounder blocked over the course of two weeks in Mobile and San Antonio.
Raylen Wilson (No. 18) rises to the top linebacker in the On300. The Georgia signee's combination of speed, range and instincts makes him a safe bet at the position. Wilson has the best times of the top linebackers nationally, with sub-11.0 second marks in the 100 meters at 6-foot-1, 225 pounds. He plays like it, too. We saw Wilson make some eye-popping plays at the Under Armour All-American Game.
Dante Moore (No. 20) earns his fifth star in large part due to a great showing at the All-American Bowl. The UCLA signee was the top quarterback on hand all week, by a fairly sizable margin. Moore has an argument as the most polished passer in the cycle with an easy, natural release and high-end accuracy in every setting.
Ole Miss signee Suntarine Perkins (No. 21) makes the biggest jump into five-star range. A dominant two-way star in high school, Perkins backed up a huge senior season with a dominant showing at the Alabama-Mississippi All-Star Game. The 6-foot-1.5, 205-pounder is one of the longer linebackers nationally and has outstanding range, play speed and striking power.
Alabama offensive tackle signee Kadyn Proctor (No. 27) makes the jump into five-star range following a good showing in a deep offensive line group at the All-American Bowl. The week in San Antonio allowed for our first in-person look at Proctor. The 6-foot-6, 345-pounder is one of the biggest offensive linemen we've seen over the course of the cycle and moves well at that size to go with his substantial power.
Florida signee Eugene Wilson III (No. 32) stays in the top 32 and earns his fifth star in the final update. The NFL legacy is a silky smooth pass catcher with some of the best coordination we've seen in 2023. Wilson is highly skilled as a route-runner and after the catch. He's been clocked in the 4.4's on the lasers and has proved largely uncoverable in camps and on Friday nights.
Breaking down the quarterbacks
Malachi Nelson (No. 30) rounds out the five-star quarterbacks. The USC signee is one of the more polished passers in the cycle with consistency in multiple settings, showing accuracy, touch and feel.
Cincinnati signee Brady Drogosh (No. 60) remains in the top 100. Drogosh may have the best physical tools among the quarterback group, after Nico Iamaleava. The 6-foot-4, 195-pounder is a big-time run threat, rushing for 1,360 yards and 20 scores as a senior. A live-armed passer, Drogosh showed marked improvement with his accuracy and efficiency as a senior, completing over 70% of his passes for 35 touchdowns against five picks, while leading his team to a state title.
Michigan State signee Sam Leavitt (No. 76) has some of the best senior film among the deep 2023 quarterback group. The 6-foot-2, 195-pounder had a revelatory senior season after a transfer to West Linn (Ore.) High. Leavitt flashed some eye-catching arm talent with the ability to make big-time throws with consistency. He's a loose, fluid passer with playmaking ability and improvisational skills. Leavitt completed around 70% of his passes for over 3,000 yards and 36 touchdowns against five picks while leading his team to a state title as a senior. He's also currently starting on a nationally-ranked high school basketball team.
South Carolina signee LaNorris Sellers (No. 95) posted arguably the best senior season of any quarterback in the 2023 cycle. The 6-foot-3, 220-pounder accounted for nearly 4,300 yards and 67 total touchdowns against just two interceptions. Statistically, he was at or near the top of nearly every category among On300 quarterbacks. This is not a stat-stuffing situation, though. Sellers has a live arm with tangible velocity and the ability to drive the ball 60 yards in-air. His size, burst and outstanding contact balance makes him a considerable run threat and tough to bring down in the pocket. The huge senior season was backed up by an MVP showing at the Shrine Bowl of the Carolinas. Sellers missed the majority of his junior season with an injury and is one of the youngest top quarterbacks with a June birthday.
Oregon signee Austin Novosad (No. 103) also makes a notable jump right outside the top 100. Novosad looked like one of the more polished passers in the 2023 cycle both as a senior at Dripping Springs (Texas) High and at the All-American Bowl. The 6-foot-3, 190-pounder is a pure pocket passer who is at his best when working from within structure.
Nine more signal callers round out the deep quarterback group in the On300: Ohio State signee Lincoln Kienholz (No. 119), Alabama signee Eli Holstein (No. 121), Iowa State signee JJ Kohl (No. 148), Oregon State signee Aidan Chiles (No. 150), Clemson signee Christopher Vizzina (No. 154), Florida signee (unenrolled) Jaden Rashada (No. 176), Alabama signee Dylan Lonergan (No. 181), Notre Dame signee Kenny Minchey (No. 183), and Kansas State signee Avery Johnson (No. 207).
Notable risers within the top 100
A number of prospects made big moves into the top 100.
ATH Jelani McDonald, Texas (No. 41) – A three-sport star (basketball, track), McDonald has one of the more unique skill sets among defenders in the 2023 cycle. At the All-American Bowl, we saw the Texas signee effectively cover some of the top receivers in the cycle, despite having the frame of a potential linebacker.
LB Jordan Bass, Pittsburgh (No. 48) – There may not be a prospect in the On300 who had a more dominant senior season than Bass. The Pitt signee's stats are honestly hard to fathom. Bass caught 58 passes for 1,535 yards and 30 touchdowns. He also rushed for five more scores. On defense, he tallied 88 tackles and picked off 10 passes, taking back four for touchdowns. Bass did that while playing good competition and having verified size at 6-foot-4, 215 pounds with plus length. The production, outstanding film and projectable measurables give him the potential to end up as the top linebacker from the cycle when all is said and done.
TE Andrew Rappleyea, Penn State (No. 49) – Rappleyea has some of the best route-running and functional movement skills we've seen from a tight end in recent cycles. The 6-foot-4, 235-pounder has a unique ability to create separation both off the line and at the top of his routes. The agility and overall coordination point to him being a matchup problem for Big Ten defenses.
DL Kelby Collins, Florida (No. 50) – Collins moves into the top 50 from outside the top 100 with back-to-back impressive showings at the Alabama-Mississippi All-Star Game and the Under Armour All-American Game. The 6-foot-3.5, 265 pounder flashed some dominant tendencies while facing top offensive linemen. His highs are hard to deny.
ATH Vicari Swain, South Carolina (No. 51) – Swain is one of the twitchiest defenders in the 2023 cycle. The Carrollton, Georgia native posted an eye-popping 11'6″ broad jump (in socks!) back at the Atlanta Under Armour Camp in February. Swain continued to show that explosiveness as a senior, making big plays as a defensive back and receiver. The athleticism and ball skills register on the high end among potential defensive backs it the cycle.
LB Samuel Omosigho, Oklahoma (No. 52) – Few, if any linebacker prospects in the 2023 cycle have a better combination of length and athleticism than Omosigho. The Oklahoma signee has 34-plus inch arms and the athleticism to star as a wide receiver in high school We were able to see his range up close at the All-American Bowl.
WR Malachi Coleman, Nebraska (No. 72) – Coleman's reputation as one of the more explosive jumbo athletes in the cycle is well known. He has posed sub-10.5 second times in the 100 meters at around 6-foot-3 190 pounds. With that said, Coleman's rise is due to the surprising level of polish he showed as a receiver at the All-American Bowl. The Nebraska signee impressed with his route-running ability and ball skills.
TE Pearce Spurlin, Georgia (No. 73) – The Georgia signee missed the majority of his senior year with injury, but was full-go at the All-American Bowl. Spurlin showed high-end movement skills and route-running ability at 6-foot-6, 240 pounds. His size, athleticism and catch radius makes for a potential mismatch in Georgia's loaded tight end room.
IOL Spencer Fano, Utah (No. 77) – Fano was one of the better offensive linemen on hand at the All-American Bowl. He checked out size-wise at around 6-foot-4, 275 pounds with good length. Though he has mainly played right tackle to date, we saw Fano play all over the line and show well at center. His technical skills and ability to anchor stood out.
TE Ka'Morreun Pimpton, LSU (No. 88) – Pimpton continues his rise on the heels of a breakout senior season and good showing at the All-American Bowl. We're not sure there's a prospect in the 2023 cycle with a catch radius larger than the LSU signee. Pimpton pairs his immense stature and length (6-foot-6 with 36-inch arms) with ball skills and high-point ability.
New entrants into the final On300
No. 114 CB Kelley Jones – Mississippi State
No. 160 RB Mark Fletcher – Miami
No. 167 S Jalon Kilgore – South Carolina
No. 170 DL Johnny Bowens – Texas A&M
No. 178 S Genesis Smith – Arizona
No. 205 WR Malik Elzy – Illinois
No. 210 OT Chimdy Onoh – Uncommitted
No. 217 DL Ashton Porter – Oregon
No. 227 S Bray Hubbard – Alabama
No. 229 EDGE Jason Abbey – Virginia Tech
No. 231 IOL Gernorris Wilson – Oregon
No. 233 CB Avieon Terrell – Clemson
No. 234 S Khalil Barnes – Clemson
No. 235 IOL Nick Fattig – Texas Tech
No. 247 OT Elijah Paige – USC
No. 251 DL Dylan Spencer – Texas Tech
No. 255 LB Jonathan Bax – TCU
No. 256 OT Anthony Miles – Vanderbilt
No. 259 RB Roderick Robinson II – Georgia
No. 264 WR Ja'Kobi Lane – USC (unsigned)
No. 266 S Adon Shuler – Notre Dame
No. 267 WR Mikey Matthews – Utah
No. 269 LB Justin Horne – Texas Tech
No. 273 RB Darius Taylor – Minnesota
No. 275 DL Will Norman – Florida
No. 282 WR London Humphreys – Vanderbilt
No. 283 RB Parker Jenkins – Houston
No. 293 S Christian Pierce – USC
No. 294 CB Ty Adams – North Carolina
No. 295 OT Nicholas Oliveira – Rutgers
No. 298 DL Tavion Gadson – Kentucky
No. 299 IOL Sean Thompkins – Baylor