Jim Harbaugh, Donte Williams watching On300 LB Lander Barton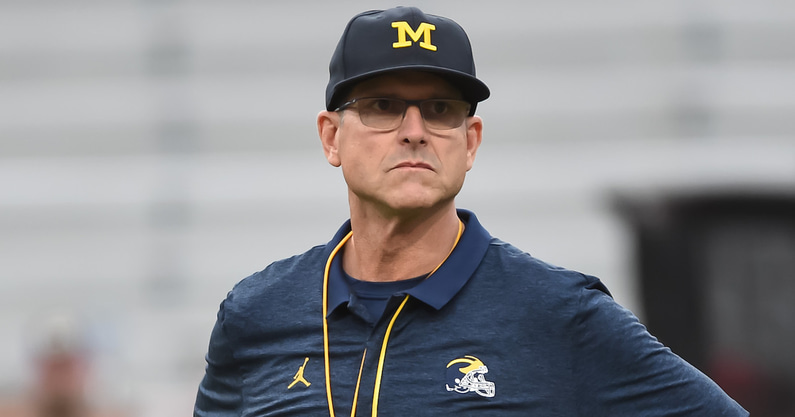 Two Power Five head coaches made the trip to Salt Lake City on Wednesday night to watch four-star linebacker Lander Barton.
Michigan head coach Jim Harbaugh and defensive coordinator Mike Macdonald, as well as USC interim head coach Donte Williams and linebackers coach Michael Hutchings were all in attendance to watch Barton play in an unusual Wednesday night game for Salt Lake City Brighton.
Both Michigan and USC are on byes this week.
Wednesday's game against Murray (Utah) High is the regular season finale for Salt Lake City Brighton.
Through the first nine games of the season, Lander Barton has 99 total tackles, five sacks and one interception, according to the Deseret News. He also has 28 receptions for 308 yards and six touchdowns on offense.
He had previously went on an official visit to Michigan on Sept. 11.
Lander Barton is a top linebacker in the country
Lander Barton is the No. 147 overall recruit in the 2022 On300 rankings and the 16th-best linebacker in the country.
In addition to his trip to Michigan, he went on an official visit to Texas on Sept. 25. He will also officially visit Utah this weekend and has plans to visit Oregon.
Utah is considered the favorite for Barton due to his family history with the program.
His father played football and baseball for the Utes. His mother played basketball and volleyball for the school. His older brothers, Jackson and Cody, both played for the Utes before embarking careers in the NFL. Cody Barton plays for the Seattle Seahawks and Jackson Barton plays for the Las Vegas Raiders. His older sister, Dani, is a two-time All-American and current fifth-year for the volleyball program.
"From the outside looking in, I can see why everyone expects me to go to Utah," Lander Barton told On3's Gerry Hamilton.