Report: Micah Shrewsberry, Kevin Keatts among names to watch if Ed Cooley turns down Georgetown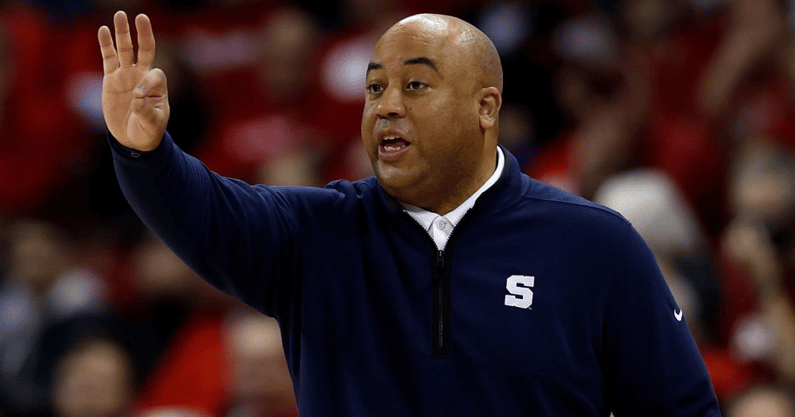 Chatter is increasing about Georgetown's interest in Providence head coach Ed Cooley to replace Patrick Ewing. But if Cooley opts to stay put, some interesting names have emerged, according to Stadium's Jeff Goodman.
Penn State coach Micah Shrewsberry, NC State headman Kevin Keatts and VCU head coach Mike Rhoades are all on Georgetown's radar if Cooley turns the Hoyas down, Goodman reported Saturday. He mentioned those names in response to Georgetown great Roy Hibbert, who was curious about who else his alma mater was targeting as its next leader.
Cooley's name has come up in connection with Georgetown since Ewing's firing. That noise got even louder after Providence's season-ending loss to Kentucky in the NCAA Tournament. After the game, he gave a candid answer when asked if there's a chance he'll still be on the bench at Providence next year.
"You know, guys, there's all kinds of rumors and speculation, and I know you guys are trying to do your job," Cooley said. "I get it. But after a game like this, I just think it's fair to talk about our players. I think it's fair to talk about the game.
"That, man, I'm right here right now. I think those are very hard questions when you just are going off of speculation, doing your job. But it's about this game, and it has nothing to do with my future or my present."
Shrewsberry's name has come up multiple times as the coaching carousel gets moving. In addition to Georgetown, he has been mentioned in connection with the opening at Notre Dame. However, Penn State is reportedly gearing up to make a "significant, long-term financial commitment" to Shrewsberry once the season ends, according to CBS Sports' Jon Rothstein.
Even before his first tournament game as a head coach Shrewsberry was asked whether he'll still be Penn State's head coach next year, and he gave an interesting answer. When pressed on whether it was a "yes, no or I don't know" question, he went with choice No. 3.
"That's a great question," Shrewsberry said, via statecollege.com's Ben Jones. "There has been a lot of those. I got that question last week at the Big Ten Tournament. I told our guys after the Rutgers game that I felt like I let them down as a coach. I didn't feel like I did my best. So, I told them that will never happen again. That's all I'm focused on is being that person for them. Right?"