Nick Saban spoke the truth: Recruiting is about money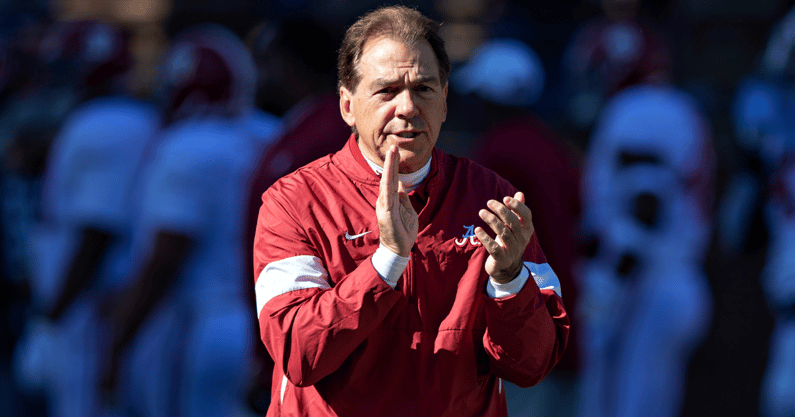 Nick Saban spoke the truth in public Wednesday night. The Alabama coach said in public what he has been saying in private for several months. He said in public what Ole Miss coach Lane Kiffin said in February and reiterated Thursday.
Of course Texas A&M bought its way to the top of the recruiting rankings. Texas crude is selling for $107 per barrel. That's the game right now. It will be the game until the NCAA or Congress or Pope Francis or anyone with the requisite juice finds a way to replace the guardrails that the judicial system and state legislatures have taken down in college athletics.
Guardrails, it turns out, are stuck in the supply chain along with everything else these days.
Saban committed the gaffe (the Michael Kinsley definition: you say in public an obvious truth you aren't supposed to say in public) of naming Texas A&M and Jackson State. He is already paying a price for that. A&M coach Jimbo Fisher called it "despicable" Thursday morning and suggested that Saban's former assistants be asked about his practices. We could have started with Fisher, Saban's offensive coordinator at LSU for five seasons, but he went no further on that topic.
Saban wouldn't be the first public figure to purposely make a bombshell comment in order to foment change. But that's not the case here. He made the statement in response to the last question in a 45-minute session with sponsors of The World Games, an Olympic-style meet scheduled for Birmingham this summer.
And this wasn't a veiled message to his boosters to come up with money, either. He's been telling them at least since February that they are going to have to step up in order to compete in the recruiting marketplace.
Look, coaches are frustrated. Their business has gone from offering scholarships and a chance at a future – with maybe some money under the table – to a flat financial model. Top recruits have three questions: How much you gonna pay me? Can you match this offer? And how much you gonna pay me?
Fisher labeled Saban's yelp as sour grapes because he got beat in recruiting. Could be. But it's not as if Alabama is suddenly fighting Saban's alma mater, Kent State, for players. Alabama had the No. 2 class in the last recruiting cycle. Saban wants his players to make money. He just doesn't think the money should shove out the door all the other attributes that his system, one he has spent a lifetime developing, can offer. Elite recruits sign with an elite program to prepare for the NFL. The smart ones get an education for that time when the NFL shuts the door on them. Saban has made himself the most successful coach in the history of the game by providing those tools better than anyone else ever has.
And now this breaking news: Recruiting is about the money. Assistants and boosters are shopping NIL deals. Most coaches believe this chaos will calm down in a couple of years, that a system will be established that will allow college athletics to have rules without running afoul of antitrust law.
The question is whether Saban's frustration with recruiting will chase him out of the game before the new guardrails are erected. It's hard for 70-year-old men to adapt. But Saban proved a long time ago he doesn't act his age. He still has competitive fire. He still enjoys teaching, still enjoys helping talented teenaged athletes mature into young men with a college degree and maybe a shot at the NFL. And he, too, likes making money.
On the other hand, if the 2022 Crimson Tide perform as well as they are expected to perform, and Saban wins his eighth national championship, who knows? The game isn't the same. I bet this isn't the last time Saban says in public what others say only in private.