Technically, it's illegal, but it's smart to use NIL deals as recruiting tools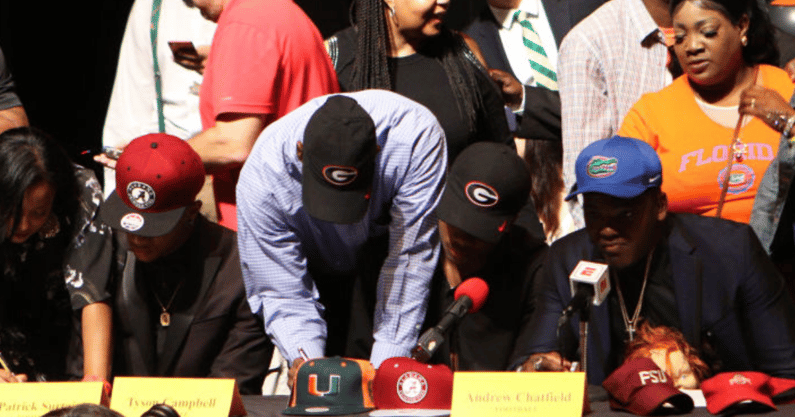 While universities have established many of their own guidelines and guardrails in the NIL era, college sports' governing body has held firm with one restriction: Coaches are prohibited from brokering deals for athletes and prospects.
That begs these questions: Why should that be prohibited? And is the NCAA, or any entity, willing and able to investigate whether coaches run afoul of that rule?
Given the cut-throat football and basketball recruiting game, which directly impacts coaches' job security and seven-figure salaries, it's naïve to think lucrative NIL deals are not being used as enticing recruiting tools. There are age-old constants in recruiting: If loopholes exist, coaches quickly will detect and exploit them; if gray areas exist, the most successful recruiters will make them their home. For high-major football and basketball coaches not to use NIL potential as a carrot to entice prospects borders on recruiting malpractice. 
Jerome Williams, the former NBA veteran, NBA Players Association vice president and Georgetown standout, told On3 that NIL eliminates "under-the-table" payments to players and the need for coaches to master plausible deniability. With players now permitted to monetize their brands, he said, it's imperative coaches lay out for prospects exactly what NIL deals are available for that athlete at that school. 
"You can sit down with the head coach, he can say how much you're going to make by coming to 'X University.' Period. Period," said Williams, who founded Alumni Pros Global Sports in part to educate young athletes on NIL. "They (coaches) will figure out where their budget is, where it's coming from and what type of NIL deal might be wrapped up around that, whether it's an autograph session or going to visit some kids at a camp, whatever it is. . . . You're sitting down with the student-athlete, and you're saying, 'Here's the package. What do you want to do?' "
NIL makes some of what was illegal now legal
An NCAA official told me in 2012 that the association acknowledged that most top football and men's basketball prospects had been "compromised" by agent involvement by the time they set foot on college campuses. To that point, Williams said college athletes have been receiving six-figure payments for years. Specifying that Georgetown players were not paid, he said he was denied a berth in the 1996 Final Four because UMass star Marcus Camby received inducements from agents.
"Now, all of these schools are totally legal; there is no limit for what you can offer kids," Williams said. "It's not like you've got to go meet Billy Bob around the corner. No more brown paper bags. No more dropping a box off at your doorstep. You can actually be legal, and here it is. It's 100 percent the best thing that can happen in college sports because it does level the playing field of fairness and truth."
Others feel the playing field remains tilted. Programs aligned with the most deep-pocketed boosters and that are willing to push the envelope in using NIL as a recruiting tool are ideally positioned to thrive. TCU football coach Gary Patterson acknowledged as much recently when he told the Fort Worth Star-Telegram, "The rules have changed. There is no wrong anymore."
Patterson said five SEC schools are calling one of his best players and telling him, " 'Here is what we will give you if you come here and not stay at TCU.' At the end of the day, that's just real life. If we don't do anything about it, within a year we lose him."
Eric Winston, a former University of Miami offensive lineman and NFL veteran who now is chief partnerships officer at NIL-focused OneTeam Partners, said an uneven playing field always will exist in major college athletics, pointing to the escalating facilities arms race. Only now, in addition to assessing which team facility possesses the most bells and whistles, high school prospects and transfers are going to think about, " 'Well, what's my opportunity at Texas compared to Texas A&M or at Florida compared to Miami?' That has always been the case. (NIL) is just a new category to add to the list of rankings."
A prominent source in the NIL space said there are two spectrums on which schools fall. One is NIL sophistication; the other is institutional involvement with athletes on NIL matters. On the involvement spectrum, the source said, on one end are some schools that sorely need to be more involved; on the other end are some schools "doing way too much. They are going to get themselves in trouble. It's only going to get worse. Schools need to be well-positioned to show athletes how they can direct themselves to compensation."
Another source, who has relationships with many top prospects, said, "I'll tell you why some are going off the rails: Because coaches are driving it, OK. Coaches are trying to get money to their kids so they can tell recruits, 'Look how much money they are getting.' It's one thing to get your wrist slapped by the NCAA. It's another to get in trouble with the state attorney general. Everybody is acting like nobody is in charge. Maybe it doesn't mean you get fired; maybe it means you go to jail. Coaches are supposed to push the boundaries. And it's definitely loose right now. At some point, the sheriff is going to ride in. You just don't know if he's going to slap people on the wrist or it's going to be the hanging judge."
NIL deals as a recruiting tool
At the highest level of recruiting, using NIL as a recruiting tool quickly has become a popular tactic. A SEC football recruiting coordinator told On3, "Schools are not only saying they can help, but they are also making specific promises of how much. . . . I'm seeing it with a good 40 percent of kids."
And a second SEC football recruiting coordinator said schools are "selling these kids snake oil and telling them they'll get rich if they come to their school. Many will be lucky to make enough money to buy dinner." One important note of caution, an ACC recruiter said, is that it's prudent to err on the side of caution and not make empty promises to prospects because they could ultimately transfer and turn you in to the NCAA.
But then again: So, what? At this point, there is no indication that the NCAA has designs on investigating coaches who allegedly entice players with NIL deals. 
While he lacks first-hand knowledge, Mit Winter, a Kansas City-based sports law attorney, said he's 100 percent certain NIL is being used by some as a recruiting tool. But what is key is pinpointing exactly how NIL is broached in conversations between coaches and prospects.
A coach could explain what NIL programs are available at the specific school, whether it's the Burnt Ends program at Texas, in which all tight ends receive four-figure monthly checks from a group of boosters pooling money, or a larger group licensing deal in partnership with The Brandr Group, for instance.
On the other end of the spectrum, a coach could tell a prospect that if he signs with the school, there will be certain deals specifically lined up for that individual and that they need to talk to a specific company to secure a lucrative opportunity. That's potentially in violation of NCAA rules, state laws and school policies.
Does NCAA want more bureaucracy?
But, again, what entity would investigate? Without subpoena power, the NCAA's beleaguered enforcement arm long has had a difficult time establishing whether an illicit payment was made to a prospect or his family. Now that actual payments to athletes are legal — provided athletes do something on behalf of a brand — the focus of an investigation would need to drill down on the nature and intent of conversations between coaches and prospects. Absent incriminating text messages, proving intent in this scenario, sources said, is highly challenging, unrealistic and perhaps even unnecessary. 
"Maybe enforcement will be wide open with NIL," one source close to top prospects said. "Maybe it's like the fall of the Soviet Union. Maybe it's a free-for-all."
Winston said July 1 came and went, athletes have received compensation for finally being allowed to monetize their brands and, to the surprise of critics, "the world didn't end. So what's the issue? And now (people) want more oversight? I just look at it like, 'Why do we need a third party? What are we angling for here?' For whatever reason, around college athletics, we aim for more bureaucracy instead of clear-cut and easy-to-digest rules."
Given the NCAA's hands-off approach, Winter said, he never thought the NCAA had a desire to start enforcing and policing NIL deals, at least now amid the precarious legal climate following the association's humiliating loss in the U.S. Supreme Court in the Alston case. And if a coach or school may be violating state law, does a state really want to get into the business of policing these types of deals? 
Successful coaches are well-versed in how to push boundaries in recruiting. They have to be. If they don't, someone else will. TCU's Patterson says everyone lives in the gray area now. But Malik S. Jackson, a Florida-based sports attorney who counsels clients on NIL matters, cautioned that a prospect who engages a recruiter in specific NIL opportunity conversations is "rolling the dice" for the player, coach and institution without fully grasping who will enforce a penalty and to what degree.
For many coaches, there may not be an alternative path now in recruiting. 
Williams, the former NBA veteran, said it's mandatory that coaches now must be a champion for student-athletes and have a handle on the marketplace. In basketball recruiting, that means understanding that the NBA G League and Atlanta-based Overtime Elite are offering top high school players six-figure salaries.
"That's just the baseline, so guess what, colleges and universities?" Williams said. "It starts there, and it only goes up. So, yes, your package better be tight."