On3 Database Release Schedule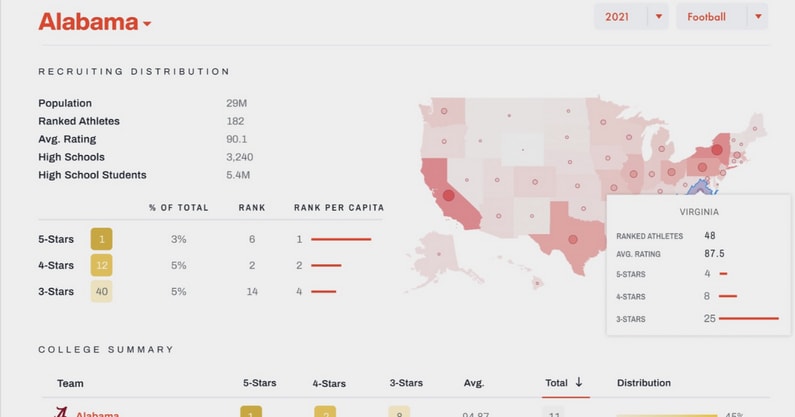 At the core, On3 is a multi-category database and networking company built for fans, media, coaches, and athletes.
Over the past year, the On3 product and engineering teams have been architecting and building the framework for a next-generation database. We anticipate it taking between 2 and 3 years to complete the project which will span from a player database, athlete portal, education center, and full suite of NIL products.
Our team will begin launching the database in mid to late October. We anticipate the first round of releases over the next 5-6 months to be a robust starting point to a product we ultimately expect to be the standard. Following is our expected release schedule – or at least what we are willing to share at this point.
Release for Oct 22-25 "The Essentials"
•Database framework with multiple categories: Player, Recruiting, Scouting, Draft and Influencer
•On3 Player Ratings and Rankings
•The Consensus Ratings and Rankings
•On3 Consensus Team Rankings
•Team Targets Module (temporary for site — old school version)
•Visit Center Phase 1 (game-changing new product)
•Video Library
•Database Updates Feed
•Player News Feed
•Photo Library  
Release for Dec 1 – 3
•Visit Center Phase 2 (product completion)
•Prediction Center with On3 Insiders + Responsive Prediction Machine (RPM), powered by Spiny.AI
•Team Center (new product)
•Draft Package Phase 1
•Scouting Package Phase 1
•NIL Influencer Exchange Phase 1 (checkmate)
Release for Jan 7-10
•Coaches Database
•Draft Package Phase 2
•Scouting Package Phase 2
•NIL Influencer Exchange Phase 2
•Start releasing data pages, such as State Database and more to be named later.