On3 Recruiting Prediction Machine: Previewing weekend commitments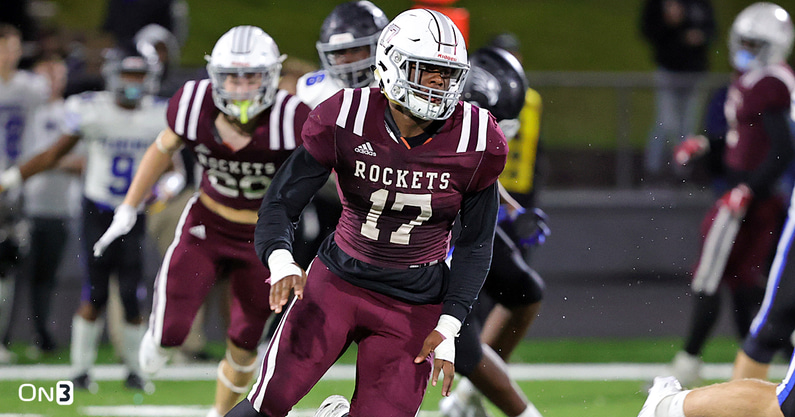 It will tough for the month of August to match the recruiting whirlwind of July, as more than 250 recruits committed to Power Five programs. But a number of key decisions have already come down this month: five-star wideout Shelton Sampson Jr., On3 No. 1 running back Cedric Baxter, and four-star quarterback Rickie Collins to name a few.
At least a dozen more are expected to come off the board this weekend, including a number of blue-chippers deciding between some of the country's top programs. With the help of the On3 Recruiting Prediction Machine (RPM), we'll preview each of the expected announcements.
Thursday, Aug. 11
3-star QB Kasen Weisman
On3 Consensus Ranking: No. 1114
On3 RPM: Kansas (98.9%)
The Douglasville (Ga.) South Paulding quarterback has amassed nearly a dozen offers to this point, with Kansas and Cal standing out as the two he's received at the Power Five level. The Jayhawks holding a commanding lead heading into his expected announcement this afternoon.
4-star IOL Miles McVay
On3 Consensus Ranking: No. 195
On3 RPM: Alabama (85.8%), Oregon (10.3%)
McVay, a monstrous lineman from East St. Louis (Ill.), is down to six schools: Alabama, Jackson State, Michigan State, Missouri, Oregon, and Texas A&M. The Crimson Tide are considered to the significant favorites at this point, with Oregon still hanging around.
Friday, Aug. 12
4-star QB Chris Parson
On3 Consensus Ranking: No. 349
On3 RPM: Mississippi State (94.8%)
A one-time Florida State commit, Parson backed off that verbal pledge last month as the Seminoles pursued Brock Glenn. Mississippi State took advantage, and the Bulldogs were one of three programs who had already hosted him for an official visit in June. One of the more dynamic dual-threat passers in this class, Parson is also considering SMU and Virginia Tech.
3-star LB Jerry Mixon
On3 Consensus Ranking: No. 762
On3 RPM: Oregon (98.5%)
The Sacred Heart (Calif.) three-star linebacker will announce his decision between Arizona, Arizona State, Missouri, Oregon and UCLA. The Bruins pushed hard for him through the spring and summer, but the Ducks are favored to land him, led by a pair of expert predictions in their favor.
Saturday, Aug. 13
4-star DL Kelby Collins
On3 Consensus Ranking: No. 60
On3 RPM: Alabama (59.2%), Florida (31.9%)
Arguably the headliner of the entire weekend, Collins is expected to decide between the Gators and Crimson Tide on Saturday afternoon. Alabama had long been considered the favorite, and the Tide brought him earlier this summer for an official visit. But Collins has never shied away from leaving his home state, and Florida has made him a major priority since its new staff took over this winter. This one looks to be a toss-up, with the Gators gaining ground as we head into the announcement.
4-star ATH Jacobe Johnson
On3 Consensus Ranking: No. 85
On3 RPM: Oklahoma (86.5%)
Johnson, a dual-sport star from Mustang (Okla.) has kept a pretty low profile on the recruiting trail. He took official visits to Alabama, Oklahoma, Michigan and Stanford in June, but it's the home state Sooners who are trending ahead of his announcement.
4-star DB Kylin Jackson
On3 Consensus Ranking: No. 157
On3 RPM: LSU (97.6%)
No program has been hotter on the recruiting trail since July 4 than LSU and Brian Kelly. The Tigers are fresh off of landing Shelton Sampson and Rickie Collins, and the momentum is heavily in their favor here with Jackson. Texas A&M has made a late push, but the home state school is going to be awfully hard to beat.
4-star DL Ansel Nedore
On3 Consensus Ranking: No. 434 (#242 in the On300)
On3 RPM: Texas Tech (68.2%), Texas (16.0%), Baylor (13.7%)
The 6-foot-2, 250-pounder has been a major producer at the high school level, totaling 57 tackles (including 11 for loss) as a junior last fall. He only took one official visit throughout the process — a June 17 trip to Lubbock. The Red Raiders are in front at the moment, with Baylor the other likely contended for his commitment.
3-star ATH Zack Marshall
On3 Consensus Ranking: No. 688
On3 RPM: Michigan (99.7%)
Marshall, one of the top multi-position prospects in the country this cycle, revealed a top three of California, Michigan and Utah late last month. His announcement came on the heels of a trip to Ann Arbor and an offer from the Wolverines just a day before. Michigan sees him as a versatile tight end in their offensive system under Jim Harbaugh.
3-star OT Raymond Pulido
On3 Consensus Ranking: No. 422
On3 RPM: Alabama (93.2%)
This weekend is expected to be a big one for the Crimson Tide along the offensive line, with both McVay and Pulido trending to Alabama. Nick Saban and Co. came in later on Pulido than other schools, but got him on campus twice this summer for unofficial visits, including one the last weekend of July.
Sunday, Aug. 14
4-star DB Rickey Gibson
On3 Consensus Ranking: No. 424
On3 RPM: Tennessee (95.6%)
Few prospects have seen their stock rise over the summer more than Gibson, who attracted a lot of attention over the past few months. Ultimately, this turned into a Tennessee-Georgia battle, with the two programs jockeying back and forth over the past few weeks. The Vols have taken a late lead, looking to add to their No. 13-ranked recruiting class.
4-star S Jayden Bonsu
On3 Consensus Ranking: No. 265 (#152 in the On300)
On3 RPM: Ohio State (63.7%), Miami (32.6%)
Things had been trending Miami's way over the summer heavily, and Bonsu was all set to announce a few weeks ago — presumably for the Hurricanes. But Ohio State has made a late run at him, pushing themselves into the lead, per the On3 RPM.
4-star EDGE Kamran James
On3 Consensus Ranking: No. 213 (#23 in the On300)
On3 RPM: Florida (97.2%)
Florida was one of the first Powe Five schools to identify and offer James, and that has paid off in a big way. Georgia made a run at him this summer, and even got him on campus for an official visit in June. But James has said repeatedly that relationships will make his decision, and he's had the strong (and longest) of those with the Gators.