On3 Recruiting Prediction Machine: Updates on top uncommitted recruits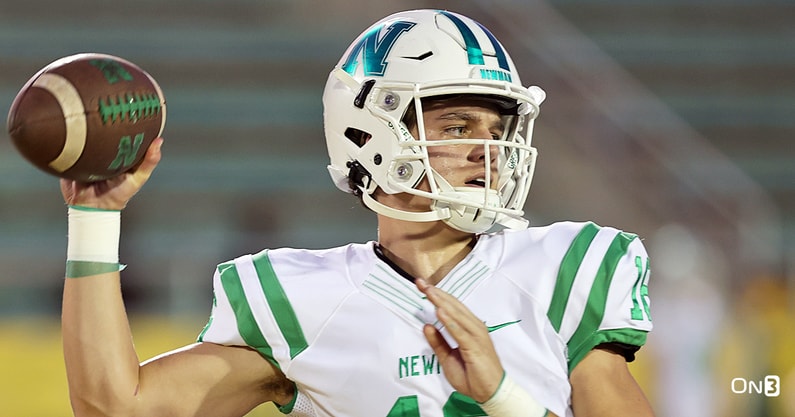 The 2023 On300 ranking was updated Monday with much of the top of the ranking staying the same. However, there have been many changes in the recruitment of those recruits since the last release of the rankings.
Some top prospects have committed. Other prospects have seen their lists turn over. Others have gone from heavy leans to one school to being heavy leans to another.
The On3 Recruiting Prediction Machine has been keeping track of it, keeping up with all the moves, predictions and more. RPM was released to the public in December. The On3 engineering group teamed up with Spiny.ai to create the industry's first algorithm and machine learning-based product to predict where athletes will attend college. 
It factors in machine learning, expert predictions, social sentiment, visits, and historical trends. However, expert predictions are still a big piece of the RPM equation.
Here are the RPM predictions for the top 20 uncommitted prospects in the 2023 On300.
1. Five-Star Plus+ QB Arch Manning
School: New Orleans Isidore Newman
On3 NIL Valuation: $2.1M
On3 RPM: Alabama 36.8%, Texas 32.2% Georgia 27.6%
The Skinny: Arch Manning's recruitment was destined to be one that captured the minds of football fans across the nation. With the added secrecy around the No. 1 overall recruit, it has made for a very compelling recruitment. And there's no sign of it slowing down as Alabama, Texas and Georgia all believe in their ability to lock down the star.
4. Five-Star Plus+ CB Cormani McClain
School: Lakeland (Fla.) Lake Gibson
On3 Consensus grade: 98.05
On3 NIL Valuation: $61K
On3 RPM: Alabama 50.4%, Florida 41.9%, Miami 3.4%, Georgia 2.4%
The Skinny: McClain had schools moving in and out of his top schools but it appears that the two SEC teams have settled in at the top. McClain told Joseph Hastings that Alabama and Florida are the two schools standing out to him at the moment.
6. Five-Star EDGE Nyckoles Harbor
School: Washington (D.C.) Archbishop Carroll 
On3 NIL Valuation: $112K
On3 RPM: Maryland 30.8%, Michigan 24.2%, Penn State 17.1%, Alabama 13.2%, Oklahoma 5.1%, Georgia 4.2%, South Carolina 1.1%,
The Skinny: The local Terrapins are doing all they can to keep the five-star prospect in the Mid-Atlantic region. But they are going to have a withstand an Anchorman-style street fight with teams from across the country to land Harbor.
7. Five-Star OT Charles Jagusah
School: Rock Island (Ill.) Alleman
On3 NIL Valuation: $5.6K
On3 RPM: Notre Dame 98.1%
The Skinny: The Fighting Irish seem to have the inside, outside and middle track on Jagusah. He recently visited the school earlier this month.
8. Five-Star EDGE Qua Russaw
School: Montgomery (Ala.) Carver
On3 NIL Valuation: $24K
On3 RPM: Georgia 49.5%, Alabama 34.5%, Auburn 13.1%, Texas A&M 1.2%
The Skinny: Teammates Qua Russaw and James Smith, who is listed later on, are taking many of their visit together. While they have said that they aren't guaranteed to be commit to the same school, On3's Chad Simmons reports that the likely to play together in college.
10. Five-Star DL David Hicks
School: Katy (Texas) Paetlow
On3 NIL Valuation: $19.7K
On3 RPM: Texas A&M 55.8%, Oklahoma 42.4%
The Skinny: This appears to be a two-horse race between the Aggies and Sooners. Other schools are trying to make some headway and get into the fight at the front, but no one has been able to do so.
12. Five-Star S Caleb Downs
School: Hoschton (Ga.) Mill Creek
On3 Consensus grade: 96.55
On3 NIL Valuation: $29K
On3 RPM: Georgia 56.8%, Alabama 28.1%, Ohio State 4.6%, Clemson 2.8%, Notre Dame 1.1%, North Carolina 1.1%
The Skinny: As the No. 1 player from the state of Georgia, Downs is a top target for the Bulldogs. But other schools have been coming on strong in recent weeks.
13. Five-Star DL James Smith
School: Montgomery (Ala.) Carver
On3 NIL Valuation: $16K
On3 RPM: Alabama 52.9%, Georgia 46.6% 
The Skinny: See above — Smith and Russaw appear to be a package deal.
14. Five-Star IOL Francis Mauigoa
School: Bradenton (Fla.) IMG Academy
On3 NIL Valuation: $13.3K
On3 RPM: USC 48.2%, Miami 22.4%, Alabama 17.0%, Oregon 11.0%
The Skinny: Mauigoa earned his fifth star in Monday's release of the On300. On3's Chad Simmons reports that he is likely cut his list down either this month or next.
15. Five-Star WR Shelton Sampson Jr.
School: Baton Rouge (La.) Catholic
On3 Consensus grade: 95.80
On3 NIL Valuation: $44K
On3 RPM: LSU 92.7%, Alabama 2.6%, Texas A&M 1.2%
The Skinny: A hometown kid who goes to school less than 15 minutes away from LSU's Tiger Stadium, this recruitment is the Tigers' to lose.
16. Four-Star OT Zalance Heard
School: Monroe (La.) Neville
On3 NIL Valuation: $8.6K
On3 RPM: LSU 37.7%, Baylor 17.3%, Texas 14.8%, Oklahoma State 12.3%
The Skinny: Heard's recruitment is wide open at the moment, but it looks like he is going to be staying relatively near home, either at LSU or right near by in Texas or Oklahoma.
17. Four-Star WR Carnell Tate
School: Chicago (Ill.) IMG Academy
On3 NIL Valuation: $35K
On3 RPM: Tennessee 54.8%, Ohio State 36.1%, Notre Dame 7.2%
The Skinny: For the longest time, the Buckeyes have been the heavy, undisputed favorite for Tate. But Tennessee has surged in recent times as Nico Iamaleava has said he wants to play with Tate.
18. Four-Star TE Duce Robinson
School: Phoenix Pinnacle
On3 NIL Valuation: $18.3K
On3 RPM: USC 56.9%, Georgia 16.8%, Clemson 14.4%, Oklahoma 3.5%, Arizona State 1.9%, Notre Dame 1.9%, Washington 1.9%
The Skinny: On3's Chad Simmons caught up with Robinson last month, and the tight end said he doesn't plan on making a decision until the fall. But he did name a few schools that are currently sticking out to him.
20. Four-Star EDGE Adepoju Adebawore
School: Kansas City (Mo.) North Kansas City
On3 NIL Valuation: $6.2K
On3 RPM: Kansas 24.4%, Oklahoma 21.3%, Northwestern 18.3%, Georgia 15.2%
The Skinny: One of the biggest risers in the most updated On300 ranking, Adebawore's recruitment is likely to hit another level over the next few months as his profile continues to rise. Don't count out Northwestern, where his brother is a star defensive lineman for the Wildcats.
21. Four-Star EDGE Damon Wilson
School: Venice (Fla.)
On3 NIL Valuation: $15.5K
On3 RPM: Alabama 30.8%, Ohio State 26.9%
The Skinny: This recruitment appears to be wide open with nearly 20 schools having a 1.7% chance in RPM.
22. Four-Star WR Jalen Brown
School: Miami Gulliver Prep
On3 NIL Valuation: $23K
On3 RPM: Miami 35.7%, Florida State 23.5%, Florida 10.2%, LSU 5.8%, Michigan 5.8%
The Skinny: Miami is the favorite to land the local recruit but Chad Simmons has said to not rule out Florida State.
23. Four-Star S Derek Williams
School: New Iberia (La.) Westgate
On3 NIL Valuation: $12.3K
On3 RPM: LSU 19.7%, Texas A&M 17.3%, Ole Miss 14.8%, Texas 12.3%, Oklahoma 12.3%, Michigan 12.3%
The Skinny: LSU is the current favorite for Williams but LSU already has two safety commits in the 2023 class. Obviously not a deal breaker but also something to look out for going forward.
24. Four-Star DL Peter Woods
School: Alabaster (Ala.) Thompson
On3 NIL Valuation: $24K
On3 RPM: Alabama 97.0%
The Skinny: Alabama is always difficult to beat with an in-state star. Woods recruitment looks like a prime example of that.
25. Four-Star EDGE Bai Jobe
School: Norman (Okla.) Community Christian School
On3 NIL Valuation: $7.6K
On3 RPM: Oklahoma 26.6%, Oklahoma State 23.3%, Arkansas 10.5%, Alabama 8.7%, Vanderbilt 8.7%, Georgia 8.7%
The Skinny: Jobe is a top priority for both Oklahoma and Oklahoma State. Neither schools wants to lose him but schools like Arkansas and Alabama are going to put up a fight to try and get Jobe out of the state.
26. Four-Star CB Malik Muhammad
School: Dallas South Oak Cliff
On3 NIL Valuation: $15.8K
On3 RPM: Texas A&M 87.1%, Alabama 2.6%, Miami 2.2%
The Skinny: AggieScoop's Tim Verghese reports that Muhammad is looking to wind down his recruitment over the coming weeks and has the upper hand at the moment. The Aggies also landed a commitment from his high school teammate Jayvon Thomas.