Standout recruits from high school state championships and playoffs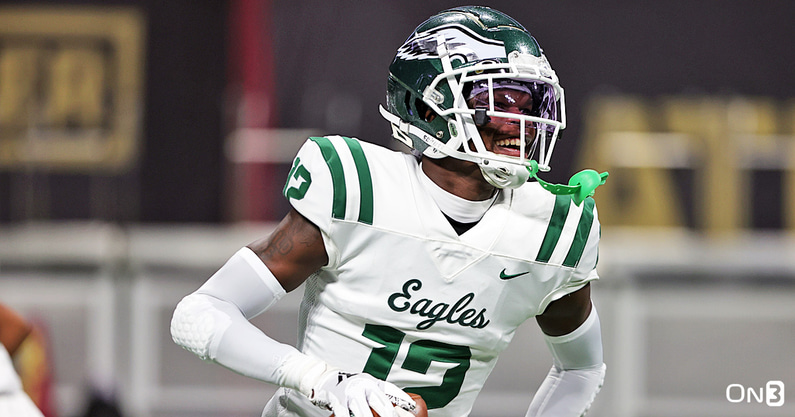 The high school football season came to an end this weekend. We saw state championships and big semifinal games take place in Georgia, Texas and Florida over the last two weeks. Unsurprisingly, the games were loaded with top prospects.
With that in mind, here are some top 2022 prospects who impressed in the big games.
ATH Travis Hunter – Jackson State
A few days before shocking the recruiting world by flipping from Florida State to Jackson State on signing day, Travis Hunter lead his Collins Hill team to a 24-8 win over Milton in Georgia's 7A state championship. Hunter took over the game in the third quarter with long catches, a short touchdown and a forced fumble.
Hunter is a true two-way star and showed off some adept route-running on the goal line. A Five-Star Plus+ prospect and the No. 1 overall prospect in the On3 Consensus, Hunter is as good of a high school player that we've seen in a few years. He will go down as an all-time great prep star in the state of Georgia.
EDGE Ethan Burke – Texas
The Class 6A-D2 state final between Austin Westlake and Denton Guyer in Texas featured a number of blue-chip prospects. Texas EDGE signee Ethan Burke was a clear standout. The 6-foot-7, 230-pounder had a dominant showing rushing off the edge. Burke and his fellow Westlake defensive end Colton Vasek were timing up the snap and teeing off on the Guyer offensive front. Burke was bursting off the ball, often before the right tackle was out of his stance. He paired the first step quickness with body lean, dipping his shoulder. We also saw Burke employ a long arm move, making him even tougher to block. Burke lived in the backfield and took the game over in the second half.
The one-time Michigan commit was also active a week earlier in Austin Westlake's big semifinal win over Katy. He made a number of plays in backside pursuit and showed strong effort on a snap-by-snap basis. We saw him blow up a play on a short yardage run, using his first-step quickness to get in the backfield and force a turnover on downs. Burke, who ranks as a four-star prospect for On3, was more productive than his peer on the other sideline, On300 Texas A&M signee, Malick Sylla.
WR Nicholas Anderson – Oklahoma
A silver lining of Katy facing an early deficit against Westlake in the semifinals was that we got to see Nicholas Anderson get significantly more targets than usual. We've been high on the Oklahoma signee's skill set for some time, but he's a low usage player in Katy's run-heavy scheme. Anderson answered the bell with five catches for 149 yards and two touchdowns. The first score came in the third quarter. Anderson ran a curl route, boxed out the initial defender, wiggled out of one tackle and shrugged off another before running the remaining 45 yards for the score.
Anderson's second touchdown came on a vertical route off play action. He got behind the Westlake defense and tracked the ball over his shoulder in the end zone. The 6-foot-3.5, 195-pounder showed his smooth movement skills and coordination in the expanded target share.
QB Cade Klubnik – Clemson
Cade Klubnik capped off his career at Austin Westlake with a second straight state championship and undefeated season. The 6-foot-3, 190-pounder lead Westlake to a 40-21 win over a tough Denton Guyer team that features a number of Power 5 prospects in the secondary.
Klubnik rebounded from his worst half of football this season spark the victory. He was just 6 of 11 for 84 yards, one touchdown and one interception in the first half as Westlake's offense sputtered a bit. Klubnik showed some resilience and bounced back in the second half. He got things going by leading a touchdown drive on Westlake's first possession out of the locker room. The Clemson signee threw the first of three second-half touchdowns on a play where he rolled to his left and found a wide open receiver who had leaked into the end zone. Klubnik then hit a deep ball to 2023 wide receiver Jaden Greathouse for a 69-yard touchdown and connected with Greathouse again on a busted coverage for a long score.
Klubnik, who ranks as the No. 36 overall prospect in the On300, finished the game 14-for-21 for 279 yards and four touchdowns and one interception.
This was the first game where we really saw Klubnik face some pressure and adversity all season. Westlake is one of the top teams in the country and came into the game completely mowing opponents by an average score of 58 to 8. The Clemson signee operates the Westlake offense in a highly efficient manner, showing good accuracy and decision-making from within the pocket. He doesn't face much pressure or have to make many second-reaction plays while playing behind an offensive line that features at least three Power 5 prospects. With that said, Klubnik does operate well from within structure.
OT Elijah Pritchett – Alabama
Alabama offensive tackle signee Elijah Pritchett and his Carver Columbus team took on Savannah (Ga.) Benedictine in Georgia's 4A state championship game. The 6-foot-7, 280-pounder looked the part of a top prospect throughout the game. Pritchett showed his functional movement skills in working at left tackle for Carver. He's a nimble mover and got to the second level with ease, including a run play that went for a long touchdown.
Pritchett was a senior riser for us at On3, ranking as the highest four-star prospect (No. 26 overall) in the On300.
OT Cameron Williams – Texas
The 6A-D1 state championship game in Texas between perennial powers Houston North Shore and Duncanville was played in the trenches. Duncanville offensive tackle Cameron Williams was a clear standout in that regard. The 6-foot-5, 375-pounder had a great day working from his right tackle spot. Williams was a bully in the run game, regularly tossing North Shore defenders to the turf all afternoon. He put on a clinic as a run blocker.
Williams has considerable strength, which shouldn't be a surprise given his size. Still, the pop in his hands paired with a penchant for finishing plays was very impressive on this stage and showed up on a consistent basis. Williams worked to finish blocks and was very chippy. He played mean, which is a great sign for a prospect with his physical dimensions. We also saw some encouraging reactive quickness in his pass set.
QB Holden Geriner – Auburn
Auburn quarterback signee Holden Geriner capped off a strong senior season, leading his Benedictine team to a win over Carver Columbus. Geriner had a big day in foggy conditions, hitting 24 of 30 passes for 397 yards and four touchdowns. The 6-foot-3, 210-pounder quickly noticed some coverage busts on the back end of Carver's defense and connected on several long touchdowns as a result. He also showed some encouraging pocket movement, stepping up to throw a touchdown from an off-platform position. Geriner also had several other plays where he strafed and moved to avoid the pass rush.
The On3 Consensus four-star finished his senior season completing 233 of 343 passes (67.9%) for 3,377 yards, 36 touchdowns and three interceptions.
EDGE Kenyatta Jackson – Ohio State
Ohio State EDGE signee Kenyatta Jackson was one of two top pass rushers to play in Florida's 3A state championship game. 2023 five-star and Notre Dame commit Keon Keeley was on the other side. Jackson and his Hollywood Chaminade-Madonna team took down Tampa Berkeley Prep 21-0. Jackson recorded two sacks, including a strip-sack off of a push pull move.
The Buckeye signee has put together a very strong senior season, finishing with 17 sacks. He was also recently named Florida's Gatorade Player of the Year. Jackson is a long, lean pass rusher who wins off of his length and flexibility off the edge.
CB Denver Harris – Texas A&M
The playoffs have provided our best chance to watch five-star cornerback Denver Harris in action this season. Harris was held out for much of the year due to an injury.
Harris was not tested much in coverage in the 6A-D1 state championship game, but we did see him make some plays. The Texas A&M signee made a physical tackle in space at the goal line in the first half before leaving with what looked to be a shoulder injury. He returned a drive or two later. We also saw Harris show off some makeup speed. He got caught looking in the backfield on a reverse pass, but was able to close the gap with the receiver while the ball was in-air.
The state semifinals saw Harris draw a top matchup, as he was manned up on Austin Lake Travis wide receiver and Ohio State signee Caleb Burton. We did not see Harris surrender a catch on Burton, save a quick underneath pass when Harris was in zone coverage. The highlight of Harris' day was likely when he stuck with Burton on a vertical route down the sideline.
DL Kristopher Ross – Texas
Texas signee Kristopher Ross was one of several Power 5 prospects in the trenches in the North Shore-Duncanville game. Ross was active on the day and flashed some of his unique athleticism early on, when he ran down Duncanville's running back in the open field. Ross also had a number of pressures and a few run stuffs. The 6-foot-3, 280-pounder will need to continue to work on his pad level, as he can play too high at times, making him easier to block.
Ross ranks as the No. 62 overall prospect and No. 9 defensive lineman in the On300.
WR Janiran Bonner – Georgia Tech
Janiran Bonner and the Ellenwood (Ga.) Cedar Grove offense were rolling in a 56-26 win over Atlanta (Ga.) Carver in Georgia's 3A championship game. The Georgia Tech commit caught eight passes for 150 yards and two touchdowns. Bonner did most of his damage in the first half. He won vertically against single coverage on the outside, leading to a 80-yard catch and run. The On3 Consensus four-star prospect won deep all year. Bonner showed the ability to sell double moves, track the ball over his shoulder and come down with contested catches.