Takeaways from spring football in Louisiana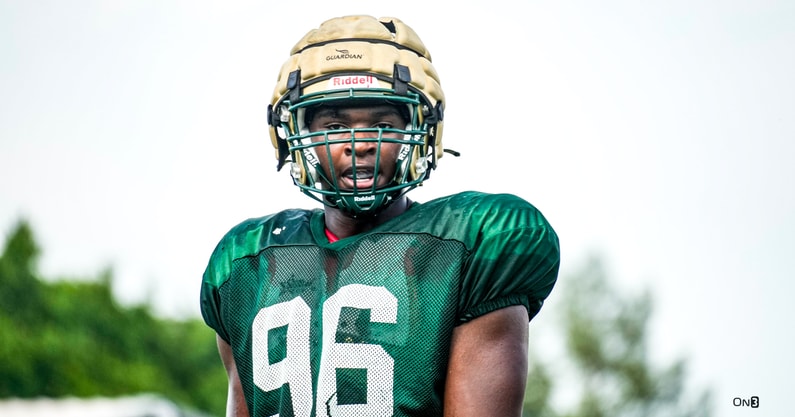 On3 National Recruiting Analyst Sam Spiegelman navigated through the Boot this week to check in with some of the top players in the On300 in 2024, in 2025 and beyond.
With stops north of around New Orleans and in Acadiana — and multiple spots in between — here's the latest on some of the best recruits as they get ready for official visits and start to wrap up the spring evaluation period.
5-star DL McKinley 'can't be blocked'
Five-star DL Dominick McKinley is the top-rated player in The Boot in this 2024 cycle, a versatile defensive lineman that measures in at 6-foot-6.5 and 280 pounds with insane testing numbers for a player of his stature. McKinley also boasts an 80-plus-inch wingspan, and as On3 Director of Scouting Charles Power puts it, has all the tools to be in the first-round conversation.
"McKinley is one of the more physically-gifted defensive linemen we've evaluated in the 2024 cycle," Power said. "He has a big frame and elite length at 6-foot-5, 270-280 pounds with 34.5-inch arms. McKinley pairs those high-end dimensions with plus athleticism, which we see manifest on Friday nights."
"If you look at top picks along the defensive line in recent NFL Drafts like Travon Walker, Jordan Davis, Derrick Brown and Quinnen Williams – they all had big frames and in most cases, good to elite athleticism. McKinley has shown the attributes to point to that kind of upside at this stage and could get there with hard work and further development."
During this analyst's time in Lafayette, all of the buzz has centered around McKinley and the dominant spring he's turning in. As one source put it, "he can't be blocked," and from what I witnessed it's no exaggeration.
McKinley was a weight-room warrior after his breakthrough junior season and it's translated onto the field. His length, his first-step quickness and his ability to disrupt in the middle of the defensive line as well as working off the edge was on full display this spring. The scary realization is that the No. 14-ranked player in the On300 may just be warming up for the fall.
Karr's Nasty Wideouts are ready to roll
New Orleans powerhouse Edna Karr has been a Division 1 factory over the years with double-digit signees year in and year out, with an emphasis on speedy playmaking receivers in recent cycles. Among the notable Karr alum include Racey McMath, Destyn Hill and Aaron Anderson.
This season will be no different for the contenders from Algiers.
2024 WR Rahji Dennis headlines the senior crop. The 6-foot, 170-pounder clocked a 10.2-second 100M last spring and a 21.09-second 200-meter earlier this month. Dennis' speed on the track has been mirrored by development at his position. This spring, Dennis has been used on gadget plays and designed end-arounds, and has also been outstanding stretching the field vertically and making tough combat catches in the middle of the field.
Miami is a team trending early with Dennis, but Ole Mis, Texas A&M and others seem primed to shake up his recruitment.
Elite 2025 WR TaRon Francis has flashed in spurts as an underclassman for Karr. The focus this spring has been on consistency for the big-play threat, who checks in at 6-foot-2 and 190-pounds. Francis is explosive, dangerous in space and after the catch, and physically imposing working on the outside. He has a compelling case as one of the nation's best pass-catchers in next year's cycle.
Tyrone Wilson is another returning 2024 receiver. The little brother of newly enrolled Florida State freshman WR Destyn Hill, Wilson also boasts speed to burn downfield and the same toughness his older brother displayed working in the middle of the field. As a sub-6-foot receiver, Wilson is productive and consistent.
King Tut ready to leave a mark
On3 Industry Ranking four-star LB Kolaj Cobbins was among the most productive linebackers in The Boot as a sophomore and a key cog on the high-flying Destrehan (La.) defense that captured a state championship last year.
Cobbins has always been an impactful difference-maker off the edge and roaming sideline to sideline in the second layer of the defense, and this spring, the LSU commitment was used as a stand-up rushing off the edge and closer to the line of scrimmage more frequently.
This spring, Cobbins checked in at 6-foot-3 and 215 pounds. He was explosive flying off the line during the spring game with multiple sacks and multiple pressure, and even more flashes down the line and pursuing the football. Cobbins seems primed to have an even more productive senior campaign as the star in a loaded Destrehan defensive front.
Butler has SEC skill
Georgia Tech is aiming to restock the roster and is off to a fast start in Louisiana in this cycle with an early commitment from three-star Edna Karr LB Tah'J Butler. A returning starter from last year's squad, Butler is up to 6-foot-2 and 215 pounds and moving well as the quarterback of the defense.
This spring, Butler has shined in 1-on-1 settings. After adding more muscle to his frame, he's remained agile with excellent hips. He breaks down and tackles well, flies to the football and is an impactful three-down linebacker.
The Yellow Jackets have a star in the making committed thanks in part to the connection to New Orleans native Ricky Brumfield. They may have to hold off the SEC down the line for Butler, who is a no-doubt stock-up candidate.
Elsewhere on the Edna Karr defense …
The 2026 class is shaping to be a very deep and talented group of prospects in Louisiana and one of the defensive backs that's generated a lot of buzz has been Aiden Hall. The sophomore starter has already taken a leadership role manning the back end of the secondary, and at 6-foot-2, 180 pounds is long, rangy, hard-hitting and instinctive roaming at free safety. 
2025 EDGE Corey Adams and 2026 DL Rich Anderson have emerged as a formidable duo on the defensive front for the next two seasons. Adams has prototypical size (6-foot-5, 285 pounds) and burst off the line. Anderson, a space-eater, also provides a jolt absorbing blockers and generating an interior pass rush. 
LSU dominating the top 10
It's Year 2 of the Brian Kelly era in Baton Rouge, and after inking a top-five class last cycle the Tigers are primed for another strong finish this year.
Part of LSU's ascension in the rankings last cycle was due to the national scope of their class. The headliners included five-star EDGE Dashawn Womack and elite Florida WR Jalen Brown and Texas DB Javien Toviano. In 2024, the Tigers are looking to build their class from Louisiana on out, and so far they're trending that way in a convincing fashion.
A string of spring commitments has vaulted the Tigers just outside the top 10 at No. 11 nationally on the On3 Industry Team Rankings. Kelly and co. have secured commitments from five of the state's top-10 recruits and are leading the pack on the RPM for the remaining blue-chip dominoes still on the board.
LSU locked in commitments from On300 standouts Trey'Dez Green, Dashawn McBryde and recently flipped the script on one-time Colorado pledge Ju'Juan Johnson. The Tigers are also in strong positions with Louisiana's top uncommitted recruits, namely McKinley, four-star DB Wardell Mack, four-star S Joel Rogers, four-star LB Tylen Singleton and three-star WR Koby Young.
By this summer, look for two and possibly three more of those names to come off the board, and this analyst feels strongly about his current RPM selections to hit.
New wave of programs in the Boot
Louisiana is always a hotbed for talent, and each year the coaching landscape brings some new programs into town.
LSU is recruiting at a very high clip under Kelly and the vision of associate head coach Frank Wilson. The same goes for Willie Fritz, whose staff has capitalized in the transfer portal and in the high school ranks after winning the Cotton Bowl last season.
Alabama has always been a factor in Louisiana, especially since Nick Saban resurfaced in Tuscaloosa. Pete Golding was the Crimson Tide's ace for years, and as Ole Miss' defensive coordinator, the Rebels are putting themselves in the mix with many of the Boot's best. That includes Anthony Robinson, Bernard Causey, Joseph Cryer, and others.
The Tide have maintained their presence with Coleman Hutzler taking over the territory. Other major recruiters in the area this spring have been Brumfield (Georgia Tech) and Marty Biagi, who has been a force in the area at Purdue, Ole Miss and now at Notre Dame.
Former Tulane DC Chris Hampton has kept Louisiana in his plans as Oregon's safeties coach, and the Ducks have received a major lift from new staffer Antonio Parks, too. Former LSU and Mississippi State recruiting specialist Mason Smith has joined forced with TJ Rushing, who has landed several big booms in The Boot and continues to be a force for the Aggies on the trail.
Texas' Terry Joseph put a dent in Louisiana in 2023, and both David Johnson and Jabbar Juluke have successfully brought Louisiana talent over to the Sunshine State in recent years. Emmett Jones (Oklahoma), Ron Bellamy (Michigan) and Paul Gonzalez (TCU) are three more of the best at recruiting the state and could be major factors in how the rest of the 2024 cycle plays out.