The Top 10 Quarterbacks in College Football in 2023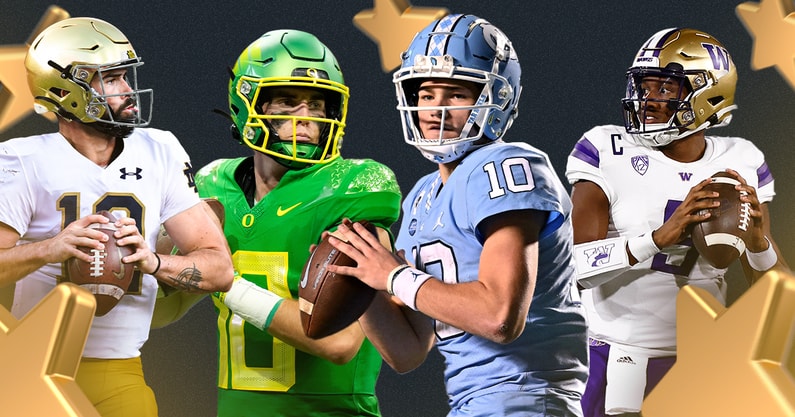 Quarterback play is one of many factors that determines what makes a top team in college football. With that being the case, On3 has taken the time to rank the top 10 quarterbacks in college football ahead of 2023.
With spring practice set to begin soon and most teams' rosters set, the picture is starting to become clearer. Below are the top 10 quarterbacks ahead of the 2023 season, according to On3.
Top 10 Quarterbacks in College Football in 2023
1. Caleb Williams, USC: After claiming the Heisman Trophy last season, Williams is the obvious choice as not only the best quarterback but also the best overall player in the country. He threw for 4,537 yards, 42 touchdowns and five interceptions in 2022 in addition to 382 yards rushing and 10 scores on the ground. The Trojans missed the College Football Playoff after falling to Utah in the Pac-12 Championship, but Williams will look to avenge that this coming season.
2. Drake Maye, North Carolina: In his first career start last season, it quickly became apparent that Maye was a star. The redshirt freshman threw for five touchdowns in a 56-24 victory against Florida A&M, becoming the first UNC quarterback to do so in a season-opening game. Maye proved throughout the rest of the year that the opening week wasn't a fluke, finishing with 4,321 yards passing, 38 touchdowns and seven interceptions. Now he has his sights set on an even bigger season as a sophomore.
3. Michael Penix Jr., Washington: Penix transferred to Washington from Indiana in 2022, and the change of scenery proved to be just what he needed. The fifth-year player had a breakout season to finish second in the country with 4,641 yards passing along with 31 touchdowns and eight interceptions. He returns for a sixth year in 2023 hoping to lead a Huskies team that finished 11-2 to even greater heights.
4. Bo Nix, Oregon: Nix is another player who benefitted after transferring last season. He previously spent three seasons as the starter for Auburn, even winning SEC Freshman of the Year in 2019. But in 2022 with the Ducks, he had his best season yet to finish with 3,593 yards, 29 touchdowns and seven interceptions. The former five-star recruit will aim even higher after leading Oregon to a 10-3 record in 2022.
5. Sam Hartman, Notre Dame: Hartman is already an all-time great for Wake Forest, and now he'll hope to continue his impressive play in South Bend. He spent the first five years of his career with the Demon Deacons and leaves as the program leader passing yards with 12,967 in addition to 110 touchdown passes. He also led the program to just its second 11-win season in 2021. Now he heads to Notre Dame in 2023 for his sixth overall season and fourth as a starter hoping to add to that legacy.
6. Jordan Travis, Florida State: The Seminoles enter 2023 with plenty of hype, and Travis is a big reason why. He threw for 3,214 yards, 24 touchdowns and five interceptions last season in addition to rushing for 417 yards and seven scores. Coming off a 10-3 finish, many believe he has what it takes to make Florida State a contender in the ACC.
7. Jayden Daniels, LSU: Daniels' performance in 2022 had the Tigers getting serious consideration for the College Football Playoff. He threw for a career-best 2,913 yards in addition to 17 touchdowns and three interceptions. He also rushed for 885 yards and 11 touchdowns. That performance helped LSU to win the SEC West, and Daniels will hope to build upon it in 2023.
8. JJ McCarthy, Michigan: McCarthy helped the Wolverines to their second straight College Football Playoff appearance in 2022. He proved a threat both on the ground and through the air, finishing with 2,719 yards passing, 22 touchdowns and five interceptions in addition to 306 yards and five touchdowns on the ground.
9. KJ Jefferson, Arkansas: Jefferson enters his third year as the Razorbacks starter hoping for his best result yet. The Hogs went 9-4 in his first season, but took a step back last year to finish just 7-6. Jefferson missed a couple of those games due to injury, finishing with 2,468 yards passing, 24 touchdowns and five interceptions as well as 640 yards rushing and nine TDs. He'll hope to remain fully healthy for 2023 as Arkansas enters its fourth year under Sam Pittman.
10. Devin Leary, Kentucky: Leary transferred to Lexington this offseason following four seasons at NC State. He suffered an injury to his pectoral muscle this past season that limited him to six games. The year prior in 2021, he threw for 3,433 yards, 35 touchdowns and five interceptions. Now he is set to take over for Will Levis, who entered the 2023 NFL Draft.