This Week in Coaching: Dissecting the latest pay raise for Mark Stoops at Kentucky, Lane Kiffin trolls a reporter and can Irish OC Tommy Rees devise a gameplan to match points with USC?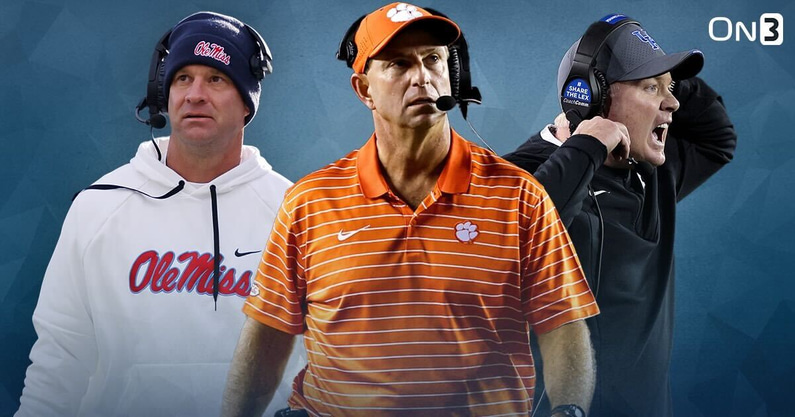 While the coaching carousel wheels are about to spin in high gear after the final weekend of the 2022 regular season, we can likely cross off one potential big-name candidate of any school's hot boards. 
Mark Stoops received another contract extension and raise at Kentucky, one that will reportedly pay the Wildcats' veteran head coach around $9 million annually. 
There are all sorts of layers to dissect here, so let's dig in. 
First, Stoops, who has been at UK since 2013, is now the highest-paid coach at the university — a notable note at Kentucky, which is a basketball school even though Stoops has argued otherwise. No doubt, John Calipari is on the phone somewhere barking at his agent to rectify his pole standing in Lexington. 
"The continuity we've had has been crucial to our growth and is even more important as we move forward," Stoops said in a statement. 
"I wanted to reaffirm my commitment. I've loved it here and am excited about our future."
Stoops is the best Wildcats coach since Bear Bryant. He's 65-58 overall record at UK, with five winning seasons in Lexington so far. He's absolutely elevated Kentucky's program over the last decade, taking the Wildcats to seven-straight bowls, which is a legitimate accomplishment for the Big Blue Nation in football. This ain't March Madness. 
But the extension and big pay raise certainly come at an interesting time considering 2022 was billed as a potential "Atlanta or bust season" for UK, and yet the Wildcats are no more than a middle-of-the-pack SEC squad this year. 
Kentucky puffed its chest big-time this offseason, but the Cats are 6-5, dropping four of their last six games. Stoops signed the contract two weeks ago, per On3's KSR, which is again notable, considering it lost to Vanderbilt as a big home favorite just last Saturday. 
Athletics director Mitch Barnhart heralded the school's commitment to continuity, and again, that's fair. 
What's also fair is to question why the school waited to announce the historic extension-pay-bump for Stoops if it was signed weeks ago (see: Rule No. 365, Don't announce a bonus after losing to Vanderbilt at home). 
Furthermore, if Kentucky, again Kentucky, is willing to pay its head coach $9 million per season, what does that mean for Auburn's opening?
If the Tigers hire Lane Kiffin or another sitting Power 5 head coach, the floor may be $8-9 million with yearly escalators. 
Speaking of Lane…
KIFFIN TROLLS REPORT HE'S OFF TO AUBURN
Ole Miss' head coach fired off a pair of tweets Monday denying a "BREAKING" news report from a local Mississippi TV sports director that Lane Kiffin "plans to step down as the Rebels coach on Friday and head to Auburn."
In a day and age when folks are desperate to be first on the ticker, the "report" — which literally noted that "sources" said that Kiffin had not even been officially offered the job yet — backfired spectacularly. 
Jon Sokoloff received the attention he wanted, just now how he intended. 
First, Kiffin shot down the report with a typical non-denial, and then college football's best Twitter troll went to real work, posting a riff on the original tweet and retweeting memes about the end of Sokoloff's career. 
Master trolling. 
We'll see how long it continues, though. 
Notice what Kiffin didn't say: He's not going to Auburn. I'm staying at Ole Miss. The silly, flimsy report was simply "news to me"
Kiffin remains Auburn's top target, and with Ole Miss' regular-season finale coming Thursday night in the Egg Bowl against Mississippi State, true news — one way or another — could come soon. 
BROYLES AWARD SEMIFINALS
Candidates for the nation's top assistant in 2022 were whittled down to 15 semifinalists earlier this week. 
Notables include TCU offensive coordinator Garrett Riley, Oregon OC Kenny Dillingham, Tennessee OC Alex Golesh, Georgia OC TOdd Monken, Michigan defensive coordinator Jesse Minter, LSU DC Matt House and Illinois DC Ryan Walters. 
COORDINATOR OF THE WEEK TO WATCH
With Notre Dame making the trip to the Coliseum this weekend to potentially play spoiler against Southern Cal's playoff hopes, the man in charge of matching points with Lincoln Riley and Caleb Williams is Irish OC Tommy Rees.
The Irish have won five straight games, scoring at least 35 points in every contest. The only other time that's happened in school history was 79 years ago. 
Not too shabby. 
Still, it would be an overstatement to label Notre Dame's offense "good" in 2022. 
The Irish averaged just 5.8 yards per play over that stretch, as Rees' unit seems to run either totally hot or ice cold. 
The former Notre Dame quarterback has drawn the ire of Irish Nation throughout fall, frustrated by maddeningly inconsistent offensive execution and spotty play calling. 
Two weeks ago against Navy, Notre Dame scored five touchdowns in the first half. It had more than 320 yards. After halftime, the Irish couldn't generate more than a single first down and only 12 yards of offense, narrowly surviving a raucous comeback by the Midshipman. 
Obviously, that's not going to cut it if Notre Dame is going to upset USC, which is averaging 42.9 points per game.
Notre Dame has done a decent job not turning the ball over this season, which is important against a Trojans defense that lives and dies on takeaways. Against UCLA, USC allowed over 500 yards and 45 points, but it won the game because it had a 4-1 advantage in the turnover battle. 
The question is can Rees devise a game plan that attacks a leaky USC secondary (No. 105 nationally in pass defense) with a Notre Dame passing attack that operates more like ground shipping? 
After losing starting quarterback Tyler Buchner in the second game of the season, Rees has done his best to build an offense without explosive playmakers on the permitter and a limited quarterback in Drew Pyne. 
Behind a sturdy offensive line, Notre Dame leans on its solid rushing attack, but it also is rarely explosive. 
The Irish need chunk plays to keep up with USC, and that means Rees might need to get an all-time performance from Pine, who is completing just 61% of his passes this season and has five starts with fewer than 160 passing yards this season. 
QUOTABLE
"They're flipping burgers during the conference championship weekend, like, 'Are we going to Atlanta or Phoenix?' And the next thing you know you forget you gotta go play."
— Clemson head coach Dabo Swinney on Tennessee's College Football Playoff hopes get flamed after losing in a rout to South Carolina last weekend. 
Talk about salt in the wounds. Tennessee sees its magical season disappear and then Dabo Swinney twists the knife with some no-so-subtle snark. 
Ouch. 
On a related note, Clemson hosts South Carolina at noon Saturday.