Top 20 ACC players in the On3 College Football Impact 300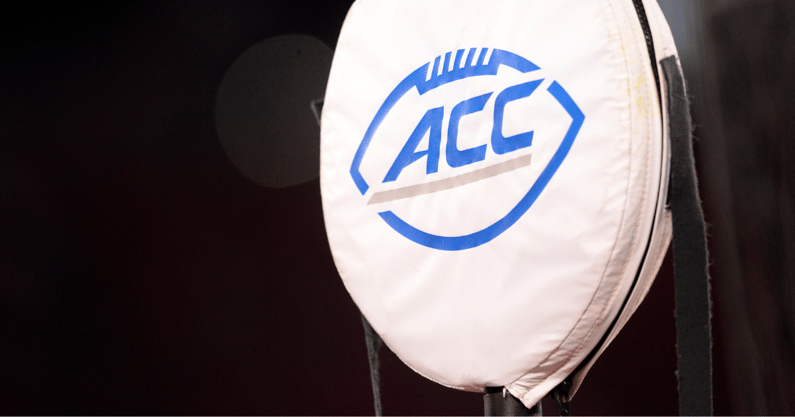 The On3 Impact 300 ranks the best players in college football entering the 2022 season, with a full release coming in the next few weeks. Prior to the release of the inaugural list – which also factors into the calculation of the On3 NIL Valuation – On3 has revealed the Top 20 returning ACC players.
Clemson leads the way with the Top 4 players in the conference, starting with edge defender Myles Murphy. Along with Murphy, linebacker Trenton Simpson, defensive tackle Bryan Bresee and offensive tackle Jordan McFadden headline the list before players from other ACC programs make appearances.
These are the 20 most impactful players in the ACC with less than three months until the 2022 season kicks off.
Top 20 ACC Players in On3 Impact 300
1. EDGE Myles Murphy, Clemson
The 2020 FWAA Freshman All-American built on a promising start to his college career with an even better sophomore campaign. He earned second-team All-ACC selection after recording 43 tackles, 14.0 tackles for a loss, 7.0 sacks and two forced fumbles. He carries a $553,000 NIL valuation.
2. LB Trenton Simpson, Clemson
Going into his junior season, Simpson is looking to build off a strong first two seasons in college. In two years he has recorded 110 tackles, 10.0 sacks, broken up three passes and forced a fumble. Simpson is one of the big winners in the NIL space, too, ranking No. 40 in the NIL 100 rankings with a $565,000 valuation.
3. DT Bryan Bresee, Clemson
Injuries derailed Bresee's 2021 campaign, though he was still named a third-team All-ACC selection. He'll be coming back from a torn ACL and a shoulder injury this fall, hoping to get back to 2020 production levels, when he tallied 33 tackles, 6.5 tackles for a loss and 4.0 sacks. Current NIL valuation: $691,000.
4. OT Jordan McFadden, Clemson
A redshirt senior, McFadden has started 25 games and appeared in 42 in his career with the Tigers. He has logged 1,971 career snaps, so he's one of the most experienced offensive linemen in the country. He was a second-team All-ACC selection in 2021.
5. QB Tyler Van Dyke, Miami
Van Dyke took over as the starter after a D'Eriq King injury. He averaged 367 yards passing in his final six games of the season, while throwing 23 touchdown passes to only three interceptions. Only a sophomore, he seems likely to turn into one of college football's next big stars. He ranks No. 22 in the NIL 100 ranking, with a current NIL valuation of $775,000.
6. WR Josh Downs, North Carolina
Downs made a major sophomore season leap, earning first-team All-ACC honors after starring at both receiver and as a return man. He finished as a Biletnikoff semifinalist and set program records with 101 catches for 1,335 yards. He caught eight touchdown passes.
7. DT Calijah Kancey, Pittsburgh
The Miami native goes into his redshirt junior season on the heels of a terrific 2021 campaign in which he earned first-team All-ACC honors. Kancey led Pittsburgh with 13 tackles for a loss while finishing second on the team with seven sacks. He finished the season with 35 total tackles.
8. QB Brennan Armstrong, Virginia
The Virginia signal-caller finished fourth nationally with 4,449 passing yards, doing so on 326 of 500 passing. He threw for 31 touchdowns while throwing 10 interceptions. He eclipsed the 400-yard mark in seven games last season. He sneaks into the back end of the NIL 100 rankings at No. 95, carrying a current valuation of $346,000.
9. OT Zion Nelson, Miami
A three-year starter at tackle for the Miami Hurricanes, Nelson is considered a potential first-round draft pick in 2023 by ESPN analyst Todd McShay. Nelson has logged 33 career starts in his three years at Miami and will help protect emerging star quarterback Tyler Van Dyke this season.
10. CB Josh DeBerry, Boston College
DeBerry has had back-to-back excellent seasons for the Eagles, racking up a combined 93 tackles, a sack, three forced fumbles, a fumble recovery, three interceptions and eight passes defended since the start of 2020. He has an NIL valuation estimated at $315,000.
11. IOL Caleb Chandler, Louisville
Chandler is one of a few returning starters for the Cardinals, but he's the definite anchor in the group. He has started 40 straight games at Louisville and earned first-team All-ACC honors in 2021. He passed up an opportunity to enter the NFL Draft to return to Louisville in 2022.
12. QB Sam Hartman, Wake Forest
Hartman led Wake Forest to a first-place finish in the ACC Atlantic division, though the Demon Deacons came up short in the ACC title game against Pittsburgh. He had his signature game against Army when he went 23 of 29 passing for 458 yards and five touchdowns. He finished 2021 with 4,228 yards on 299 of 508 passing, throwing 39 touchdowns to 14 interceptions. He also added 117 carries for 363 yards and 11 touchdowns.
13. LB Drake Thomas, NC State
Earning first-team All-ACC honors last year, Thomas led the Wolfpack in tackles in six of the team's games in 2021. He can play multiple linebacker positions. He finished 2021 with 99 tackles, 6.0 sacks and three interceptions, and his current NIL valuation stands at $283,000.
14. WR Keytaon Thompson, Virginia
A former quarterback-turned-receiver after transferring from Mississippi State, Thompson really came on at the end of the 2021 season. He had at least seven catches in his final five games of the season. He finished the year with a team-leading 78 catches for 990 yards and a touchdown, while also adding 39 carries for 247 yards and four touchdowns.
15. WR Dontayvion Wicks, Virginia
Forming a terrific one-two punch with Thompson, Wicks managed to set the single-season receiving yardage record at Virginia by finishing with 1,203 yards. He was a big-play threat, averaging 21.1 yards per catch, the highest in the ACC and fifth nationally. He finished the year with 57 catches and nine receiving touchdowns.
16. EDGE Jared Verse, Florida State
Verse was one of the top transfers this offseason, checking in at No. 17 in the On3 Transfer Portal rankings after leaving Albany for FSU. In two seasons with the Great Danes, Verse racked up 74 tackles, including 21.5 for a loss and 14.5 sacks. He also forced two fumbles.
17. QB Devin Leary, NC State
Leary finished among the Top 25 most accurate passers in the country last season, and he had a terrific 7-to-1 touchdown to interception ratio. He also had a penchant for coming through in the clutch, throwing 11 fourth-quarter touchdowns and leading a game-winning drive against Clemson and a comeback win over UNC. When the 2021 season ended, Leary was 283 of 431 passing for 3,433 yards with 35 touchdowns and only five interceptions.
18. EDGE Mitchell Agude, Miami
Ranked just two spots below Verse in the On3 Transfer Portal rankings, Agude went from UCLA to Miami this offseason. He was disruptive off the edge, forcing four fumbles and finishing the 2021 campaign with 54 tackles, 6.5 tackles for a loss, 2.0 sacks, a fumble recovery and three pass breakups.
19. WR Zay Flowers, Boston College
Flowers has been a major contributor for the Eagles for three seasons now, and he'll enter 2022 as one of the league's top wideouts. He 122 career catches for 1,979 yards and 17 touchdowns, while he's also added a pair of scores and 305 yards rushing.
20. RB Sean Tucker, Syracuse
In two years at Syracuse, Tucker has already rushed for more than 2,000 yards and set the program's single-season rushing record. He did that last year when he ran for 1,496 yards and 12 touchdowns. Tucker is also a threat out of the backfield catching passes. In two years he's got 28 catches for 368 yards and two touchdowns.