Aneesah Morrow commits to LSU in NIL deal with Caktus AI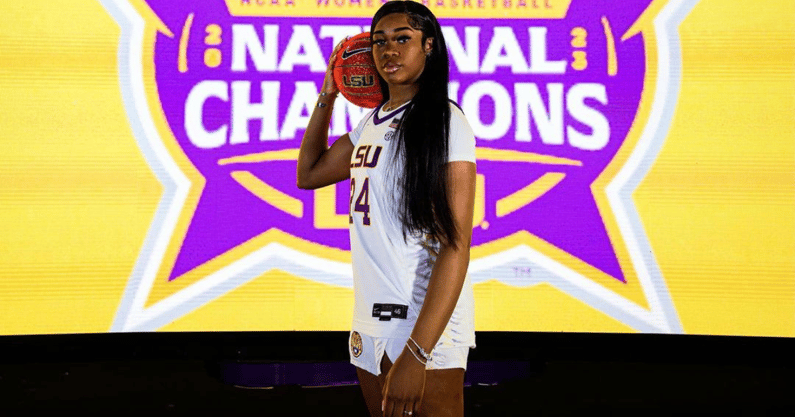 Aneesah Morrow made sure to truly monetize her transfer portal commitment.
The newest member of the LSU women's basketball team announced her transfer decision Friday afternoon. The DePaul transfer made the decision in an Instagram video as part of an NIL deal with Caktus AI.
It's one of the few times an athlete has used the hype surrounding their commitment as a chance to also ink an endorsement deal. Colorado two-way star Travis Hunter leveraged his transfer decision in December by saying he would announce his move reaching 100,000 YouTube followers.
Morrow has followed a similar path, promoting a company in her commitment video. The 6-foot-1 sophomore is seen throughout the video on her phone, using the artificial intelligence software to help make a choice.
"What factors are important for a basketball player to consider where to transfer," she types into the app.
"The player should consider schools with a track record of success, amazing fans, and a roster they want to play with," the Caktus AI chatbot responds.
After exchanging a few more messages, Morrow asks the blunt question: "I want to win championships and build a dynasty. Where is the best place for me to achieve my goals?"
"The answer is clear, you belong in Baton Rouge, go be great!" the AI software says.
Caktus AI's return on investment
Caktus has quickly become one of the biggest spenders in NIL, previously working with LSU gymnast Livvy Dunne and basketball star Angel Reese, Miami's Cavinder twins and San Diego State's Matt Bradley.
Started by former Notre Dame kicker Harrison Leonard and Michigan engineering grad Tao Zhang, the brand provides a variety of options to students. Tools include a writing assistant for papers, math equation assistance and a code converter. As Morrow showed off in the video, Caktus also provides a chat section of its app.
"This is another significant milestone for Generative AI and its role in education," Leonard told On3 in a statement. "We are honored to partner with such an elite team of female college athletes who excel in both sports and academics. Aneesah will be a fantastic addition to this larger movement."
Since Dunne became the first prominent athlete to endorse Caktus AI on her TikTok page back at the end of February, Caktus AI's revenue has shot up. Users pay $9.99 a month for premium access the artificial intelligence, including the text summarizer and paragraph generator.
Dunne showed off how she uses the artificial intelligence to work on essays. LSU later issued a statement explaining how pointing out the educational tool could result in academic misconduct. It only brought more attention to the company, too.
"Look, we've gotten reached out to by pretty much every NFL team, pretty much every professional sports team out there," Leonard previously told On3. "And at the end of the day, we're going to stick to what we do best, which is influencer marketing. That's where the real value is."
LSU women's basketball adds another major piece
LSU has arguably picked up commitments from the two biggest names in women's basketball's transfer portal. Louisville point guard Hailey Van Lith transferred last month. Now Morrow has announced her decision.
The DePaul transfer was a third-team All-American, averaging 25.7 points, 12.2 rebounds, two assists and 2.6 steals. With two years of eligibility remaining, LSU now has four of the top women's basketball players in the nation on its roster.
It's a clear message that Kim Mulkey plans to try and build a dynasty in Baton Rouge. The Tigers won their first national title this spring, led by Reese who was a first-team All-American and averaged a double-double.
This LSU team also has some of the top NIL earners in the country. Reese has worked with a wide variety of brands; Flau'jae Johnson is an established rapper and has a Puma deal. Van Lith has a relationship with adidas and is only starting to expand her portfolio.
Morrow is repped by Voltage Management. She has preexisting endorsement deals with Wilson Basketball and Playa Society. With a $9,700 On3 NIL Valuation, her brand is only starting to grow as she heads to an SEC market.
"Our motto around here: One state, two colors, three letters – forever LSU," LSU athletics' chief brand officer Cody Worsham said. "And what that essentially means is the one state piece is we are the brand of Louisiana. Like we're not competing with another Power Five school. It's not Auburn, Alabama, Mississippi State or Ole Miss.
"This is LSU. It's Louisiana. You're going to come here, you're going to be a star across the state."