Caleb Williams a NIL trendsetter by selling apparel at USC spring game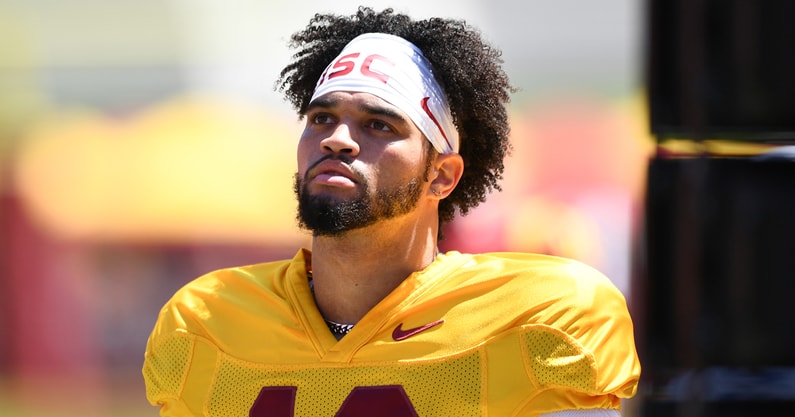 "EXCLUSIVE CALEB WILLIAMS APPAREL AVAILABLE HERE."
The sign was impossible to miss inside the Los Angeles Coliseum Saturday during USC's spring game.
Thanks to a NIL partnership, officially licensed and branded Caleb Williams gear was on sale during the Trojans' spring game that attracted the biggest crowd since the 1990s.
NIL experts say it wasn't a sign of the times. It was actually a first and another indicator that Williams – the former No. 1 recruit, star Oklahoma quarterback, transfer portal lighting rod, entrepreneur and Trojan savior – continues to be a trendsetter when it comes to building his brand in the Name, Image and Likeness world.
"This is absolutely a first," said Grant Frerking, president of NIL University and University of Tennessee wide receiver. "It's very rare to see athletic departments being that aggressive on NIL internally."
Dan Greene, a NIL expert and associate attorney at Newman & Lickstein in Syracuse, N.Y., said what we saw with Caleb Williams at the USC spring game is what the NIL movement is all about.
"It's awesome to see the school helping its athlete promote his NIL in connection with the spring game," Greene said. "It's perfectly legal since California law does not prohibit school employees to participate in or facilitate NIL activities for its athletes. I am hopeful to see more of this moving forward, especially with several states revising their NIL laws to permit schools to be more involved in NIL activities.
"At the end of the day, this movement is all about empowering the athletes. I hope every school in the country is encouraging and educating its athletes so they can take advantage of these new opportunities. I wouldn't be surprised if guys like Reggie Bush and Johnny Manziel are looking at this somewhere and smiling."
it's a whole new NIL world pic.twitter.com/ueKCtwJc7V

— Paolo Uggetti (@PaoloUggetti) April 23, 2022
Caleb Williams' On3 NIL Valuation nearly $400K
Caleb Williams has been one of the most aggressive when it comes to building his brand. The same is true when it comes to marketing potential NIL deals. On his website – calebwilliams13.com – he talks openly about how his brand can benefit businesses.
"Imagine a star quarterback from a top-ranked program posting branded content moments after a prime-time victory in front of a national audience," the website says. "Caleb Williams will have a chance to represent the brands he grew up on and loves in an authentic way."
Between success on the field and his more than 168,000 followers on social media, Caleb Williams has an On3 NIL Valuation of $383,000.
And there's little question that Williams' brand is one of the best around. That was witnessed by the gear sale on Saturday and his other NIL deals. Williams has partnered with brands such as Beats by Dre, Fanatics and Hawkins Way Capital. He also launched an Alkaline water brand and even became a part-owner of a modern men's grooming company.
"Exposure and convenience – helping athletes get in front of the right/a bigger audience and making it as easy as possible for interested parties to engage with an athlete – are two very important variables when it comes to NIL," said Christopher Aumueller, who is the CEO of FanWord, a company that allows students to showcase, promote and monetize their NIL. "Any way schools can legally leverage their brand power to help with those things is a huge win for the athletes. We talk a lot with our partners about those topics. It's clear that there is an appetite for that amongst institutions.
"This is only the beginning, and I can't wait to see more of it."
Williams' NIL success not a distraction
Whether or not he decides to explore more deals moving forward, USC head coach Lincoln Riley has shown tremendous trust in his quarterback.
"He's a guy that's always had some outside interest," Riley said of Williams. "He's a football guy, but he's always been interested in other things as well. So, I don't say it like he's never had any outside interest or done anything outside of it. Now all of a sudden there are all these new things. … It doesn't seem any different to me. I mean, he's here all the time.
"I think he has some things there that he embraces. But he's been a guy – I would say, in my opinion – just throughout his high school career and the last two years that he's a got a pretty good feel for where the line is on that stuff. His No. 1 goals are football-related and performance-related. I think while all of that stuff is nice, I don't think for one second, he would ever entertain anything that was going to pull away from football."
And if the spring game Saturday was any indication, there's plenty of reason to hope for Williams and the Trojans. Williams completed 10 of his 12 passes for 98 yards and two touchdowns. He also had two long runs. Williams looked in command. He didn't seem distracted from his status as the face of NIL in today's college athletics and the fulcrum of turning around the USC program.
"Caleb is doing everything right," said Erik McKinney, who has covered the Trojans for years and now writes for On3's We Are SC. "I think he had signed USC stuff for sale a day or two after he announced his commitment. And he does everything right. Caleb high-fived a huge line of fans while they waited to get autographs. He spends time with the band and student section. He gets it."