Colorado's Travis Hunter inks NIL deal with NXTRND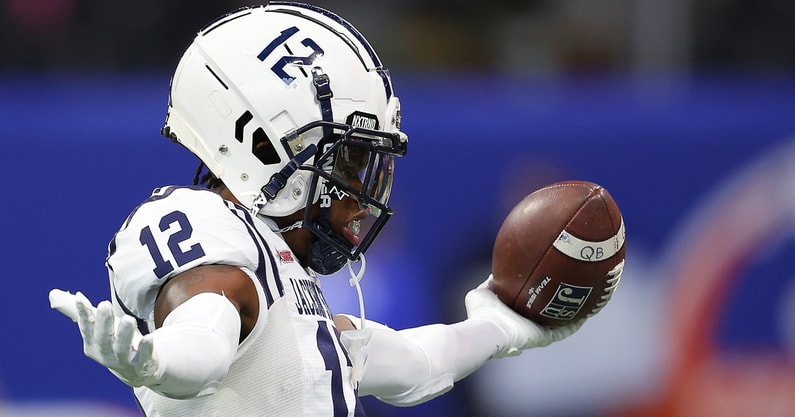 Travis Hunter may turn out to be one of the top players in the Pac-12 this fall.
But currently he is blazing a path in the NIL space, picking up new partnerships by the week. The former On3 Five-Star Plus+ prospect in the 2022 recruiting cycle has added an agreement with NXTRND to his resume. He announced the deal on Instagram.
Also known as "Next Trend" the football equipment company makes everything from back plates to gloves to visors. The company traveled out to Boulder, Colorado, for a full photoshoot with Hunter. The 6-foot-1, 165-pound sophomore is now on the front page of the brand's website, promoting the company's hood and leg sleeves.
A popular brand at the high school level, NXTRND's Instagram page has become a place to promote some of the top high school prospects.
"NIL deal signed," Hunter wrote on Instagram. "Been rocking NXTRND for a minute!"
The two-way player is promoting 10% off with the code: Travis. He signed an NIL deal with WaterLand Co. last week. An avid fisherman, the brand produces premium polarized fishing sunglasses.
Before entering the transfer portal this offseason, Hunter surprised the recruiting world when he flipped from Florida State to Jackson State on National Signing Day in December 2021. He has since followed Coach Prime from the HBCU to the Pac-12.
In his first season of college football this past fall, he tallied 19 tackles with two interceptions and eight pass breakups. He had a touchdown catch and played cornerback in Colorado's spring game, showing why he was such a highly-touted recruit coming out of Collins Hill (Suwanee, Georgia).
Travis Hunter's massive NIL brand
The former No. 2 recruit in the country has found plenty of NIL success. He signed a multi-year deal with digital banking platform Greenwood back in July. Since then he has aligned with brands like Celsius Drink, the Michael Strahan Brand, Actively Black and SoHoodie.
Hunter used his commitment to Colorado as a moment to leverage his YouTube following, too. Back in February, he said he would make his commitment known when he reached 100,000 YouTube followers. He now has more than 150,000 subscribers, showing the test obviously worked.
The Colorado cornerback has a $1.7 million On3 NIL Valuation, which ranks No. 3 in college football. The valuation is No. 5 in the On3 NIL 100, which is the first of its kind and defacto NIL ranking of the top 100 high school and college athletes ranked by their On3 NIL Valuation.
Along with his substantial YouTube following, Travis Hunter has also built up a major social media with roughly 1.3 million followers. He's been able to build a brand that also doesn't just revolve around his on-field play but provides an inside look at his personal life.