Gonzaga stars to appear at NIL autograph session with Friends of Spike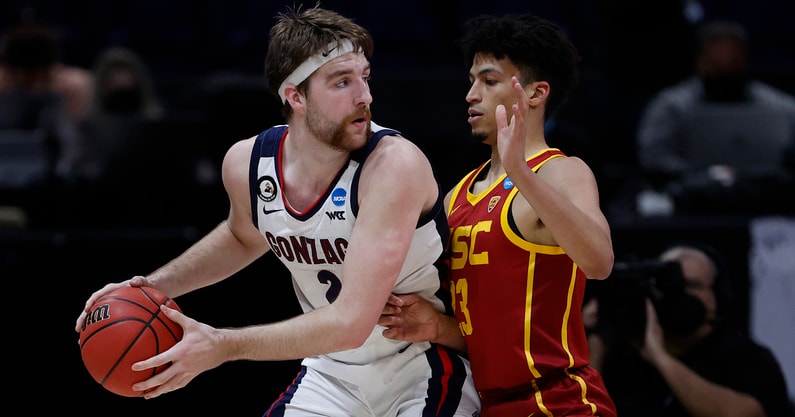 While NIL deals in college football have dominated the headlines, star basketball players are also doing deals. That's especially true in communities like Spokane, Wash., where fans are crazy about the Gonzaga basketball program.
That's why it's no surprise to see the Friends of Spike collective announce a NIL deal for an autograph session with 13 Bulldog basketball players.
Friends of Spike said the autograph session benefitting the Community Cancer Fund – which donates funds to help cancer patients and their families – will take place at 10 a.m. PST Saturday on the driving range at the Coeur d'Alene Resort Golf Course.
The NIL autograph session features 13 Bulldog basketball players, including star Drew Timme. Timme returns for his senior season after being named a John R. Wooden Award Player of the Year Finalist, Wooden All-American and second-team All-American pick by Sporting News, the Associated Press, NABC and USBWA this past season.
The Zags' star center has one of the strongest On3 NIL Valuations in college basketball valued at $80,000. He also ranks No. 23 on the On3 College Basketball NIL Ranking. That number could continue to climb with him back for his senior season and now that he's working with the Friends of Spike Collective.
Julian Strawther and Rasir Bolton are two other big-name Gonzaga stars participating in the autograph session. Strawther is returning for his junior season after averaging 11.8 points a game and reaching double-digits 21 times. Bolton started all 21 games for the Zags last season and led the West Coast Conference in 3-point shooting.
Other confirmed participants in the autograph session:
Friends of Spike doing big NIL things for Gonzaga hoops
Matt Santangelo and Shaniqua Nilles, two former Gonzaga basketball players, launched the Friends of Spike collective in March 2022 to help Bulldogs student-athletes capitalize on their NIL.
Friends of Spike said it hopes to be the bedrock to providing a long-term NIL program for GU student-athletes.
"Supporters of the men and women who represent Gonzaga athletics as student-athletes now will be able to engage directly with athletes for corporate advertising campaigns, youth sports coaching sessions, brand representation, merchandising programs, speaking appearances and more," the collective said.
Friends of Spike sponsors are Spokane-area businesses Gee Automotive, Washington Trust Bank, The Wolff Company and Dealers Auto Auction.
"As former student-athletes here in Spokane, we know firsthand how much of an impact we can have on the community and the world," Santangelo and Nilles said in a news release.