Gradey Dick launches NIL-inspired 'Big Energy' T-shirt through Charlie Hustle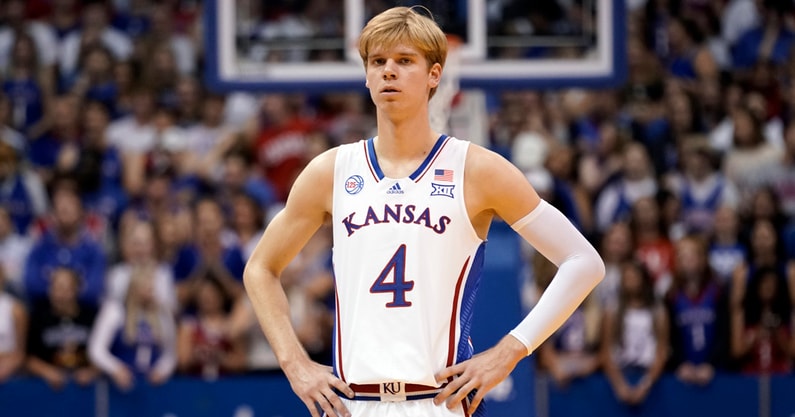 After arriving in Lawrence as an On3 Consensus five-star recruit and the 2022 Gatorade Player of the Year, Kansas Jayhawks freshman guard Gradey Dick has taken the Big 12 by storm by averaging 14.4 points a game.
The Wichita, Kansas, native is quickly becoming one of the most beloved Jayhawks in Allen Fieldhouse. So, it's no surprise he's making the most out of his name, image and likeness. He's already been involved with multiple NIL deals, including with adidas and Long McArthur Ford, but his latest might be the best yet.
Gradey Dick released a new NIL-inspired "Big Energy" T-shirt on Monday through Charlie Hustle. The T-shirt idea came from the University Daily Kansan, the KU student newspaper, which featured Dick dunking a ball on the entire front page of the publication with the words "Big Energy" in big bold print.
The design was a hat tip to Latto's popular "Big Energy," which was on the Hot 100 for more than 30 weeks last spring. KU fans went nuts for the newspaper, so much so that you can find copies for it on sale on Ebay.
Charlie Hustle is the Kansas City-based company known for its iconic KC Heart T-shirts and other NIL deals with student-athletes in the nation's heartland. Cecil White of WME Sports brokered the deal. It's the second deal between Dick and Charlie Hustle.
"Charlie Hustle continues to expand our NIL offerings and creatively work with student-athletes," Charlie Hustle Chief Operating Officer Greg Moore told On3. "Our second Gradey Dick T-shirt is an example of taking feedback from the student-athlete and their family, then creatively designing something that a passionate fanbase would love.
"We think this one will be… big."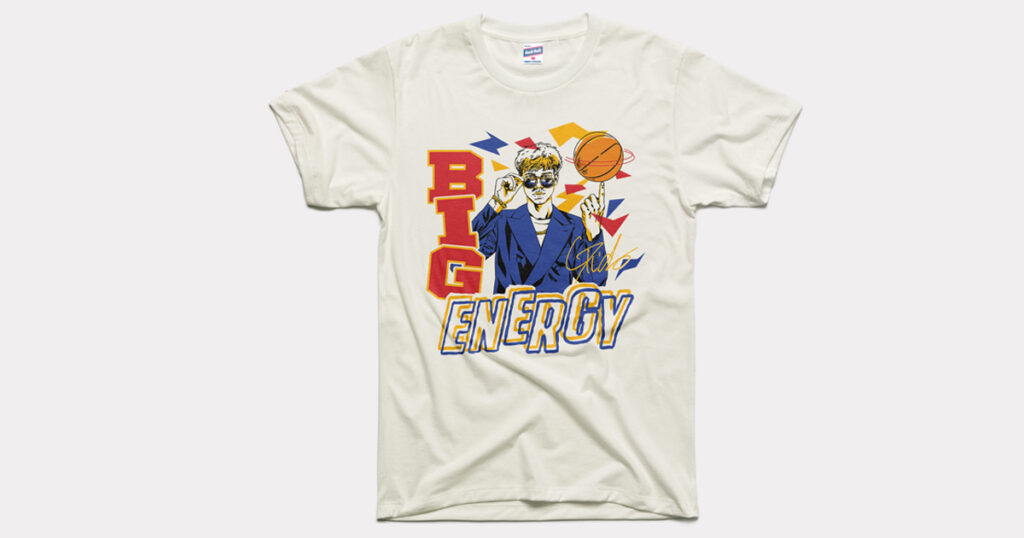 Gradey Dick NIL T-shirts will sell quickly
The "Big Energy" T-shirts are now available on Charlie Hustle's website for $36. If it's like previous Charlie Hustle NIL-inspired designs – such as the ones with former Kansas State All-America running back Deuce Vaughn and KU quarterback Jalon Daniels – they will sell out quickly. 
"The great part about creating designs with student-athletes is they just want something fun," Moore said. "Our designers wanted to create a design that was respectful as well as enjoyable for any Jayhawk fan."
It only makes sense that Charlie Hustle continues to work with KU student-athletes on NIL deals. Along with the deal with Daniels and Dick, Charlie Hustle has also partnered with Jalen Wilson, KJ Adams, Zach Clemence and other KU stars on apparel agreements.
"The University of Kansas is our top collegiate license by virtue of the campus being 45 minutes from our Kansas City headquarters and the passionate Jayhawk fanbase," Moore said. "Any time we can take a license even further than the standard marks and evoke happiness with that fanbase we are all in."
Charlie Hustle has also worked with student-athletes at other schools, inclduing Arkansas, Baylor, Houston, Illinois, Iowa, Iowa State, Missouri, Nebraska, Oklahoma State, TCU, Texas Tech, Wichita State and others.
Gradey Dick has massive On3 NIL Valuation
Even though he's only a freshman, Gradey Dick has quickly built one of the biggest brands in college basketball. He has more than 255,000 followers on social media, including 141,000 alone on Instagram.
It's a following like that, coupled with his previously executed NIL deals, that has him with an On3 NIL Valuation of $548,000. His value has quickly climbed throughout the basketball season, including a 182% growth rate over the past 10 weeks.
The On3 NIL Valuation is the industry's leading index that sets high school and college athletes' projected annual value (PAV).
A proprietary algorithm, the On3 NIL Valuation establishes the overall NIL market and projected 12-month growth rate by measuring two categories, Brand Value Index and Roster Value Index.  
The Brand Value Index measures the national licensing and sponsorship market. The Roster Value Index collects data from all school Collectives into a proprietary Roster Management software. Brand Value and Roster Value are combined to create the overall NIL market.
Using the overall NIL market size, the On3 NIL Valuation calculates an athlete's Brand Value and Roster Value by using dynamic data points targeting three primary categories:
+ Performance
+ Influence
+ Exposure
While the algorithm includes deal data, it does not act as a tracker of the value of NIL deals athletes have completed to date, nor does it set an athlete's NIL valuation for their entire career. The On3 NIL Valuation calculates the optimized NIL opportunity for athletes relative to the overall NIL market and projects out to as long as 12 months into the future.
The On3 NIL Valuation is publicly available. Performance, Influence, and Exposure ratings along with the athlete's personal Brand Value Index and Roster Value Index are available only to the athlete in the "Athlete Verified" private dashboard on the On3 Athlete Network.