Home of the Brave NIL collective will support Bradley University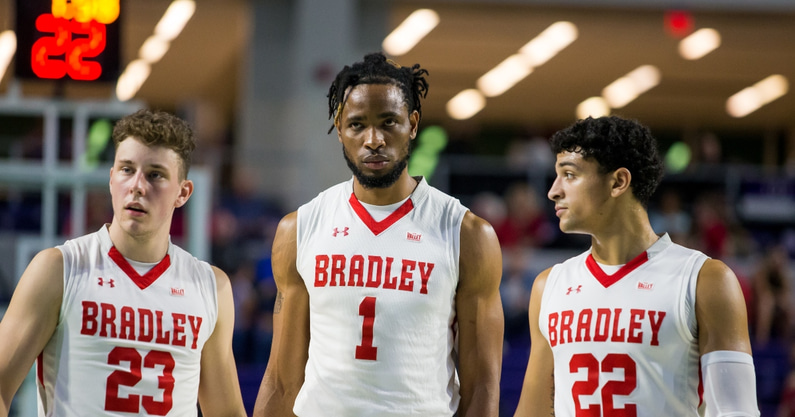 There is a new NIL collective, Home of the Brave, which will support Bradley men's basketball. As NIL collectives have begun playing a larger role in the world of college athletics, this is the first NIL collective that represents a Missouri Valley school.
"We are a member-driven organization that provides exclusive benefits to its members, connecting them to Bradley men's basketball student-athletes through Name, Image, and Likeness opportunities and allowing those student-athletes to monetize their individual and collective brands – while also providing mentoring, educational, and networking opportunities that will position our student-athletes for success long after their playing careers have ended," the collective's website says.
It was founded by alumni, fans and local businesses with the goal of supporting Bradley basketball. They hope that they will be able to help student-athletes in the Greater Peoria, Ill., area.
"We are focused solely on our mission and are committed to making this organization successful," the collective's website says.
The group also says they are not affiliated with the university. They will only sign deals with players currently at the school and they will soon be releasing an online store.
Home of the Brave is a membership-driven organization. They aren't accepting one-time donations. You have to make monthly donations to join them instead. Once you do join, you will get priority access that non-members can't receive.
About NIL collectives
NIL collectives like Gator Guard and Spyre Sports Group have grabbed the headlines by throwing around some huge figures and existing at big-name schools. Home of the Brave likely won't exist in the same realm as these collectives and is at a school that many college sports fans overlook. It goes to show the massive scope and scale of NIL collectives.
Importantly, collectives aren't allowed to be officially affiliated with the school they support. They also aren't allowed to use NIL deals as an enticement to recruits. Instead, they're in place to help student-athletes get NIL deals and build their personal brands, while connecting them with fans.