Florida Gators NIL Collective: Gator Guard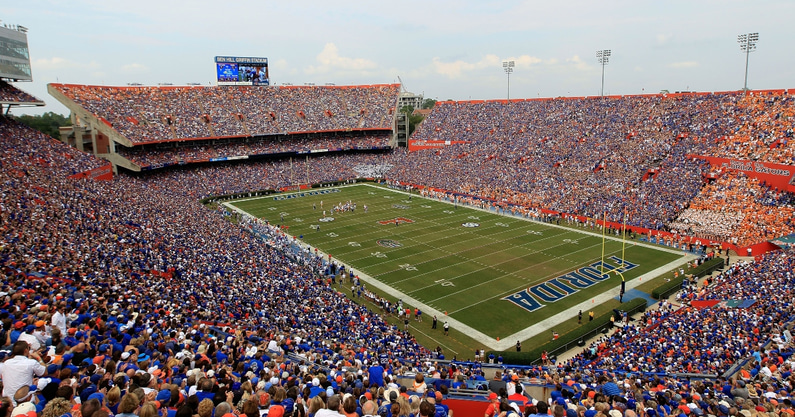 As NIL became legal in the Summer of 2021, a couple of things became apparent. The first was that the NCAA would not immediately be regulating the market. The second was that the market needed time to figure itself out. During that time figuring itself out, there has been a rise of NIL collectives in the NIL market. The latest program to be making a splash is Florida, with its Gator Guard collective.
Florida Gators NIL Collective: Gator Guard

Launch Date: April 2022
Status: Nonprofit 501(c)(3)
Sports: Primary focus on Football with some basketball
Key Leadership: Hugh Hathcock
Annual Goal: $20 million
Confirmed Raised: $5 million
Other Florida Gators NIL Collectives: The Gator Collective

The Latest
Gator Guard is the latest NIL collective to grab headlines. After head coach Billy Napier made it clear that Florida needs to invest in recruitment this offseason, it was only a matter of time. That's especially true because Napier appreciated the need to bring a NIL collective to Florida, with the hopes of bringing in $20 million annually through that fund.
The Gator Collective has existed longer than Napier has been the head coach at Florida, though, dating back to August of 2021. For the early months, though, it was a small grassroots collective. Then, major donor Hugh Hathcock donated $1 million. The day Gator Guard was established, the collective raised a total of $5 million. Donors to Gator Guard don't see themselves as part of the Gator Collective. Instead, they're an exclusive collective for rich Florida boosters.
Gator Guard is working to establish itself as a non-profit and start working on its own high-profile NIL deals to compete in the SEC.
Why was Gator Guard formed?
Gator Guard was formed, in part, because one particular donor was sick of Florida not meeting its potential. The same time he founded Gator Guard, Hathcock made the single largest donation in Florida history to the tune of $12.6 million. He saw that NIL collectives are necessary for future success in college athletics, particularly football. He also saw that the current Gator Collective wasn't enough. So, Hathcock started a new one for rich donors, rather than grassroots donors.
Hathcock described the difference between Florida's two collectives to The Athletic:
"Gator Collective is a great organization. It's for the grassroots, for the average fan. Gator Guard is the elite, high-net-worth, high-power guys who are going to give a million."
At the same time, the two collectives are partners. They brag that, unlike other collectives, they won't ink a deal unless they already have the money to spend. That means all their deals are guaranteed.
Now, Florida has a collective that hopes to compete with the major collectives. The goal of which is to help elite recruits. This will happen for both high school recruits and those coming in through the transfer portal. On top of that, collectives will likely need to raise NIL payments to current players to prevent transfers. Otherwise, teams might run into issues like Pitt potentially losing Jordan Addison. Simply put, Gator Guard was formed to stay competitive.
What are NIL collectives?
NIL collectives are groups of alumni fans who donate their money into a pool for NIL purposes. This money is distributed to players at the university, in exchange for NIL activities, like appearing at dinners and signing autographs. Importantly, these are boosters of the university and they are not officially related to the universities to whom they donate. NIL is not supposed to be used as pay-for-play.