Indiana's Jalen Hood-Schifino gifts team pairs of Bose headphones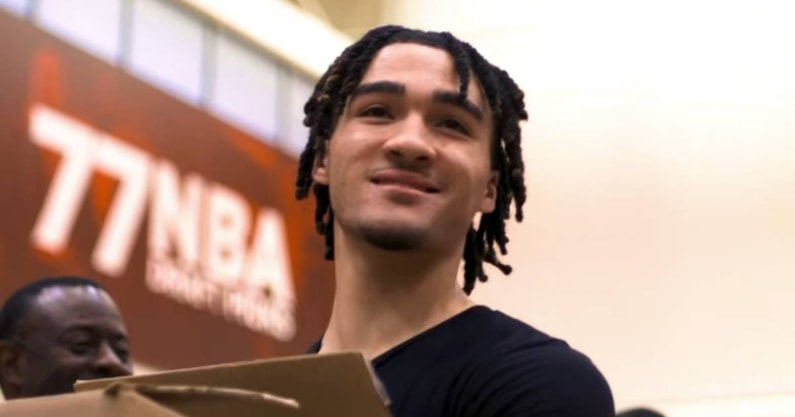 Indiana freshman guard Jalen Hood-Schifino had a gift for each of his teammates and coaches before they went home for the holidays. Through a partnership with Bose, Hood-Schifino gifted each member of the program a pair of Bose QuietComfort Earbuds.
The gesture came after he scored a season-high 17 points in a win over Elon on Tuesday.
"It's Christmas time," Hood-Schifino said in a video that captured the moment as he was surrounded by his teammates and coaches. "We're all about to split so I decided to get y'all a little gift."
He put down the cardboard box he was holding. The players' voices rose in unison and they started clapping as he opened the box.
"Something I think everybody would like," Hood-Schifino said. "It was kind of tough but I feel like everybody wants some headphones."
Hood-Schifino then handed out box after box of headphones.
Indiana forward Race Thompson dapped up Hood-Schifino after receiving his free pair.
"That's tough," Thompson said, smiling. "That's tough."
"These ain't cheap, either," said forward Nathan Childress. "I got me a pair of these. These ain't cheap."
Indiana's players and coaches mobbed Hood-Schifino at the end of the video.
Jalen Hood-Schifino's impact at Indiana
Hood-Schifino is averaging 9.9 points, 4.6 rebounds and 4.4 assists per game in nine games this season. He's tied with Xavier Johnson for the second-highest scoring average on the team.
The 6-foot-5 guard was the headlining member of Indiana's 2022 recruiting class, which ranked 17th nationally.
On3 ranked Hood-Schifino as the No. 19 recruit nationally, which gave him five-star status.
Hood-Schifino and his teammate Trayce Jackson-Davis recently partnered in NIL deals with adidas. In early December, adidas announced deals with four men's basketball players, which also included Kansas' Gradey Dick and Northwestern State's Hansel Enmanuel.
"These four student-athletes join Hailey Van Lith of Louisville as part of the adidas basketball roster," adidas said in a statement to On3. "They will participate in upcoming campaigns."
Hood-Schifino has also partnered with the Indiana-focused NIL collective Hoosiers For Good. The collective was one of the first to receive 501(c)(3) status. It partners with Indiana athletes and helps them promote causes that are important to them.
Hood-Schifino was one of 11 members of Hoosiers For Good's summer class. He's supporting Big Brothers Big Sisters of Central Indiana.
The freshman guard also participated in an autograph and picture session in October that Hoosier Hysterics arranged at Community Ford Lincoln in Bloomington.