KJ Jefferson, Raheim Sanders re-sign with ONEArkansas NIL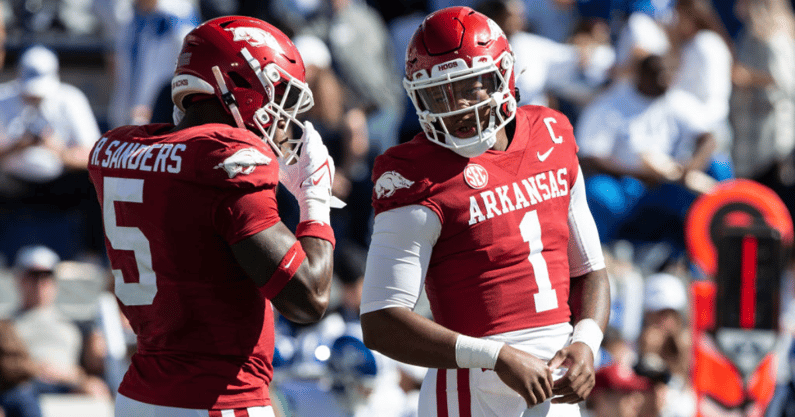 ONEArkansas NIL has entered the roster retention space.
The Arkansas-focused NIL collective has come to agreements with quarterback KJ Jefferson and running back Raheim Sanders, it announced on Twitter.
Launched this past August, ONEArkansas NIL was started by Marvin Caston, a former Razorback football player and Senior Director of Development at the Razorback Foundation. While the collective does not explicitly say it's 501(c)(3) exempt, the collective claims donations are tax-deductible.
For as much as college football is about pageantry and tailgates, the sport has turned into an arms race in the past 18 months. NIL collectives have surfaced at nearly every Division I school. And the word collective, which has no ulterior meaning, has become synonymous with name, image and likeness. The race is to stockpile the most cash to distribute to current players so recruits know what they can make once they enroll at the college.  
Roster retention has become a driving theme at Power Five collectives, trying to hold off Transfer Portal suitors. The Grove Collective officially signed Ole Miss' Quinshon Judkins in December, basically announcing the running back would be returning to Oxford for another year.
A two-year starter, Jefferson threw for 2,648 yards with 24 touchdowns and five interceptions this past season. He added nine rushing touchdowns, too. After speculation the quarterback could leave for the NFL Draft or Transfer Portal, he decided to return for another season.
Sanders ranked 13th in the nation this year, rushing for 1,443 yards and averaging 6.5 yards per carry. The tailback finished with 12 total touchdowns on the season.
KJ Jefferson, Raheim Sanders's On3 NIL Valuations
One of the top returning quarterbacks in the SEC, Jefferson holds a $609,000 On3 NIL Valuation. His valuation ranks No. 64 in the On3 NIL 100, which is the first of its kind and defacto NIL ranking of the top 100 high school and college athletes ranked by their On3 NIL Valuation. With more than 45,000 social media followers, the evaluation ranks No. 41 in college football.
Sanders is not too far off. The running back has a $334,000 On3 NIL Valuation with more than 30,000 social media followers.
The On3 NIL Valuation is the industry's leading index that sets the standard market NIL value for high school and college athletes. A proprietary algorithm, the On3 NIL Valuation calculates an athlete's NIL value using dynamic data points targeting three primary categories: performance, influence and exposure.
About On3 NIL Valuation, Brand Value, Roster Value
While the algorithm includes deal data, it does not act as a tracker of the value of NIL deals athletes have completed to date, nor does it set an athlete's NIL valuation for their entire career. The On3 NIL Valuation calculates the optimized NIL opportunity for athletes relative to the overall NIL market and projects out to as long as 12 months into the future.
The On3 NIL Valuation accounts for an athlete's roster value and brand value. Roster value is the value an athlete has by being a member of his or her team at his or her school, which factors into the role of NIL collectives. Brand value factors in an athlete's personal brand and the value it could bring to regional and national brands outside of the scope of NIL collectives.
The On3 NIL Valuation is publicly available. Performance, Influence, and Exposure ratings along with the athlete's personal Brand Value Index and Roster Value Index are available only to the athlete in the "Athlete Verified" private dashboard on the On3 Athlete Network.