Quinshon Judkins re-signs NIL agreement with The Grove Collective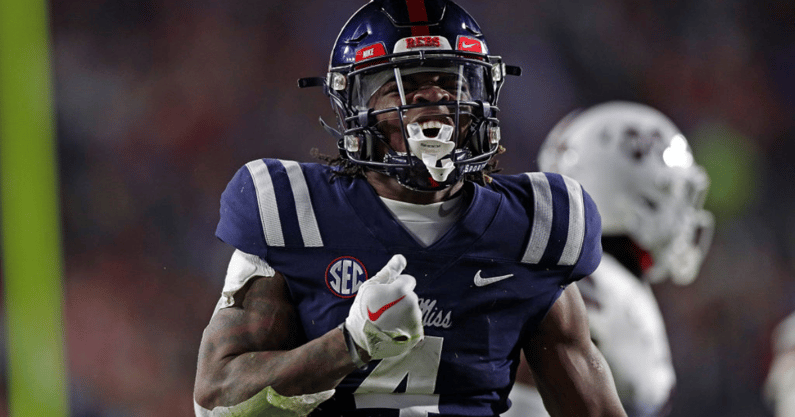 The Grove Collective has signed Ole Miss running back Quinshon Judkins through the 2023-24 season.
Judkins finished the regular season averaging 5.9 yards per carry. He's well over the 1,000-yard mark with 1,476 yards. He set the Rebels' single-season rushing touchdown record with 16.
The Grove Collective is a for-profit LLC founded back in January. It then relaunched in September, with former Rebel Walker Jones appointed as the leader of the collective.
The organization topped the $10 million mark last week in fundraising, one of the top reported totals in the NIL collective market. Ole Miss head coach Lane Kiffin has been one of the most outspoken head coaches on how NIL has changed the college game.
"That's awesome," Kiffin said after hearing of The Grove Collective's fundraising efforts. "Very encouraging. Obviously, it has a lot to do with the world of college football that we're in — the ability for places to sign players and to keep their own players. That's very encouraging."
Most booster-driven NIL collectives have been pushing for donations more than ever with the Transfer Portal window set to open Monday. With the intersection of the one-time transfer rule and NIL, the portal has become the NCAA's equivalent to free agency. There will be bidding wars and negotiation periods.
The Grove Collective locking in Judkins to a longer NIL deal is a win for Ole Miss. It ensures the tailback won't be one of many players entering the portal. He has emerged as large part of Kiffin's offense, which has turned into a prolific, rush-heavy attack this season.
Quinshon Judkins' On3 NIL Valuation
The Ole Miss running back currently has an On3 NIL Valuation of $529,000. And he sits at No. 84 in the NIL 100, which is the first of its kind and defacto NIL ranking of the top 100 high school and college athletes ranked by their On3 NIL Valuation. He also ranks 46th among college football players.
His evaluation has jumped $261,000 over the past 10 weeks. Quinshon Judkins has also built up a social media with more than 94,000 social media followers. He has a per-post projection $1,100.
The On3 NIL Valuation is the industry's leading index that sets the projected annual value for high school and college athletes. A proprietary algorithm, the On3 NIL Valuation calculates an athlete's NIL value using dynamic data points targeting three primary categories: performance, influence and exposure.
It incorporates an athlete's brand value and roster value, with the latter accounting for the influence of NIL collectives.
While the algorithm includes deal data, it does not act as a tracker of the value of NIL deals athletes have completed to date, nor does it set an athlete's NIL valuation for their entire career.