A year into NIL, 'female student-athletes crush it every single day'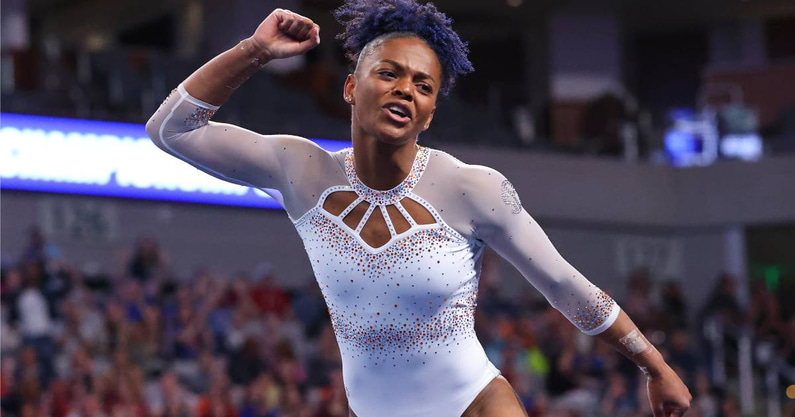 It's fitting that the 50th anniversary of Title IX fell a week before the end of the first year of the NIL era in college athletics. The announcements from companies that signed NIL deals with 50 women in honor of Title IX's milestone anniversary, such as the dating and social networking app Bumble and the neighborhood grocery store chain Sprouts Farmers Market, served as a reminder of just how off the mark some NIL doomsayers were as recently as 12 months ago, and the months before then.
Prior to California Gov. Gavin Newsom's 2019 signing into law Senate Bill 206, which started the domino effect of states passing NIL laws, the Pac-12 developed four key messages to advocate against the signing of the bill. Below one message titled "Strong Concern for Women's Sports Under NIL Model," a bullet point stated, "There is a current fallacy about the benefits of an NIL world to female student-athletes."
Another said, in part, "We believe more women student-athletes will be hurt by this bill than helped."
The recent Sprouts Farmers Market campaign alone included, ironically, 26 female athletes from the Pac-12.
At the 2019 Big Ten men's basketball media day, just a few months before he retired, former Big Ten Commissioner Jim Delany said of NIL, in general, "We're involved in an enterprise that touches 100,000 players, and maybe there's one percent or two percent that may have commercial value."
The inaugural NIL Summit alone drew more than 300 athletes to Atlanta during their summer breaks.
"You couldn't be more wrong if you said NIL is only for football and basketball players," Drew Butler, EVP – Collegiate of the marketplace Icon Source, told On3. "Of course that might have been a general thought heading into the new age of NIL but we see female student-athletes crush it every single day."
Volleyball player Chloe Mitchell: 'I'm a 20-year-old, young businesswoman'
Examples of some of the greatest NIL success stories — not just success stories among female athletes or success stories among non-football and non-basketball players — were on display at the NIL Summit.
That's where Aquinas College volleyball player Chloe Mitchell was named Innovator of the Year. Mitchell had a head start on her NIL efforts compared her peers who compete at the NCAA level because of the NAIA's 2020 rule change regarding NIL. Now, she acts as her own agent (she said she has closed her three biggest NIL deals in the last year), she's a co-founder of the NIL marketplace PlayBooked and as far as tax season, well, "it wasn't that bad and I know that's not like a typical answer."
"Oh my goodness," Mitchell said at the start of her acceptance speech. "I told myself if I won this I wasn't going to cry because Sedona Prince is somewhere in here and I can't cry in front of her." It was a reference to the Oregon forward who earned Female Athlete of the Year honors. Prince used her social media accounts to shed light on the inequities between the 2021 NCAA DI men's and women's basketball tournaments.
"I'm a 20-year-old, young businesswoman," Mitchell continued, "and I'm sitting in a room of such esteemed athletes."
Those athletes included Duke cross country and track and field runner Emily Cole, who has held her ground in negotiations when companies have offered her less than her market rate. "Just because I pushed back a little bit, it's $3,000 extra, which is a lot," she said.
While some coaches and administrators have called for more transparency in the NIL market — sometimes publicly, sometimes anonymously — athletes can feel the same way, especially since it's their bank accounts that are impacted. "I'm actually going to create, just even on Instagram, an account where people can send in the different deals that they've done," Cole said. "Just to start creating a more open space and culture around it because there needs to be more knowledge around rates and negotiating these prices."
That's going to be Cole's summer project.
Similarly, Florida national champion gymnast Trinity Thomas is an advocate for athletes realizing and owning their value by "making sure that you're being paid or compensated accurately to who you are, what you do and what you're providing for them," she told On3. She has also shown that collectives aren't only for football and men's basketball players. She has reached three agreements with the Gator Collective, including a live interview with her teammates on Twitter and appearances at local businesses.
"The Gator Collective has been pretty helpful for student-athletes in trying to include everybody in it and not just like football, basketball, the big sports," she said.
Female athletes rank third through sixth in NIL earnings by sport, per Opendorse
In fact, it's not just the "big sports" that are attracting endorsement deals with the big brands.
In May, Stanford golfer Rachel Heck, the 2021 NCAA DI women's golf individual national champion, became the first college athlete to sign an endorsement deal with Nike Golf. A few weeks later, her teammate Rose Zhang, the reigning national champion, was the first college athlete to sign an NIL deal with adidas.
UConn guard Paige Beuckers was the first college athlete to sign with Gatorade.
Cole and Thomas each partnered with H&R Block.
Data recently released by Opendorse, which provides technology to the athlete endorsement industry, showed that women who play basketball, volleyball, softball and who compete in swimming or diving rank third through sixth, respectively, in terms of the total compensation earned on the platform, by sport, through the end of May.
"They're very responsive," said Icon Source's Butler, on what makes many female athletes valuable partners for brands. "They're very interested in the opportunity. They understand they can leverage their social media or their personal brands to get paid to become a micro-influencer for some of these brands."
Icon Source's Drew Butler: 'They're just better at it at this point'
Football ranked first in Opendorse's breakdown as its athletes were responsible for 49.9 percent of all compensation from last July through May. Given its prominence in American culture and the size of the rosters in the sport, it should be in a class of its own. Men's basketball (17 percent) barely edged women's basketball (15.7 percent) for the second-largest slice of the pie.
Through Dec. 31, 2021, women's basketball players earned nearly double the compensation compared to their male counterparts, based on NIL deals disclosed through Opendorse.
"And they're just better at it at this point, on Icon Source specifically," Butler said. "Of course we work with men and big-time college sports stars in football and in men's basketball who do fantastic for themselves in NIL. I'm not discounting them whatsoever. But we have seen unanimously from the brands that we work with is that time and time again, they are looking for more than just a football player or a point guard or a big-time center in basketball. They understand the power in numbers.
"They understand that working with female student-athletes in maybe niche sports — if you wanted to consider them that — have great influence in specific markets towards target demographics and we love when we see that kind of light turn on for these brands."