North Carolina's Drake Maye to host Chapel Hill youth football camp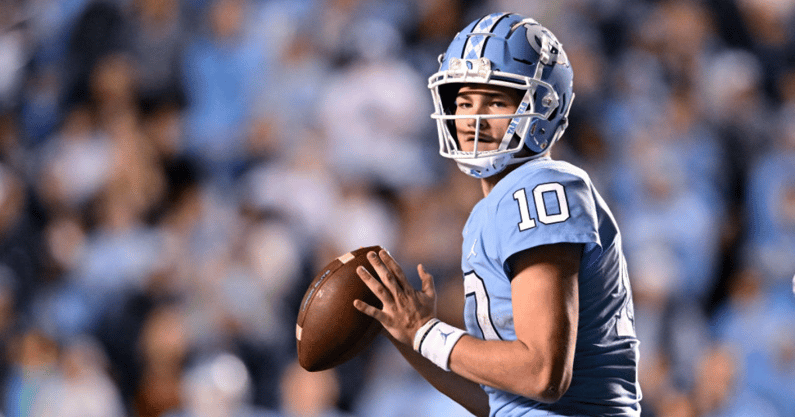 Drake Maye has quietly entered the NIL space over the past eight months.
The North Carolina star quarterback signed with CAA for NIL representation in September. He partnered with Bose at the end of October, gifting his entire offensive line headphones.
A favorite to contend for the Heisman Trophy this coming fall, his name is already popping up on 2024 NFL mock draft boards.
There is little doubt he could be one of college football's top NIL earners if it was a priority. It just hasn't been. Football has instead been the focus, with marketing opportunities mixed in as he goes.
But Maye has now announced plans for his first youth football camp through an NIL partnership with Next Gen Camps. The rising junior at North Carolina will be host a camp in Chapel Hill on Saturday, May 20.
Open to kids from the ages of six to 18, the event will last from 1 p.m. to 5 p.m. ET. Held at the University of North Carolina's Hooker Fields, the cost to register is $150. Camp participants will be able to grab autographs and pictures with Maye, receive a camp T-shirt, go through position group training and participate in a seven-on-seven tournament.
"Let's get it!" Maye tweeted out with a flyer for the camp.
The quarterback wrapped up his rookie campaign throwing for 4,321 yards with 38 touchdowns and only seven interceptions. Touting a 66.2% completion percentage, he led the Tar Heels to an ACC title game appearance.
Despite multiple ACC coaches alleging unnamed coaching staffs and collectives of tampering to convince Maye to enter the transfer portal, he decided to return to Chapel Hill for his junior season.
Youth camps continue to provide reliable NIL opportunities
Since the inception of NIL in July 2021, youth camps have become a popular way for athletes to monetize their publicity rights. It's an easy way to provide fans and kids access to some of their favorite players. Plus, an opportunity to give back to their college's community while creating a direct source of deal funding.
Next Gen takes on the logistic work of camps, from securing venues and coaches along with the other business basic necessities.
"I think it's also something that's sustainable in the NIL space," NextGen founder Jacob Byrd previously told On3. "As things shift as far as rules and guidelines, we see youth sports camps as something that'll stay around for a long time."
The company has partnered with a number of high-profile names, including Ohio State quarterback C.J. Stroud, Texas running back Bijan Robinson, Alabama edge rusher Will Anderson, and North Carolina guard Caleb Love.
Florida State's Jordan Travis and Trey Benson are hosting a camp in June. Next Gen has also put on women's soccer camps with athletes at Ohio State and Kentucky.
On top of taking care of the details, the firm ensures enough staff are on site to handle the number of campers. On average, football camps draw more than 200 campers, while basketball brings in roughly 150 campers. 
Byrd used to run tennis camps, which gave him the infrastructure and confidence to run the NIL model. The profit split with the athlete depends on the number of kids who attend the camps.
Drake Maye's On3 NIL Valuation
The North Carolina quarterback has a $1.5 million On3 NIL Valuation, which ranks No. 5 in college football. The valuation is also No. 7 in the On3 NIL 100, which is the first of its kind and defacto NIL ranking of the top 100 high school and college athletes ranked by their On3 NIL Valuation.
Drake Maye has seen his social media following grow as his national profile has taken off away from the football field. He currently has 63,000 followers. Inserting himself into the Heisman conversation early would only see the number rise.
The On3 NIL Valuation is the industry's leading index that sets the standard market NIL value for high school and college athletes. A proprietary algorithm, the On3 NIL Valuation calculates an athlete's NIL value using dynamic data points targeting three primary categories: performance, influence and exposure.
About On3 NIL Valuation, Brand Value, Roster Value
While the algorithm includes deal data, it does not act as a tracker of the value of NIL deals athletes have completed to date, nor does it set an athlete's NIL valuation for their entire career. The On3 NIL Valuation calculates the optimized NIL opportunity for athletes relative to the overall NIL market and projects out to as long as 12 months into the future.