South Carolina's Juice Wells inks NIL deal with The Farmer's Dog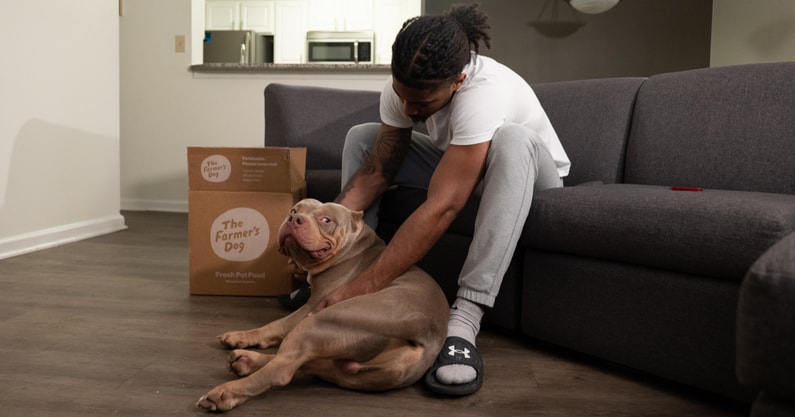 Juice Wells and his dog are starring in a commercial thanks to NIL.
The South Carolina wide receiver and his pup, Sosa, have signed an endorsement deal with The Farmer's Dog. Partially known for its Super Bowl advertisement, the brand makes fresh, human-grade food for dogs.
Wells released a new video starring his dog and promoting healthy meals for dogs. He adopted his dog, Sosa, right before transferring from James Madison to South Carolina. Facilitated by Park Avenue, the commercial was filmed and produced by the Columbia-based production agency, As Told By.
Initially established in an agreement with South Carolina, Park Ave is still managed by Everett Sports Marketing. The Gamecock-focused sports marketing agency is now privately funded after the NCAA guidance in October labeled it impermissible for third-party entities to represent athletes on behalf of an athletic department.
Wells is seen with Sosa in the ad as the two play together and the receiver chats about giving his dog the same fuel he needs to compete at a high level.
"I never thought that football could actually take me places, but my life has completely changed since I stepped on camps and Sosa has been there every step of the way," Wells says. "I obviously take my health seriously being a student-athlete, and I got to thinking that I need to do the same for the Sosa, so he can stick around for as many years as possible. That's how I came across The Farmer's Dog."
Why The Farmer's Dog wanted to enter NIL
According to Park Ave director Chaise Belt, the brand wanted to leverage NIL to drive awareness and consideration for one of the fastest-growing pet food companies in the country. Formulated by board-certified veterinary nutritionists, meals are personally portioned and include chicken, beef and turkey options.
"If you follow Juice on social media you've definitely seen Sosa," Belt told On3. "He truly cares for and loves him. They really are best friends. The Farmer's Dog brand was a natural introduction to Juice given it's real, fresh food personalized for your dog and delivered right to your door."
Specifics of the deal were not released, but Belt said Wells is sharing a discount code for fans to try the brand at 50% off. He emerged as a real threat in the SEC last fall, pulling in 68 catches for 928 yards in his first year in the league. The 6-foot-1, 204-pound wideout has 2,781 career receiving yards with 27 touchdowns.
Finding NIL deals has not been a problem. Wells signed an endorsement deal with the South Carolina-focused Garnet Trust collective in March, shortly after he decided to return for another year. Working with Johnso Creative and Park Avenue, the receiver had his own NIL-inspired trading card series.
He was recently featured in an ad for the South Carolina Watermelon Association.
"The brand's motto to provide more years with your best friend couldn't fit the relationship between Juice and Sosa better so we wanted to make sure that message was clearly conveyed throughout the content," Belt said. "This isn't just an NIL deal but an organic and mutual effort to provide the best for a best friend."
Juice Wells' On3 NIL Valuation
The South Carolina receiver has a $391,000 On3 NIL Valuation, which ranks in the top 100 of college football. His valuation is the second-highest on the football team, only behind quarterback Spencer Rattler's $968,000 evaluation.
Juice Wells has built a steady following of roughly 13,500 social media followers. Another impressive year on the SEC stag will only help.
The On3 NIL Valuation is the industry's leading index that sets the standard market NIL value for high school and college athletes. A proprietary algorithm, the On3 NIL Valuation calculates an athlete's NIL value using dynamic data points targeting three primary categories: performance, influence and exposure.
About On3 NIL Valuation, Brand Value, Roster Value
While the algorithm includes deal data, it does not act as a tracker of the value of NIL deals athletes have completed to date, nor does it set an athlete's NIL valuation for their entire career. The On3 NIL Valuation calculates the optimized NIL opportunity for athletes relative to the overall NIL market and projects out to as long as 12 months into the future.