South Carolina women's basketball players to each receive $25,000 in NIL deals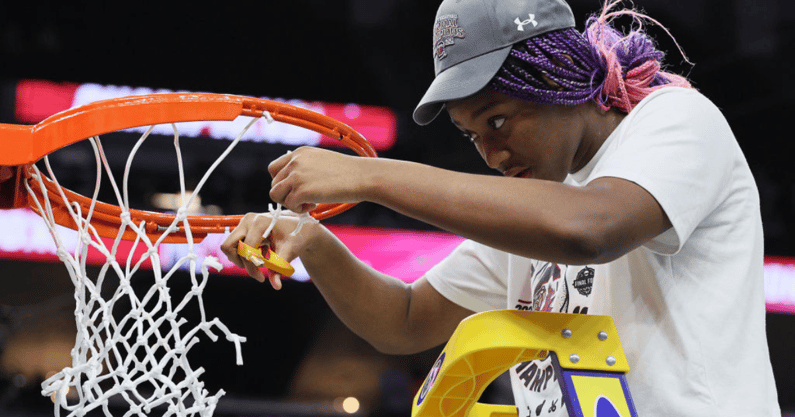 South Carolina women's basketball has become the latest program whose athletes scored a lucrative team-wide NIL deal.
Thanks to former state legislator and current CNN political analyst Bakari Sellers and a group of other prominent donors, each member of the Gamecocks' team will be provided the opportunity to earn an average of $25,000 or more in NIL deals — roughly $325,000 total.
Garnet Trust, the South Carolina-focused NIL collective, will help manage the deliverables with NOCAP Sports assisting in contracts and payments. Each member of the team will be expected to execute a variety of deliverables. Community appearances, social media posts and sponsored interviews will be on the list.
NOCAP Sports will also be in talks with national brands throughout the year discussing more potential NIL opportunities for the team.
"The South Carolina community and alumni network are proud to support the reigning national champs as they continue to build the best program in the country," Sellers said in a statement. "NIL has created an awesome opportunity for these athletes to earn what they have always deserved, and we are excited to continue to support this team for years to come."
The reigning national champions, South Carolina returns 10 players, including two-time National Player of the Year Aliyah Boston. Redshirt sophomore guard Raven Johnson will also be back after missing most of last season with a torn ACL.
This deal marks the one of the first times a collective has worked closely with a national brand to secure NIL partnerships for its athletes. The high-protein chocolate milk brand Slate Milk will be featured in promotions.
"It's inspiring to see a group of athletes come together, work as hard as they can and achieve greatness," Slate Milk's partnerships manager Anna Carr said in a release. "Our entire team is thrilled to be fueling the University of South Carolina Women's Basketball team – and their journey toward a second straight championship – with our delicious, high protein drinks."
Team-wide NIL deals continue to grow in popularity
Team-wide NIL deals are not new in college athletics. They've continued to pick up in popularity over the the past few months and South Carolina isn't the first women's basketball team to secure a deal. Level 13 Agency committed $25,000 per player to Texas Tech earlier this summer.
SMU's Boulevard Collective quickly became one of the biggest players in the space in August. It announced plans to pay players on both the football and basketball teams $36,000 a year — a total payout of $3.5 million annually — for NIL activity.
In a growing landscape where cash is king, securing compensation is not a problem. But questions of how much are starting to become true dealbreakers in recruiting. That's not only reserved for football, either.
Wednesday's announcement at South Carolina is a sign of what it will take for the top 25 programs in the country to compete for national championships.
"This is a great thing for our program," South Carolina head coach Dawn Staley said in the release. "I appreciate the work that went into creating this new pathway for our players to have some assurances that they will have NIL deals coming this season. Bakari Sellers has been passionate about women's basketball for a long time, and it's great to have him show up in this way for our program."