New Boulevard Collective to pay SMU athletes $3.5 million annually through NIL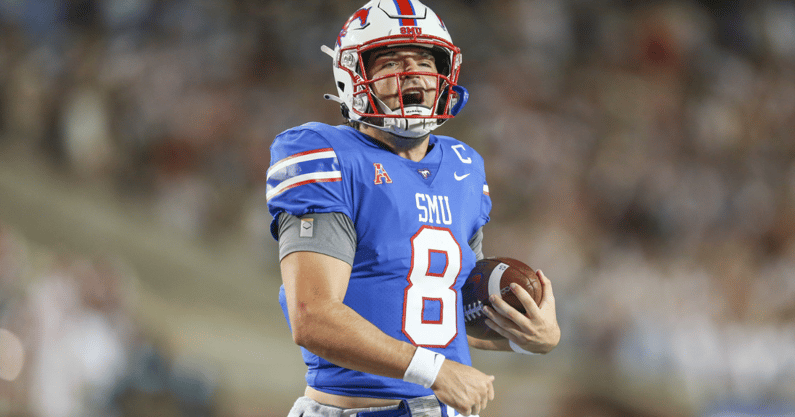 SMU was a college football power in the early 1980s. And Boulevard Collective, a new NIL collective, is setting the Mustangs up for years of future success.
Multiple sources indicated to On3 that Boulevard Collective will quickly become one of the biggest players in the NIL space. The collective is set to pay players on both the football and basketball teams $36,000 a year — a total payout of $3.5 million annually — for NIL activity.
The compensation is unprecedented in college athletics. The Matador Club, a Texas Tech collective, unveiled plans last month to pay each football player $25,000 a year. But Monday's news from the Boulevard Collective is more than a $10,000 hike in compensation.
Driven by Dallas business leaders and SMU alumni, Chris Kleinert, CEO of Hunt Realty Investments, and Kyle Miller, president and CEO of Silver Hill Energy Partner, Boulevard immediately joins the likes of Tennessee's Spyre Sports and Texas A&M's The Fund. SMU has been positioned to benefit from the wealth and network of alumni in the DFW area for years. This deal puts the collective among the most ambitious in the country.
Launched by boosters and alums, Boulevard will be led by sports industry veteran Chris Schoemann, who has been named executive director. The collective is also partnering with the NIL marketplace Opendorse, which will oversee NIL education, disclosures and tax-related preparation.
"At a time where an athlete's access to brand and marketing opportunities is more valuable than ever before, we are excited to leverage DFW's integrated network of corporate, philanthropic, and athletics leaders," Schoemann said in a press release. "For a city and alumni base as relationship-oriented as Dallas and SMU, it seems only fitting that the community has come together in this way."
Collectives, which are independent of a university, can serve a variety of purposes. Most often, they pool funds from boosters and businesses, help facilitate NIL deals for athletes and also create their own ways for athletes to monetize their brands. 
Pony Sports DTX was the first collective in the SMU market. The group has already executed $1 million worth in deals. And it has had success with donations, too, thanks to annual and individual contributions.
SMU football and basketball teams were introduced to the Boulevard Collective at an event in Dallas this past weekend. Student-athletes were informed of plans but also assembled more than 400 backpacks with school supplies for Dallas Independent School District students.
The Boulevard Collective describes itself as a "network to elevate SMU student-athletes with marketing opportunities that will enhance their brand and empower their personal passions."
On3's Billy Embody contributed to this story.
This breaking news story will be updated