Tennessee QB Nico Iamaleava inks first national NIL deal with Force Factor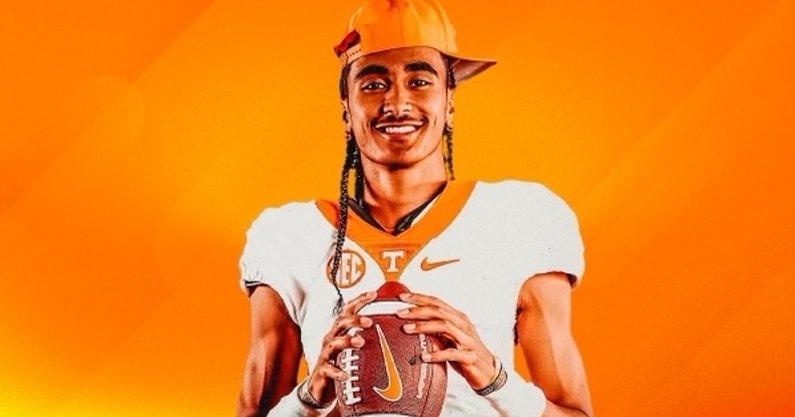 Tennessee quarterback Nico Iamaleava continues to grab headlines through the use of his NIL.
When he committed in March 2022, Iamaleava – the top Class of 2023 recruit in the country, according to On3 – made national news not only for his pledge but also because of his NIL opportunities. As The Athletic has since reported, Iamaleava reportedly signed a deal with Spyre Sports Group in which he could make $8 million over three years.
Iamaleava eventually announced an NIL deal with The Volunteer Club in late January. The NIL collective that's run by Spyre Sports Group supports Tennessee student-athletes through a monthly membership program. As part of his deal with the club, Iamaleava will make appearances at a number of events and promote the organization on social media.
Friday, Iamaleava announced on social media that he partnered with Force Factor – a health and wellness supplement company – in an NIL deal that Spyre facilitated. It's his first nationwide NIL agreement since enrolling at Tennessee, and it'll put Iamaleava in front of the company's hundreds of thousands of followers on social media.
In the commercial, Iamaleava encourages viewers to shop for Force Factor products at Walmart and "unleash your potential." He says he uses the company's products, such as Total Beets, before all of his workouts. In the advertisement, Iamaleava is decked out in a Tennessee-style orange jersey that resembles what the Volunteers wear for games.
"All of these have helped prepare me for who I am today," Iamaleava says as he drops armfuls of the company's product on the belt at a Walmart checkout line. He even high-fives the cashier and stops to sign a few autographs in the commercial.
Nico Iamaleava quickly becoming a face of Tennessee
Iamaleava turned down offers from nearly every major college football program in favor of Tennessee. He gave the Volunteers validation on the recruiting trail immediately, helping Vols coaches piece together the rest of the school's 2023 recruiting class.
Iamaleava quickly became one of the faces of the Tennessee football program's future. He arrived in Knoxville in December and practiced with the team for two weeks before the Orange Bowl win. His new NIL deal is another example of the splash Iamaleava has made in Knoxville.
"The arm talent popped out on the practice field in December immediately," Tennessee coach Josh Heupel told On3's Chad Simmons. "I had seen it in person, but the rest of our staff and players, they saw that God-given talent right away. After getting time to work with him in practice, he has a great understanding of his body. If you make a correction or make a suggestion about changing his body position, he will immediately make that correction."
Iamaleava impressed observers while playing in the Polynesian Bowl in Honolulu. He was named offensive MVP, going 13-of-20 for 186 yards with a touchdown and an interception. He rushed for 65 yards on just five carries, too.
Iamaleava's On3 NIL Valuation
He has an On3 NIL Valuation of $1.2 million. The valuation ranks No. 14 in the On3 NIL 100, which is the first of its kind and a de facto NIL ranking of the top 100 high school and college athletes ranked by their On3 NIL Valuation.
His social media following has jumped since his commitment last March. He has nearly 331,000 total followers, with 140,000 on TikTok and another 166,000 on Instagram. Iamaleava's valuation has seen steady growth over the past 10 weeks with a $72,000 increase.
About On3 NIL Valuation, Brand Value, Roster Value
The On3 NIL Valuation is the industry's leading index that sets high school and college athletes' projected annual value (PAV).
A proprietary algorithm, the On3 NIL Valuation establishes the overall NIL market and projected 12-month growth rate by measuring two categories, Brand Value Index and Roster Value Index.  
The Brand Value Index measures the national licensing and sponsorship market. The Roster Value Index collects data from all school Collectives into a proprietary Roster Management software. Brand Value and Roster Value are combined to create the overall NIL market.
Using the overall NIL market size, the On3 NIL Valuation calculates an athlete's Brand Value and Roster Value by using dynamic data points targeting three primary categories:
+ Performance
+ Influence
+ Exposure
While the algorithm includes deal data, it does not act as a tracker of the value of NIL deals athletes have completed to date, nor does it set an athlete's NIL valuation for their entire career. The On3 NIL Valuation calculates the optimized NIL opportunity for athletes relative to the overall NIL market and projects out to as long as 12 months into the future. The On3 NIL Valuation is publicly available. Performance, Influence, and Exposure ratings along with the athlete's personal Brand Value Index and Roster Value Index are available only to the athlete in the "Athlete Verified" private dashboard on the On3 Athlete Network.