Top five On3 NIL Valuations in primetime Notre Dame, Ohio State showdown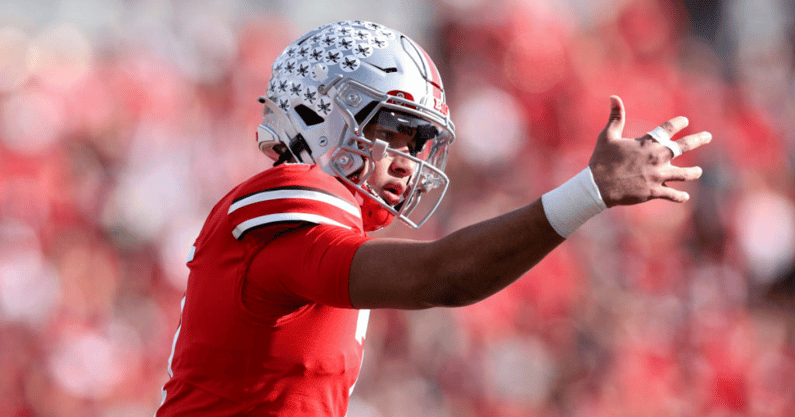 A lot has changed since Ohio State and Notre Dame last played on a campus in 1996.
For starters, athletes are now able to turn a profit on their NIL. When two of the five all-time winningest programs in college football met in 1996, however, the thought of making a buck off the playing field was sacrilegious.
Now it's just the new norm across college athletics.
Come Saturday night, NIL will not be the main topic inside Ohio Stadium. But the primetime matchup gives players on both sidelines the chance to boost their brand and reputation. No. 5 Notre Dame and second-ranked Ohio State have rosters awash in talent. Saturday night could provide the perfect opportunity for a new name to join the national conversation, too.
On3 is breaking down the top-five On3 NIL Valuations ahead of the historic game.
1. C.J. Stroud
On3 NIL Valuation: $2.5 million
Per Post Value: $7,200
Position: Quarterback
On3 Impact 300 ranking: No. 3
C.J. Stroud is a Heisman frontrunner. Last season, he had yet to throw a collegiate pass when the Buckeyes opened the season at Minnesota. He's now leading Ohio State into the biggest home opener in school history. And the Buckeyes are a 17.5-point favorite entering Saturday night, thanks in large part to their quarterback. He's had a successful offseason, signing deals with Designer Shoe Warehouse and Value City Furniture. He's driving around a G-Wagon. And earlier this week, thanks to the funds he's raised through NIL, he announced he's giving $500 Express gift cards to his teammates to dress right on gameday. With one of the deepest wide receiver rooms in the nation, Stroud has the opportunity to put on a show against Notre Dame. The top-five matchup gives him the perfect spotlight to remind the nation why Ryan Day has his guy in C.J. Stroud.
2. Jaxon Smith-Njigba
On3 NIL Valuation: $1.7 million
Per Post Value: $3,900
Position: Wide Receiver
On3 Impact 300 ranking: No. 5
The top-returning wide receiver in college football just happens to be in the same offense as C.J. Stroud. Jaxon Smith-Njigba put on one of college football's most legendary performances at the Rose Bowl. With the San Gabriel Mountains as backdrop, he finished with 15 catches, 347 yards and three scores — the most yards put up by a receiver ever in bowl history. He's now one of the sport's most marketable athletes. He's inked deals with Express and Designer Shoe Warehouse, and he holds an On3 NIL Valuation of $1.7 million. Smith-Njigba has an opportunity to build on that potential this season. He'll be one of the top offensive threats in the nation. And with Stroud throwing to him, he'll have a chance to have a jaw-dropping performance each week. Saturday night could just be the start.
3. TreVeyon Henderson
On3 NIL Valuation: $922,000
Per Post Value: $1,600
Position: Running Back
On3 Impact 300 ranking: No. 14
TreVeyon Henderson captured Freshman All-American honors last season. He rushed for the second-most yards in Ohio State history by a freshman with 1,248 yards. He set a school record with 19 touchdowns in his first season in Columbus. All that's to say, the former five-star recruit and top-20 prospect is the third piece of the Ohio State's three-headed offensive monster. The Buckeyes have a revamped offensive line after bringing in Justin Frye from UCLA, which should only help the running back. He'll be given plenty of carries, and he has a full season of experience. Henderson is healthy, too. With an massive On3 NIL Valuation, the Ohio State running back has the opportunity to rewrite the Buckeyes' record books over the next two years.
4. Michael Mayer
On3 NIL Valuation: $848,000
Per Post Value: $696
Position: Tight End
On3 Impact 300 ranking: No. 15
NFL scouts are already jumping at the chance to draft Michael Mayer. With a 6-foot-4, 265-pound frame, the Notre Dame tight end finished last year with 71 catches for 840 yards and seven touchdowns. He'll now be Tyler Buchner's top target in the Fighting Irish's offense. The former four-star recruit has been one of Notre Dame's top weapons in the passing game since his freshman year. The current crop of NFL tight ends realize that, too. Mayer was invited to Tight End University this summer, appearing in a photoshoot for Levi next to NFL star George Kittle. Rhoback inked a deal with the Notre Dame star, too. Michael Mayer has a massive On3 NIL Valuation which will only continue to rise if he can prove to be a problem for Ohio State's defense.
5. Isaiah Foskey
On3 NIL Valuation: $608,000
Per Post Value: $336
Position: Defensive Lineman
On3 Impact 300 ranking: No. 58
Isaiah Foskey does not enter Saturday night's game with as much of a following as Alabama's Will Anderson Jr. But the 6-foot-5, 265-pound defensive lineman can use this season to climb into a top-20 NFL Draft position and join the conversation. He's shown he can be a problem for offensive lines before when he finished with 12.5 tackles for loss, 11.0 sacks and six forced fumbles last season. That was all in Marcus Freeman's defensive system. Yes, it will be tweaked with Al Golden taking over Notre Dame's day-to-day defensive operations. But Freeman knows what Foskey has the potential of doing on every down. He will be matched up with Paris Johnson on Saturday night — just the challenge NFL scouts want to see him in.
About the On3 NIL Valuation
The On3 NIL Valuation is the industry's leading index that sets the standard market NIL value for high school and college athletes. A proprietary algorithm, the On3 NIL Valuation calculates an athlete's NIL value using dynamic data points targeting three primary categories:
+ Performance
+ Influence
+ Exposure
While the algorithm includes deal data, it does not act as a tracker of the value of NIL deals athletes have completed to date, nor does it set an athlete's NIL valuation for their entire career. The On3 NIL Valuation calculates the optimized NIL opportunity for athletes relative to the overall NIL market and projects out to as long as 12 months into the future.