USC quarterback Malachi Nelson inks NIL deal with House of Victory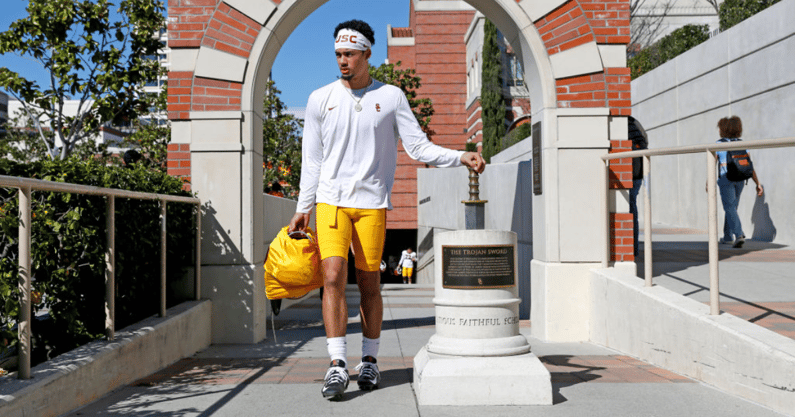 Malachi Nelson set the precedent for what high school athletes can achieve in NIL.
Now at USC, the former On3 Five-Star Plus+ quarterback prospect was able to begin building a brand and monetizing his publicity rights during his time at Los Alamitos High School. He aligned with the The h.wood Group, a hospitality and lifestyle company based in Los Angeles, last summer. FaZe Clan, the lifestyle and media platform, followed Nelson around throughout his final high school season filming a documentary.
Because California was the first state to allow high schoolers to earn endorsement dollars, Nelson did not need an NIL primer when he enrolled at USC in January. He has a real value to brands already, too, with more than 160,000 social media followers. Sitting behind Caleb Williams for a season is not going to slow down his NIL activity.
On Thursday, the Trojan-focused House of Victory collective announced a partnership with Nelson. Launched just last month, nonprofit collective is meant to service all Trojan athletes, with a focus on football and basketball. Alumni-led and board-operated, the collective has a flavor of BLVD LLC, which was launched back in August 2022 as the official NIL entity at USC.
The world of college football and name, image and likeness has developed into a race to raise the most money and focus on roster retention. That's all while doing it at a high-functioning level to attract possible recruits.
Signing Nelson exemplifies the emphasis House of Victory is putting on working with freshmen and roster retention. Making sure freshmen know they will have NIL opportunities immediately is a necessity, especially after coaching staffs discuss the possibilities during the recruitment process.
The collective has signed a notable list of names since April, including Zion and Zachariah Branch, Mason Cobb, Brenden Rice and Mario Williams.
Malachi Nelson's growing NIL brand
The quarterback's relationship with The h.wood Group is really just starting. Co-founded by a pair of USC grads, former walk-on quarterback John Terzian and his partner Brian Toll, the company has more than 30 restaurants and clubs spread throughout the company. Nelson's profile will only rise when he eventually takes the USC starting job, providing the hospitality group a key name to tap into.
Represented by Klutch Sports and The Network Advisory, Nelson is prioritizing the long-term play over short-term money. His $813,000 On3 NIL Valuation ranks in the top 30 of college football.
"You want to put yourself in the right position to not look like you're just doing it for the money," Nelson said last July. "Last year there were some college guys that had a bad game and then they had to wake up the next morning and post this endorsement deal. It doesn't look very good. So, my team has put me in a good position to avoid that from happening."
He was previously committed to Lincoln Riley at Oklahoma before following the head coach to USC. The No. 5 quarterback in the 2023 recruiting class was 12 of 20 in USC's spring game, throwing for 127 yards and two interceptions.
Malachi Nelson will have this year to learn from reigning Heisman Trophy winner in Williams. The Trojans nearly won the Pac-12 and went to the College Football Playoff last season. Nelson will clearly be in the national spotlight during his time in Los Angeles.
"My favorite part of all of this is that people are really starting to get to know my son as a person, not only an athlete but as a kind, loving and genuine person," Nelson's mother, Naomi, told On3 in December. "As a mom of an athlete, that part has been really important to me."