USF's Fowler Ave Collective announces hires, $3.5 million goal in '24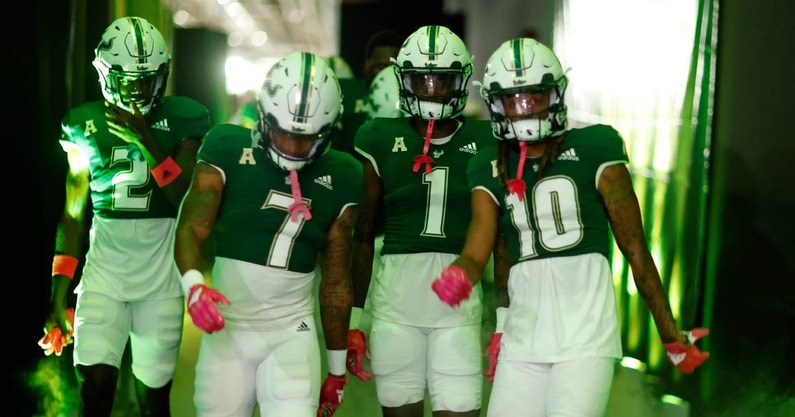 This week, Fowler Ave Collective announced the hiring of development director Larry "Nucc" Antonucci and fan engagement director Will Turner. Fowler Ave Collective supports name, image and likeness opportunities for athletes at USF. The hires will provide additional support to Fowler Ave Collective co-founder and chairman Corey Staniscia, who labeled each of the roles as initially a "three-quarter-time role."
"Where I am now at the collective, it's 80% of my time and 0% of my income," Staniscia said in a phone interview.
Antonucci previously worked as the athletic director at Cardinal Mooney High School in Sarasota, Florida. Before that, he worked at USF in several capacities, including director of football operations and assistant AD, during the tenures of Jim Leavitt, Skip Holtz and Willie Taggart.
"He's like the godfather of USF football, and he believes in NIL and he believes in the collective," Staniscia said.
Staniscia and Antonucci recently reconnected at USF's spring game. Staniscia explained that there might be USF supporters who he meets for the first time who have known Antonucci for 25 years, particularly former USF football players from the past who may have looked up to him during their playing days.
"He knows everybody," Staniscia said. "Everybody loves Nucc."
Fowler Ave Collective hopes to reach 1,000 members
Staniscia said Fowler Ave Collective has roughly 200 members who pay monthly dues or pledges. Staniscia estimates those members are contributing $60,000 to $75,000 annually.
"Our goal is to get to 1,000," Staniscia said.
He set that target number based on USF's alumni base and the membership of the USF Bulls Club. He projects 1,000 members would correlate to roughly $350,000 in annual contributions.
"We do think that 1,000 is attainable," he said. "I think we've got a lot of people on the fence. We've got a lot of season ticket-holders. We've got a lot of people that are still trying to make that decision, 'Is this something that I support?'"
As a USF fan, Staniscia sympathizes with Fowler Ave Collective's prospective members, given the football program's recent track record. USF fired then-coach Jeff Scott, who previously worked as a co-offensive coordinator at Clemson, in the middle of last season. He posted a 4-26 record at the university. The university has since hired Alex Golesh from Tennessee.
"We won 1.3 football games over the last three years a season," Staniscia said. "It's hard to be a fan and give money and support when we're not winning. So, where we're at is we need to have a robust fan engagement program and to give people who maybe were on the fence a little bit of FOMO."
That's where Staniscia hopes Turner adds value as the former publisher of Bulls247. Turner's job is specifically to grow Fowler Ave Collective's membership base and he'll conduct interviews with athletes.
Staniscia cited live events and giveaways as potential strategies to recruit new members, such as packages for away games that could include hotel stays or experiences in the destination city.
"I had to focus all of my efforts on going after the larger donors, the people that have names on the buildings, people that are giving significantly or have means who wanted to do more than just $50 or $100 a month and believe in the program," Staniscia said. "We've been really successful. Really successful. I mean, we're just shy of seven figures so figure the amount of money we've raised from kind of those larger donors, and where we are from our membership standpoint, for the year, again that's worth $60[,000] to $75,000, and we raised just close to a million bucks and that's only in the last three months."
Staniscia later added, "That's going to grow. That's money in the bank."
Fowler Ave Collective hopes to raise $3.5 million
If Fowler Ave Collective is able to receive $350,000 annually in monthly contributions from its members, that would represent 10% of the collective's fundraising goal for 2024 of about $3.5 million. Staniscia said he hopes that the source of revenue makes up between 10% and 20% of the collective's revenue.
"We do have some folks that, you know, can stroke a pretty large check here in Tampa, alumni or just supporters in general that just want to see USF succeed and a lot of them believe this is the quickest and easiest way to get that done," Staniscia said.
On July 1, Cincinnati, Houston and UCF will join the Big 12 Conference, while Charlotte, Florida Atlantic, North Texas, Rice, UAB and UTSA will then join the American Athletic Conference.
"With some of the changing of the guard and some of the big dogs leaving for greener pastures, yeah, I mean now all of a sudden we're that old guard and schools like FAU are stepping up and saying, 'OK, we've got to catch them,'" Staniscia said. "They're all looking at us. 'We have to catch them,' and we're looking ahead and saying, 'We've got to catch others in other conferences to be able to compete.'"