Triumph NIL signs 28 Virginia Tech football players for $300,000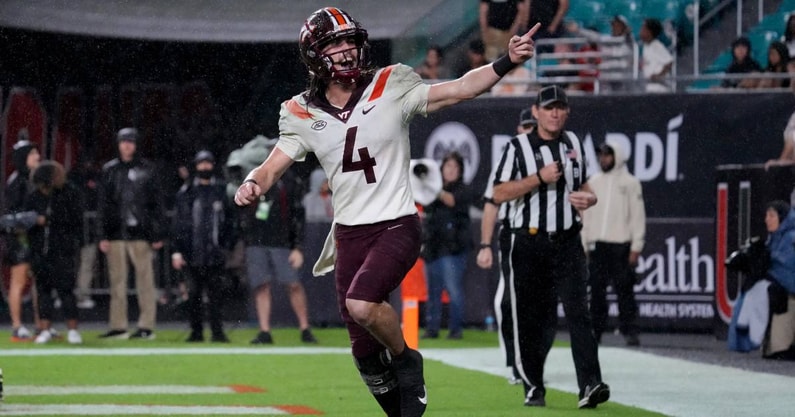 Just a few weeks removed from one of the earliest mergers among NIL marketing agencies, Triumph NIL announced Thursday it signed 28 Virginia Tech football players to NIL contracts valued at $300,000.
The players, who are listed below, will "promote company business and philanthropic initiatives through a variety of personal appearances, content development programs, social media posts and live events," according to a release.
The announced investment of $300,000 is part of more than $500,000 in marketing deals that Triumph NIL is in the process of announcing.
"We are beyond excited that these gifted athletes are joining the Triumph family," Triumph NIL CEO Kelly Woolwine said in the release. "We are extremely appreciative of the trust they have placed in us. Each and every one of these student-athletes has done a remarkable job of creating a valuable brand for themselves. Our clients are especially excited to have this caliber of individuals represent their businesses and philanthropic causes.
"Without a doubt, the Hot Route and Triumph families are building some awesome momentum."
The merger of Triumph NIL, Hot Route Marketing
On3 recently published a deep dive on the merger between Triumph NIL and Hot Route Marketing, which is believed to be just the third merger of NIL marketing agencies or NIL collectives.
Hot Route Marketing, which Woolwine founded, acquired Triumph NIL.
"It was just like any other business. It was a merger," Woolwine told On3 in July. "Hot Route acquired the shares, the ownership, of Triumph through pretty standard merger docs and a new operating agreement. Those shareholders became shareholders in Hot Route Marketing. There wasn't a lot of ego."
Woolwine said he has been friends with former Virginia Tech and NFL running back Kevin Jones and his wife Robyn for years. Former Virginia Tech defender Brenden Hill said Triumph NIL identified Hot Route Marketing "very early on" as an entity with a similar vision but complementary skill sets.
"I guess great minds think alike," Woolwine said. "When NIL became a thing, when we knew that NIL was going to be an opportunity, I jumped at it out of a passion for Virginia Tech, wanting to be available there and be of service in that way to our student-athletes. At the same time, the Triumph group was thinking the exact same thing for the exact same reason.
"We were showing up at the same things. We were on calls together or we were talking to the same people."
Triumph NIL announces wave of deals
Triumph NIL previously signed Virginia Tech football players Dax Hollifield, Da'Wain Lofton, Kaleb Smith and Malachi Thomas, and women's soccer players Lauren Gogal, Dori Haugen, Tori Powell and Alia Skinner to contracts.
The marketing agency has also partnered with apartment management company CMG Leasing. Virginia Tech athletes will make personal appearances, attend live events and produce social media posts as part of the partnership.
Below is the full list of Virginia Tech football players who most recently signed with Triumph NIL:
+ Connor Blumrick
+ Jason Brown
+ Chamarri Conner
+ Drake De Iuliis
+ Silas Dzansi
+ Josh Fuga
+ Nick Gallo
+ TyJuan Garbutt
+ Jaylen Griffin
+ Jesse Hanson
+ DJ Harvey
+ Jalen Holston
+ Keonta Jenkins
+ Johnny Jordan
+ Jaden Keller
+ Mario Kendricks
+ Keshawn King
+ CJ McCray
+ Kaden Moore
+ Peter Moore
+ Brion Murray
+ Cole Nelson
+ Nasir Peoples
+ Norell Pollard
+ Dorian Strong
+ Alan Tisdale
+ JR Walker
+ Grant Wells