Inside the merger of third-party NIL agencies at Virginia Tech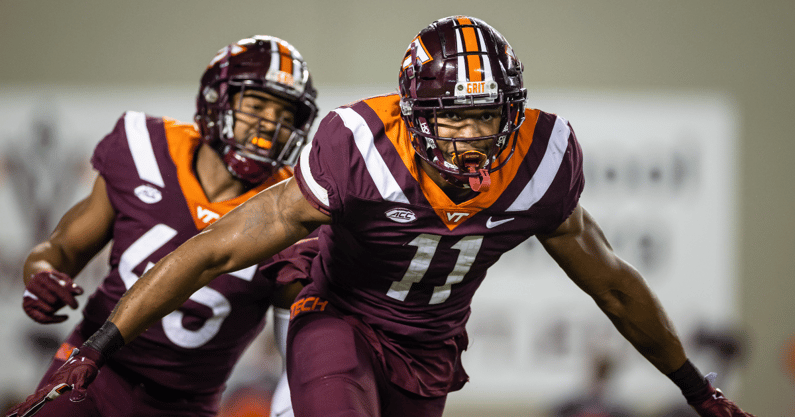 Last week, Hot Route Marketing and Triumph NIL, two third-party entities designed to support Virginia Tech athletes through NIL opportunities, merged to form Triumph, a full-service sports marketing agency. It's believed to be just the third merger of NIL entities, following mergers between Florida State's Rising Spear and Warpath 850, and TCU's Think NIL and Killer Frogs.
What causes two entities to merge?
"I had relationships already — you know, friendships — with some of the Triumph team members and it was pretty easy," said Kelly Woolwine, the founder of Hot Route Sports Marketing who now serves as the CEO of Triumph. "We knew we all wanted the same thing. We knew we were all like-minded in goals so it didn't take long at all to know we should be working together."
Woolwine said he's been friends with former Virginia Tech and NFL running back Kevin Jones and his wife Robyn for five or six years. They'd been looking to work on a project together. Woolwine said discussions about a potential merger started a month and a half to two months ago.
Former Virginia Tech defender and Triumph NIL founding partner Brenden Hill said Triumph NIL identified Hot Route Marketing "very early on" as an entity with a similar vision but complementary skill sets.
"This landed right in our lap," Woolwine said.
Robyn Jones will serve as the COO of Triumph.
"I guess great minds think alike," Woolwine said. "When NIL became a thing, when we knew that NIL was going to be an opportunity, I jumped at it out of a passion for Virginia Tech, wanting to be available there and be of service in that way to our student-athletes. At the same time, the Triumph group was thinking the exact same thing for the exact same reason.
"We were showing up at the same things. We were on calls together or we were talking to the same people."
Triumph says it's an agency, not a collective
Hot Route Marketing now owns Triumph, according to Woolwine. Triumph shareholders are now shareholders in Hot Route Marketing.
"It was just like any other business. It was a merger," Woolwine said. "Hot Route acquired the shares, the ownership, of Triumph through pretty standard merger docs and a new operating agreement. Those shareholders became shareholders in Hot Route Marketing. There wasn't a lot of ego."
Prior to the merger, there were four entities designed to create NIL opportunities for Virginia Tech athletes: Hot Route Marketing, Triumph NIL, Commonwealth NIL and The Hokie Way.
To be clear, while Commonwealth NIL calls itself an NIL collective, each entity doesn't, or didn't, label itself as a collective. In the grand scheme of things in the NIL landscape, that might be a matter of semantics, given that there's not one agreed-upon definition.
The Hokie Way is a nonprofit organization.
"We view ourselves as an agency versus a collective," Hill said of Triumph.
In addition to Hill, Woolwine and the Joneses, Jim Cowan, Joey Harrington and Doug Hicks are also partners in the new-look agency.
'I think more than two is way too many'
There are numerous gray areas in the NIL landscape, including how to define the numerous third-party organizations that have been created in the last year to support athletes at a specific school. An NIL collective can serve as a catch-all term, although some stakeholders don't love its newfound connotation.
Whatever you want to call a given entity, the existence of too many within one fan and donor base could ultimately prove to be cannibalistic and reductive.
"We've heard very early on from different people in the space who have had to deal with 'collectives' across the country that the best to do it — the best universities or programs that are well-positioned — have one group that they lean on primarily," Hill said. "I would say any more than one [is too many], honestly. You have to potentially have two just to not have a monopoly or create some sort of fair market opportunity.
"I think more than two is way too many, but I think it also just depends on how people fit into the community and the role."
Citing the nonprofit Hoosiers for Good, which supports athletes at Indiana, Hill said he could envision a hypothetical scenario where a fan base creates one nonprofit that works alongside two marketing agencies.
"Then maybe three would work," he said. "But that nonprofit technically isn't a collective, so it just depends. I think less is better, just even for the fan bases where they aren't getting mixed messages."
Woolwine added, "It is hard to say what's too many, what's not too many. I don't know."
Triumph to announce more than $500,000 in deals
Woolwine said he thinks it's possible two NIL entities could merge even if the individuals involved didn't have a preexisting relationship, as he did with the Joneses and other Triumph partners. However, such a merger could come with inherent risks.
"All of this is happening so fast and the motivations are so different and unsolidified that things are just running together," Woolwine said. "When you bring forces together, like passionate fan bases and organizations that support universities and athletic programs, opportunists, and create that kind of chaos and velocity, all kinds of things are going to happen. I imagine you could see mergers, alignments, people doing things and plowing together at high speed, not really knowing where it's going and that's what we did not want to do."
Woolwine said the strength of Hot Route Marketing has been his relationships with businesses and individuals in the business community. Thanks to the involvement of Hill and the Joneses, Triumph NIL had connections to current and former Virginia Tech athletes, plus professional experience in brand building.
"It was a perfect joining of forces," Woolwine said. "Our intention is that the Triumph brand already had good traction there in the community of student-athletes. We're hoping that stays seamless and that Triumph brand becomes how the student-athletes know us."
In the press release that announced the merger, Robyn Jones said Triumph will soon announce marketing partnerships worth more than $500,000 for Virginia Tech athletes. Triumph recently announced contracts with football players Dax Hollifield, Da'Wain Lofton, Kaleb Smith and Malachi Thomas.
The agency also announced a partnership with the apartment management company CMG Leasing that will feature personal appearances, live events and social media posts from Virginia Tech athletes.
"Stay tuned," Woolwine said of what's next for Triumph. He later continued, "I would say that number and more. There has been robust interest in a lot of the area businesses and companies in the region, people who are passionate about Virginia Tech and also see the value of promoting their business interests or their charitable interests this way."
'If we're only in this business for a year, we failed'
Hill said that for Triumph's partners, this isn't a hobby or something they just do for fun.
"If we're only in this business for a year, we failed," Hill said.
In the big picture, he spoke about the agency in timeframes divisible by five years. What can Triumph accomplish in five, 10 or 15 years?
"We always say that NIL is not new," he said. "It's just new to college athletics. There are a lot of people who want to participate who could use the amplification of their brands or partner with these student-athletes. Maybe they just don't know how to do it, so we're the group to step in and navigate them through the process."
Hill and Woolwine each repeatedly spoke of education, longevity and having a purpose of doing what's best for athletes.
"College sports has become this multi-billion-dollar empire and yet it was very difficult for student-athletes to make any kind of living," Woolwine said. "I hope that people will get into this for the right reasons and create this opportunity for student-athletes to capitalize on their value, their following, these men and women as an entity that has more to do with just what they do on the field."