Four Alabama commits ranked No. 1 at position per On3 Sports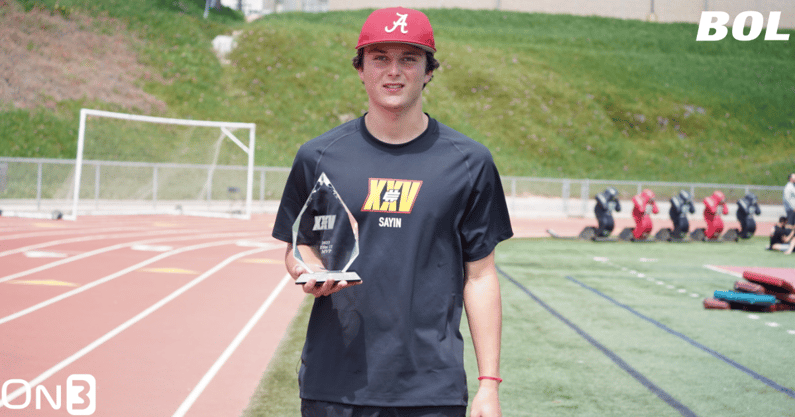 The mid-season updated On3 Sports 2024 class player rankings were released on Monday. Alabama commitments were well represented as four members of the class hold the top spot at their position including Julian Sayin, five-star quarterback from Carlsbad High School in California.
Sayin moved to the No. 1 spot at quarterback in the previous rankings update in July. He is the highest ranked commitment in the Tide's class. Sayin ranks No. 6 overall per On3 Sports. Alabama will welcome Sayin back to Tuscaloosa this weekend for his official visit. It is the first visit back to Alabama since June.
"Alabama commit Julian Sayin (No. 6) remains as the top prospect at the position in the On300," said On3 Scouting and Rankings Director Charles Power. "Sayin is playing at a high level this fall. The game is moving slow for Sayin, who is completing close to 79% of his passes at 10.8 yards per attempt. He's thrown for 13 touchdowns against zero interceptions. Sayin has also shown some added improvisational creativity and is making plays with his feet more often than he did as a junior.
Download the On3 Sports App to keep track of the latest, breaking news on BOL!
Below is a look at the quarterbacks in the Top 100 per On3 Sports.
CLICK HERE for the complete On300 player rankings!
Odom moves to No. 1 TE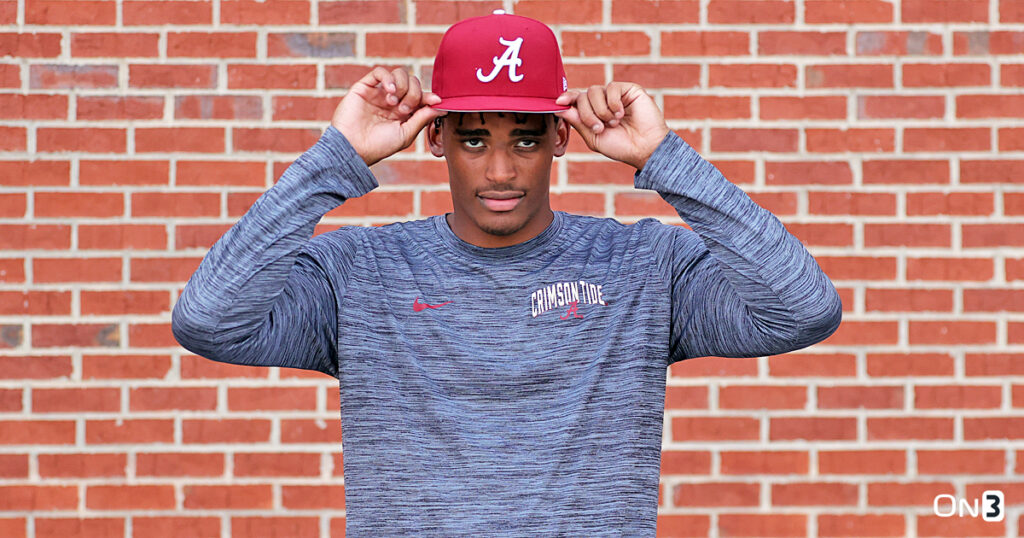 Alabama commitment Caleb Odom, from Carrollton High School in Georgia, overtakes the top spot at tight end after being previously ranked at No. 2. Odom has been outstanding this season. He has two catches for 88 yards and a touchdown in a win last week. On3 Sports Scouting and Rankings Director Charles Power spoke highly of Odom after watching his first three games as a senior.
"Caleb Odom continues to make his case as one of the biggest mismatches in the 2024 cycle. The 6-foot-4, 220-pounder has impressed in each outing and has been the most-physically gifted prospect on the field each week, while playing in games with multiple Power 5 prospects.
Odom had one of the more impressive individual plays I've seen this season on Friday. With his team facing a 3rd and 29, he ran an in-breaking route, catching the ball with a defender on his back. Odom then spun out of that initial tackle without going down, spun again while gathering his footing and shedding more tackles before dragging himself into the end zone with a defender grabbing his ankle. The play was a sensational and rare display of coordination, contact balance and effort, particularly for a prospect of his size."
Odom also climbed a few spots to No. 25 in the On300. He is one of only five tight ends ranked in the Top 100. The others include: UGA commitment Jaden Reddell from Peculiar High School in Raymore, Missouri (No. 32), LSU commitment Trey'Dez Green from Zachary High School in Louisiana (No. 39), Nebraska commitment Carter Nelson from Ainsworth High School in Nebraska (No. 78) and Penn State commitment Luke Reynolds from Cheshire Academy in Westford, Massachusetts (No. 82).
Must-Read: Father of priority RB target talks in-depth about Alabama
Alabama OL target moves to five-stars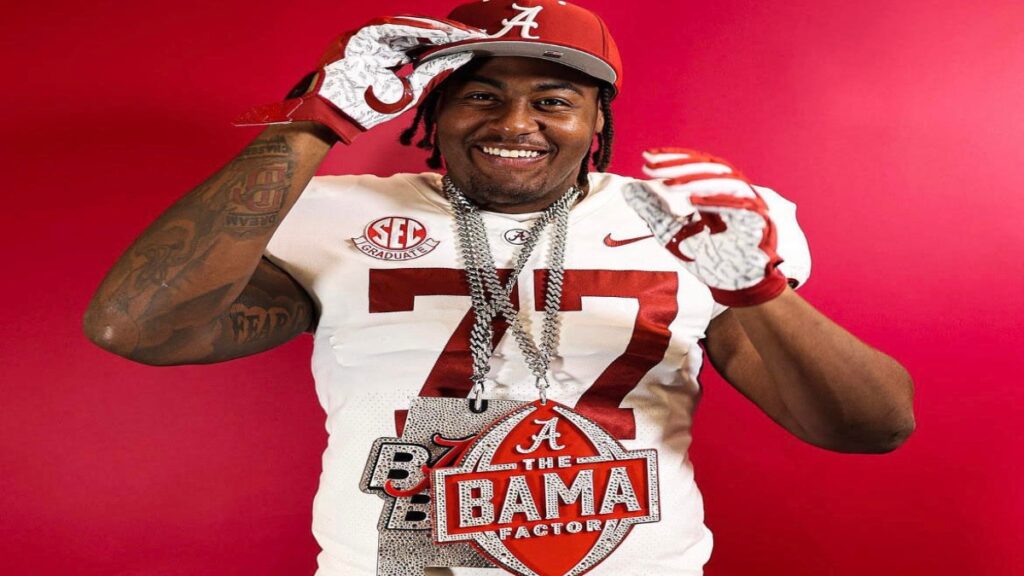 Jordan Seaton, five-star offensive tackle from IMG Academy in Bradenton, Florida, has made a statement in his first four games of the season. The nationally-televised games put the spotlight on the 6-foot-5, 295-pound tackle. He has yet to disappoint. Seaton moves to the No. 7 overall spot in the On300, and is the best offensive lineman in the country.
"(Seaton) has shown to be the most technically advanced offensive tackle in the cycle to this point," Charles Power said. "Seaton's high level of skill is readily apparent both on film and in person. He plays with advanced awareness and coordination. The inherent feel for leverage combines with strong hands that stymie pass rushers on contact. He plays with control and balance. We also like Seaton's physicality and nasty on-field demeanor. We view the new five-star as a high-floor prospect with the ability to get on the field early in his college career."
Seaton is one of only two players ranked amongst the top 25 in the country who remains uncommitted. He took an official visit to Alabama in June, and returned to Tuscaloosa for the Tide's home loss to Texas two weekends ago. Seaton is considering a return to Alabama on October 21 (vs. Tennessee). He visited Colorado this past weekend. A decision is expected during the Early Signing Period in December.
"Following this loss, Alabama is in the same spot," Seaton told BOL after his trip to Tuscaloosa. "I'm a big picture type of guy. One loss isn't going to define anybody. Just like you wouldn't want somebody to judge you off one thing. They have a consistent record of productiveness and domination in the sport of football."
Saban: Jalen Milroe has earned opportunity to be Alabama's starting QB
Commitments in updated On300
*Red Morgan and Rico Scott are new additions to the On300.
CLICK HERE TO SPEAK WITH THE BOL STAFF REGARDING THE UPDATED On3 Rankings, remaining targets and much more!
Not a member, Alabama fans? Join BOL today!
Have you subscribed to BamaOnLine.com yet? You can sign up for ONE MONTH of premium access to our Alabama coverage for just $1! Be able to read all of BOL's premium articles and nuggets covering Alabama sports and recruiting and also join thousands of other Crimson Tide fans around the globe on the BOL Round Table message board! CLICK HERE!