SOCIAL MEDIA SLANT: Alabama commits react to Kadyn Proctor's flip to Bama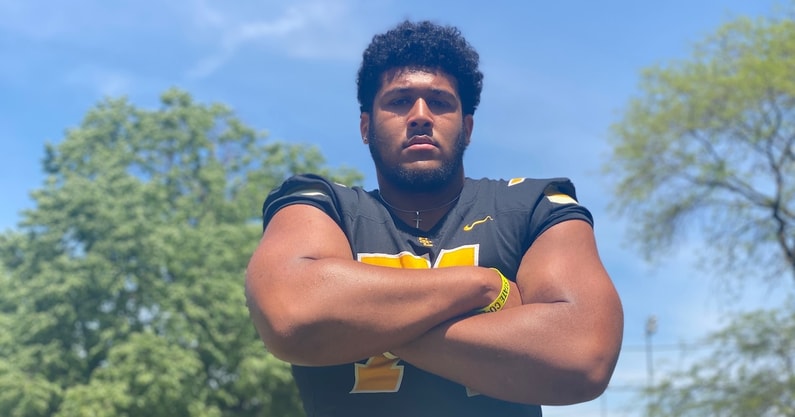 Nick Saban and his staff at Alabama continued to stay hot on the recruiting trail ahead of the Early Signing Period. Just over a week after earning a commitment from Keon Keeley, the Crimson Tide added fellow five-star Kadyn Proctor to the fold on Tuesday.
Proctor had been committed to the Iowa Hawkeyes since June 30, but ultimately decided that Tuscaloosa will be his home for the next three-to-five years. His flip comes days after a multi-day unofficial visit to T-Town.
Early Signing Period: Final predictions on Alabama targets
Proctor is the No. 12 overall player on the On3 Consensus, as well as the second-ranked offensive tackle in this recruiting cycle. As such, his decision to join Alabama's class on Tuesday drew reactions from some of Bama's top commits in the 2023 and 2024 classes.
Here are some social media posts from Alabama's commits, a staff member, and even a current starter following Proctor's announcement.
Social media reactions to Kadyn Proctor's commitment to Alabama
Elite 2023 running back Richard Young posted last week, "We want Kadyn Proctor," tagging the five-star o-lineman in his tweet. He also tweeted a similar message to Keon Keeley shortly after Young committed to Alabama in July.
It's safe to say that Young was thrilled with today's announcement.
Jaylen Mbakwe, Bama's highest-rated commit in the 2024 class, also chimed in on Tuesday afternoon.
Both Mbakwe and Young are hoping that Bama will add in-state five-stars James Smith and Qua Russaw to the fold on Wednesday.
Fellow running back commitment Justice Haynes also expressed excitement following Proctor's commitment.
Bama offensive lineman Tyler Booker spent time with Proctor this past weekend, and took some credit for his commitment today.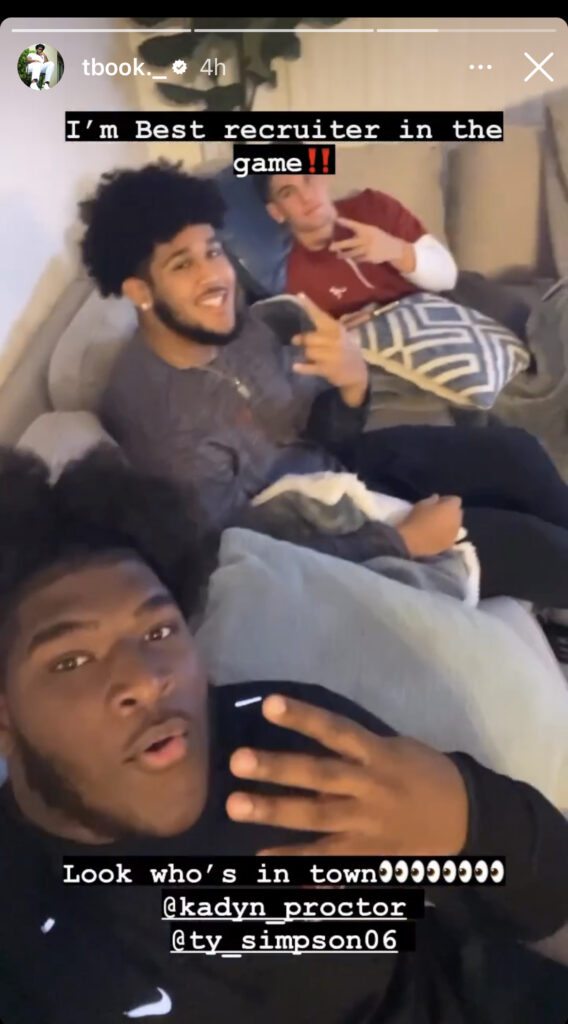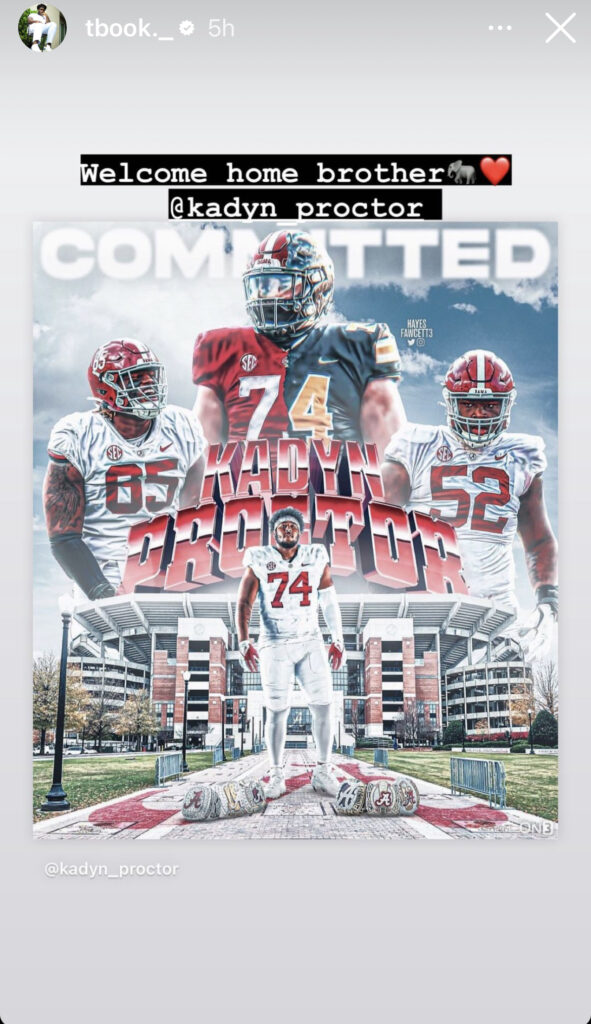 Fellow Crimson Tide o-lineman JC Latham took to Twitter as well on Tuesday.
Alabama Football Marketing Coordinator Savannah French
Bama wide receiver commitment Cole Adams
Alabama tight end pledge Ty Lockwood
Alabama QB commit Eli Holstein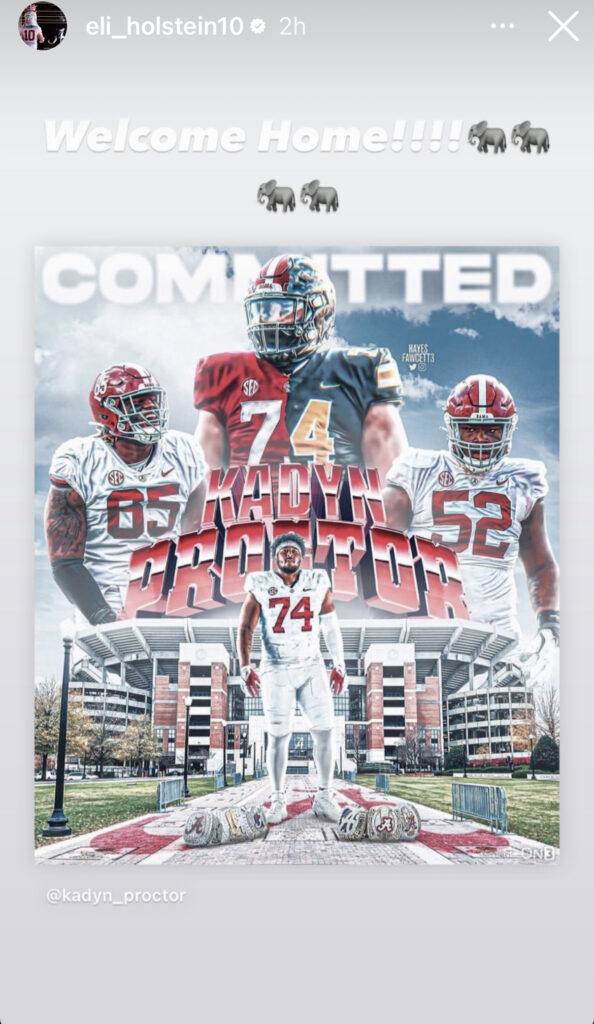 Bama OL commit Miles McVay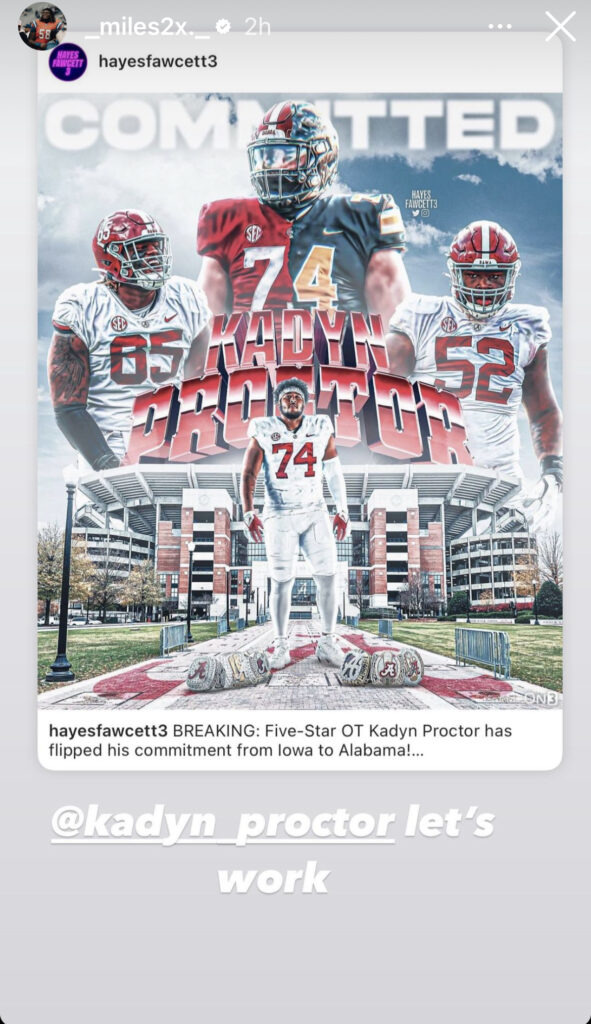 Crimson Tide OL commit Olaus Alinen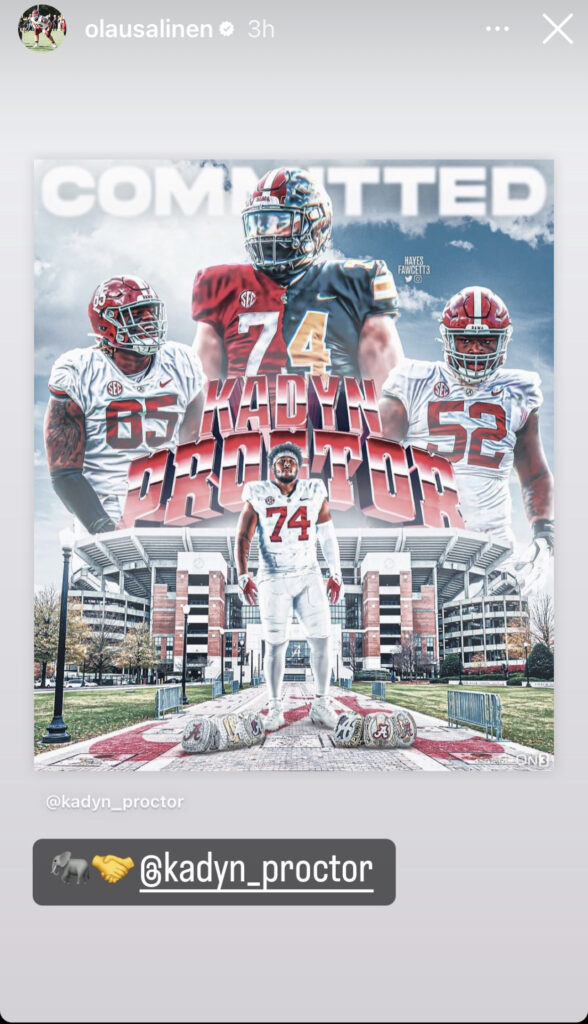 2024 Bama QB pledge Julian Sayin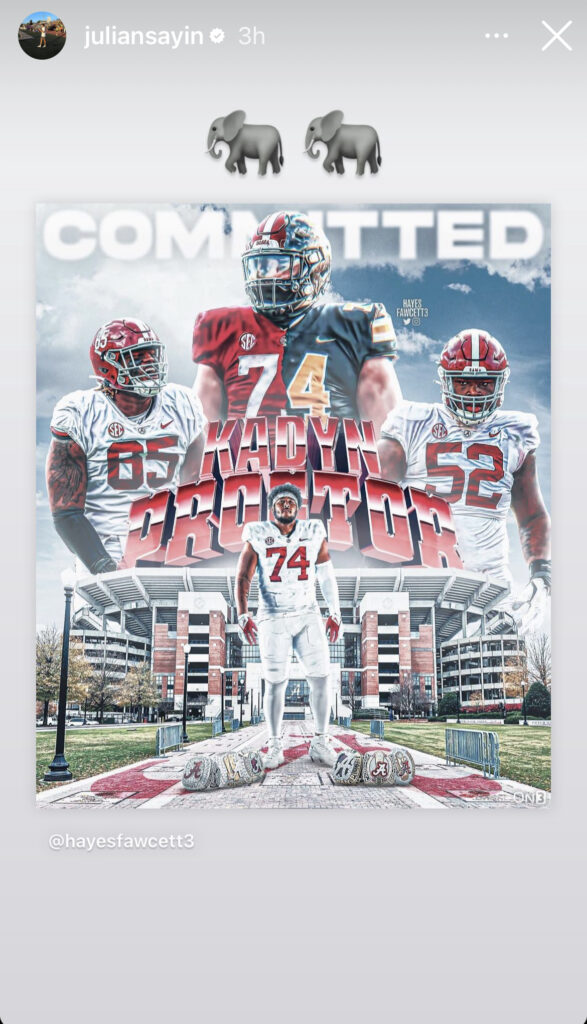 Bama OL commit Wilkin Formby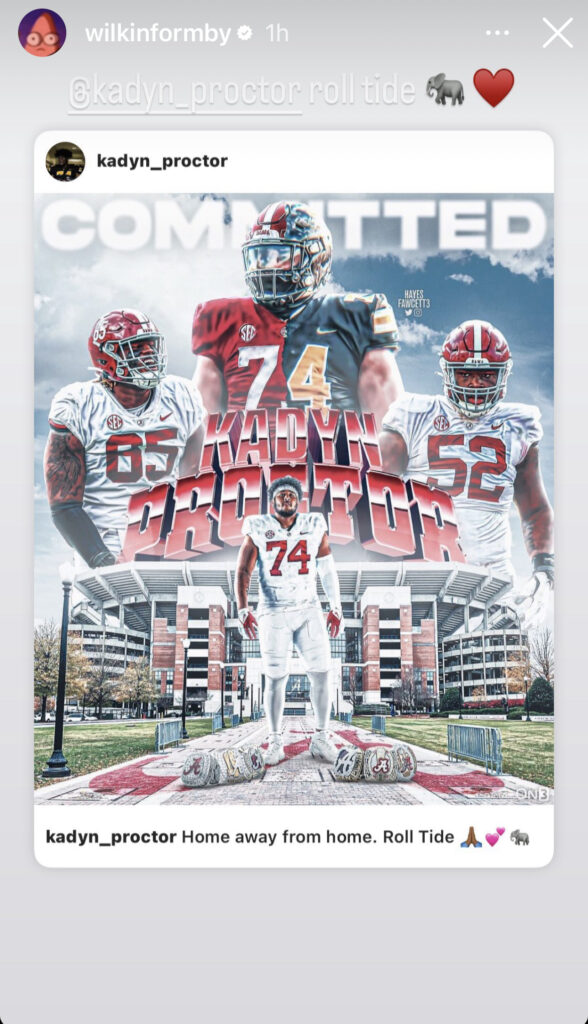 Also check out more Alabama recruiting coverage!
Five-star OL Kadyn Proctor commits to Alabama Crimson Tide
BamaInsider Commitment Analysis: Kadyn Proctor to Alabama
Early Signing Period Chat: Answering your Alabama recruiting questions
Early Signing Period Preview: Alabama targets' announcement plans, plus where they are trending
Dylan Lonergan discusses in-home visit with Nick Saban
Not a member? Join BamaInsider.com today!
Have you subscribed to BamaInsider.com? You can sign up now for $10.00, which gets you premium access until Aug. 31, 2023! Or, you can also get one month of access for just $4.99 (50 percent off). Get access to premium articles covering the University of Alabama athletics, recruiting content and also join thousands of Crimson Tide fans on the Talk of Champions message board! CLICK HERE!