Texans reveal jersey numbers for John Metchie, Christian Harris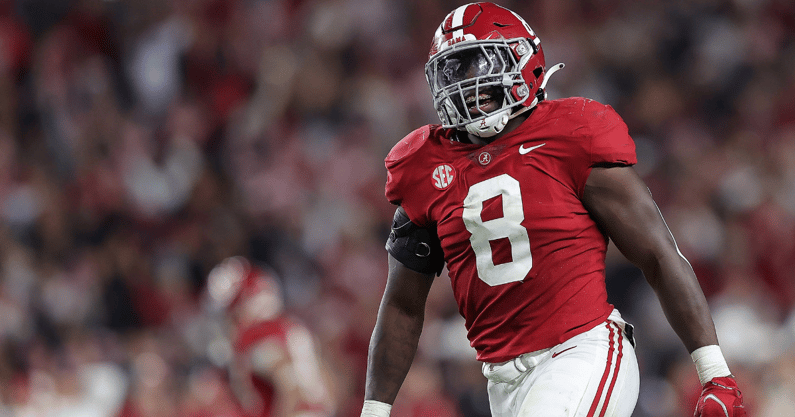 John Metchie III and Christian Harris both wore the No. 8 for Alabama. Neither player will wear that number in the NFL, but we do know the new numbers will at least remains a part of their identies. On Wednesday afternoon, the Houston Texans finally revealed the jersey numbers for every rookie draft pick.
Apparently, Metchie will be rocking the No. 88 in Houston. Harris, on other hand, will wear the No. 48.
Before going any further, we should note that rookie numbers are subject to change. That should be kept in mind before going out and spending any of your hard-earned money on a jersey. But it's also entirely possible that both Metchie and Harris will hang onto their new numbers.
Late last month, the Texans took Metchie and Harris with back-to-back Day 2 selections.
First, it was Metchie going in the second round (No. 44 overall). Exactly a round later, Houston drafted Harris in the third round at No. 75 overall. That means the former Crimson Tide teammates will be reuniting on the next level. Surprisingly, they're the only two former Alabama players on that roster.
Metchie only spent three seasons in Tuscaloosa.
In his first, he sat behind four future first-round wide receivers in Jerry Jeudy, Henry Ruggs III, DeVonta Smith and Jaylen Waddle. Over his last two seasons, he hauled in 151 catches for 2,058 yards and 14 touchdowns. He's still recovering from the knee injury he suffered in the SEC Championship Game, but he'll have a great opportunity to earn a starting role once he returns to the field.
Meanwhile, Harris is in a position to earn a contributing role out of the gate.
After three years and being a Day 1 starter for Alabama, he's has proven to be an athletic, sideline-to-sideline off-ball linebacker who continues to show positive growth. While in Tuscaloosa, he put together 220 tackles, 26.0 tackles for loss, a sack and an interception. Harris set career-highs in tackles (80), tackles for loss (11.5) and sacks (5.5) this past season.
And remember, the last Alabama to get drafted by the Texans was none other than DeMeco Ryans. After 636 tackles in six years with the franchise, it's safe to say that decision worked out for both parties.
---
Are you subscribed?
Ready to get all your latest Alabama football news in one place? Become a member of BamaOn3 today. With your Bama On3/On3+ membership, you'll not only have access to the goings-on in Tuscaloosa, but you'll be able to peruse other fansites within the network to hear just how rivals are feeling about the Tide, as well. Make sure to follow along on Twitter (@BamaOn3) for all the Alabama news you need now!