3 Keys to a Kentucky Victory over South Carolina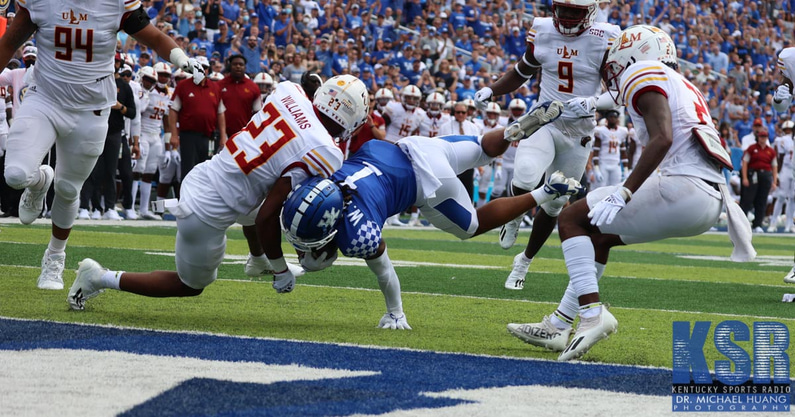 South Carolina is the worst. I cannot stand the sound of that chicken and the unwarranted arrogance Steve Spurrier injected into the delusional fans of a middle-tier football program. Gamecock fans believe it is their natural right to defeat the Wildcats, even though Mark Stoops has won six of the last seven meetings. It's time for a Kentucky victory to shut up shrieking Cocks. Here's how the Wildcats do it.
Run the Damn Ball
The Wildcats entered Saturday's game against Chattanooga with a plan to air the ball out all over the field. Liam Coen admitted after the game that was a mistake. Lightning can't strike twice.
Saturday night is a good time to go back to where the legend of Chris Rodriguez began. He scored his first career touchdown in Columbia, preventing Stoops and Co. from getting shut out in 2019. It's time to let the No. 24 eat.
The strength of South Carolina's defense is the front seven. The Big Blue Wall must bounce back after a poor performance and drive right through the heart of the Gamecocks' defense. This will be a proving ground for the NFL Draft. It's time for Kentucky's offensive line to show the SEC they mean business by opening up cavernous alleys for Rodriguez to run through all night long.
Force Obvious Passing Situations
The Gamecocks aren't exactly third down savants, converting 39.5% of the time (9th in the SEC). However, Kentucky has struggled to get off the field. Missouri and Chattanooga dinked and dunk their way to manageable situations. Through three games UK opponents convert just shy of 45% of their third down attempts. Only Vandy is worse in the SEC.
This will be just the fifth time Luke Doty has taken significant snaps as an SEC quarterback. If the Gamecocks only have 3-5 yards to gain, he has the entire playbook at his disposal and fast feet to scamper for first downs. Kentucky must stop the run on early downs to put Doty in uncomfortable situations. The pass rush is getting close — nine QB hurries a week ago — but is struggling to get home. They can start eating sack lunches by getting the Gamecocks in third and long.
TAKE CARE OF THE BALL
Clean up the turnovers and Kentucky has three blowouts on its early resume. The Wildcats have the worst turnover margin in FBS football. Kentucky fumbled it ten times in the first ten quarters of the season. Interceptions will happen, especially with a big play quarterback under center, but fumbles are unacceptable.
South Carolina has picked off six passes in three games. The only way Shane Beamer's squad wins is by creating takeaways. If Kentucky takes care of the ball, they're leaving with a win.