A behind-the-scenes look at Shaedon Sharpe's decision to turn pro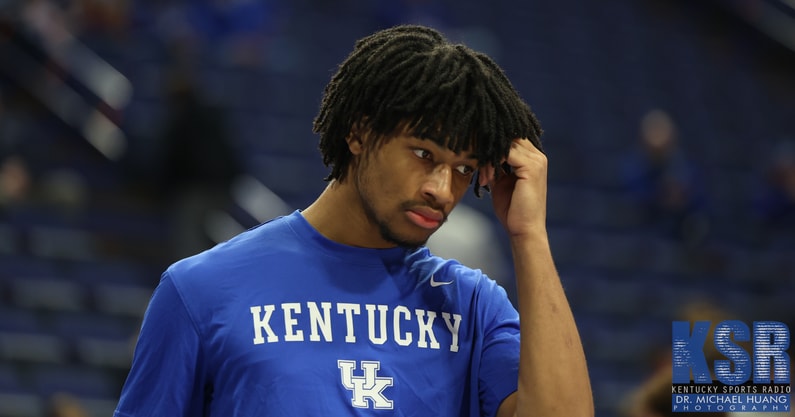 The Shaedon Sharpe rollercoaster began much earlier than his time in Lexington or even his commitment to Kentucky. He emerged as a potential five-star in the spring of 2021 before exploding up the rankings to No. 1 at the conclusion of Peach Jam. UK had already emerged as the clear favorite, and rumors of an August commitment spread like wildfire.
That created the first hiccup. Rather than getting his decision over with, he cut his list to 10 in late July, then five in early August before visiting both Arizona and Kentucky. In this span, reclassification buzz began to spread, with talk of a jump to the class of 2021 making its rounds in basketball circles. Instead, Sharpe opted to stick with 2022 for the time being, committing to Kentucky on September 7.
In early October, Sharpe's advisor Dwayne Washington told KSR the five-star guard was "definitely considering" a mid-year enrollment at Kentucky. Travis Branham of 247Sports first reported the possibility. Around this same time, speculation of Sharpe's high school eligibility as a fifth-year senior began to spread, tying together with his interest in a jump to college. The word was that the Dream City Christian standout would not be allowed to participate at GEICO Nationals and compete for a national championship, only allowed to play during the Grind Session regular season.
Washington claimed fifth-year rumors were inaccurate and that Sharpe had not yet graduated from high school. Instead, the standout guard simply wanted to take a step forward and challenge himself at the collegiate level.
"Do you see his development? You're trying to tell me if you're reading on a ninth-grade level, but you're in the second grade, would you want to stay in the second grade? That's what we're talking about," Washington told KSR in October. " … He didn't want to play a whole season because he realized he already played these guys. Been there, done that. You don't want to sound cocky, so what you want to do is say, 'I think I've had enough.' We've been mulling this over for a month. This is not some last-minute thing (to enroll early)."
If there were questions about his age and eligibility, why had he not graduated yet? That was Washington's argument.
"The kid hasn't even graduated yet," Washington said in October. "If he's that old, why wouldn't he have graduated? Why is he taking full loads his whole high school career and hasn't graduated yet? For what reason?"
Had other schools complained about Sharpe's age and eligibility, Washington pointed out that he would be older than the rest of the competition on the Grind Session. That wasn't the case, though. In reality, he was the same age, if not younger than other players at the same level.
"No, no. Shaedon is 18 years old. He would be on campus at 18," Washington said at the time. "…The truth of the matter is, these things have been happening with Canadian kids since Jamal Murray, since Shai Gilgeous-Alexander. This is only happening because he's No. 1. … Even if he was 12 years old, they'd say, 'Oh, well he's too young.' Just look at their records. All they have to do is just look at their records. It's easy to figure out. He played EYBL, he's younger than (Alabama signee) Brandon Miller, younger than all these guys. He's younger at the same age now than Jaden Hardy was last year and also what Chet (Holmgren) was. People need to figure out what story they're going to use. … That's just bologna."
Sharpe would play just a handful of games at Dream City Christian in October before officially ending his high school career. The five-star guard announced November 9 he would be enrolling early at Kentucky, adding that he would "100%" be returning to school in 2022-23 after redshirting the spring semester.
It was a decision Washington said was entirely Sharpe's camp to make, not Kentucky's. They called in October to make sure there was an available scholarship. If so, the five-star guard was coming early.
"No, they had nothing to do with it. Nothing to do with it," Washington told KSR. "They found out probably a day before you guys. I called and said, 'Do you guys have an extra scholarship just in case?' They almost had a heart attack, said, 'What? What's going on? We do, but keep us posted.' They had nothing to do with it. They were just recipients of the information."
The on-campus timeline and public quotes have been available for months — with a thorough breakdown on KSR available this afternoon. The plan was to sit out the remainder of the year, developing his body and game for the following season. If Sharpe was ready to help at any point, it was on John Calipari to make that call to play him. If not, he'll be ready for next year.
The turning point came when Sharpe was reported as eligible for the 2022 NBA Draft after previously being considered ineligible. ESPN's Jonathan Givony reported that Sharpe had sufficient credits to graduate prior to the start of the NBA season in October while also turning 19 the year of the NBA Draft. At the time, both Calipari and Washington said nothing changed regarding Sharpe's anticipated return for the following season.
"He plans on being here next year," Calipari said.
"He's not there to sit on the bench and wave at fans. He's coming back next year," Washington added. "If he doesn't play this year, he's coming back next year."
Taking a closer look, league rules state a player must be 19 years old the year of the draft — Sharpe qualifies — but also one year removed from high school by the start of the following NBA season in October. The five-star guard's previously reported graduation date was December of 2021. If Sharpe played in the Nike EYBL Peach Jam during the summer, then played high school games in October, how could he be eligible? Those questions remain, even after his newly-reported graduation date of May 2021. More on that later.
Calipari announced in early February that Sharpe would sit out the remainder of the season, ending all speculation about his playing status his first semester on campus. It didn't, however, end the speculation regarding his future in Lexington. Sharpe and his camp continued to stress that their plans remained unchanged, but pro interest continued to linger behind the scenes. Testing the draft waters was expected and encouraged, but Sharpe's camp continued to stress a return was likely. As the season came to a close, whispers of Sharpe searching for a top-10 guarantee grew louder, but NBA teams remained hesitant. Film on the 6-foot-6 guard was minimal and he was unable to showcase his complete bag of tricks during in-person viewings at the Joe Craft Center. There were also concerns with Sharpe's motor, with one NBA scout whose team is picking in the lottery telling KSR that was the only reason the elite three-level scorer wasn't viewed as a consensus top-five pick. He had everything physically, but would he be able to consistently impact winning?
His eligibility also remained in the air with the specifics of his high school graduation. Teams were fairly confident Sharpe's case would ultimately be approved if he tried, but it wasn't a guarantee. Something to keep in mind, at the very least.
When the season ended, the staff's skepticism quickly ramped up. The program continued to hear of Sharpe's intentions to return to Lexington, but caught wind from NBA teams that the five-star guard was serious about the draft. A prominent NBA scout told KSR that Sharpe's camp was in search of a top-10 guarantee and would only consider a return to Lexington if he fell outside that range. That same scout was convinced even a lottery guarantee could keep Sharpe in the draft.
Coaches privately told recruits and their families that Sharpe would likely test the draft waters, sources tell KSR, and ultimately go if he was deemed eligible. They were hopeful for a return, but realistic and began searching for contingency plans. Much of the hope banked on Kentucky's long-standing relationship with Washington dating back to the advisor's time working with Shai Gilgeous-Alexander, guiding him to Lexington several years back. That took a hit when word got back to the program that Washington had been focused almost entirely on Sharpe's status as a member of the 2022 NBA Draft class, never seriously considering a return to Kentucky.
Sharpe made the decision to test the draft waters over a week ago, pre-recording a video and writing out a statement expressing his intent to declare. He also planned to maintain his eligibility in the slim chance he decides to return to school. When word leaked regarding Sharpe's decision, the announcement was pushed back.
As questions regarding his status began ramping up, Washington refused to clarify any reports on Sharpe's decision one way or the other.
"We have no comment," Washington told KSR in a text Monday afternoon. "In none of these (reports) no one ever spoke to us. We will just let everyone run with their theories. It's crazy."
When asked if it was safe to assume a public announcement would be made by the early-entry deadline on April 24, Washington again denied comment.
"We don't need help," he added. "Don't trust any media. Telling me that is ridiculous actually. No one cares."
Late Wednesday evening, new chatter regarding Sharpe's draft status began circulating, all indicating he would ultimately be declared ineligible. The talk — discussed among numerous well-connected sources — was that Washington had filed to become an agent in hopes of signing Sharpe as a client, but was not approved.
An NBA source told KSR that Washington's push to become Sharpe's agent added unnecessary hurdles to the draft process, something that could have easily been avoided had he signed with a prominent, certified agency from the start. Now, the standout guard remains without an agent as the draft process begins. The same source confirmed that while legal representation is encouraged, it's not required and will not be a hold-up when testing the waters.
This overlapped with rumblings throughout league circles that there would be serious pushback on Sharpe's case — though not yet filed — as it was a direct violation of the league's Collective Bargaining Agreement as presented. Opposing agents with draft-eligible clients would see their stock affected by a new addition to the early-entry draft pool whose eligibility remained in question, opening up the door for potential grievances. Unexpected whispers, but they were there, and grew quite loud by the end of the night.
Come Thursday morning, Givony reported that Sharpe's high school documents revealed a May 2021 graduation — a new development for most in the basketball world. It was also a direct contradiction to Washington's own words back in October.
Shortly after, The Athletic and ESPN both reported Sharpe would enter the NBA Draft and keep his name in, ending his short time at Kentucky. The freshman guard later confirmed he would test the waters, but added that he would maintain his college eligibility. It was the same statement prepared over a week ago, with plenty of change taking place behind the scenes from then to now.
Among those changes? A growing frustration behind the scenes about how things unfolded from top to bottom. The worst-case scenario for the program unfolded, as Sharpe will leave Lexington without ever playing a single minute for the Wildcats.