Aamil Wagner impressed with Kentucky's offense after trip to Kroger Field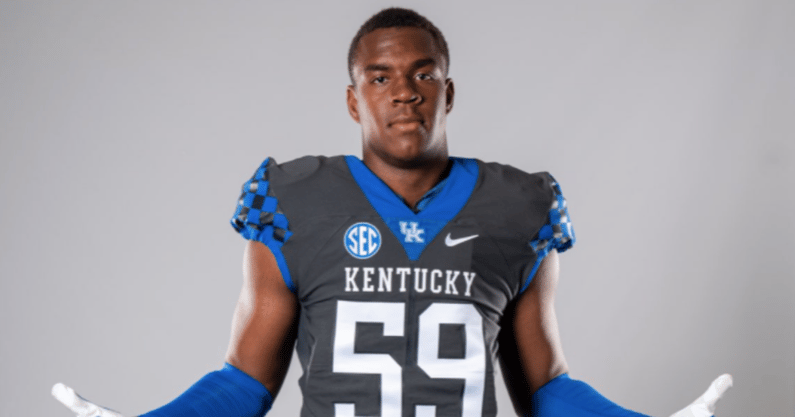 The future of the Big Blue Wall couldn't be in better shape. With offensive linemen Kiyaunta Goodwin, Grant Bingham, and Nikolas Hall already committed to Kentucky from the class of 2022, the core is there.
But what if they could add another premier offensive lineman? One ranked as a consensus top 150 player in the country?
Aamil Wagner, ranked by On3 as a four-star prospect and the No. 110 player in his class, is coming down the final stretch of his recruitment. His plan is to decide in January during the All-American Bowl, and he's taking game visits to his top five schools throughout the fall before making a final call.
As of right now, the 6-foot-6, 255-pound Wagner is down to Kentucky, Ohio State, Notre Dame, Penn State, and Maryland.
Kentucky hosted several important recruits (some committed, some not) over the weekend to watch the Wildcats whoop Louisiana-Monroe 45-10. It was the first time any fans or recruits were able to witness Liam Coen's new offense in person. All of them left impressed, especially Wagner.
"I thought the game visit was great," Wagner told KSR on Tuesday. "I've been to a lot of Kentucky games, I've been going there over the years. So I've gotten to experience a lot of home crowds big and small. I think the biggest surprise for me was how often they threw the ball. I remember last time at a Kentucky game, Lynn (Bowden) was at quarterback and they pretty much ran every play. So to see just how it changed in the offense and seeing them throw 30 passes in a game was just remarkable. So I was excited to be down there and just get to experience that."
As he mentioned, Wagner has been to Kentucky before–multiple times, actually. Kentucky's associate head coach Vince Marrow initially offered Wagner when he was in eighth grade, his first from a Divison I program.
At the time, Marrow was mainly recruiting Wagner's older brother, Ahmad Wagner, who went on to spend two seasons playing wide receiver at Kentucky later in his college career. Marrow hasn't stopped recruiting the younger Wagner ever since.
"Coach Marrow has been in contact with me since eighth grade," Wagner said. "He recruited my brother his senior year of high school when he decided to play football and then after he made the decision to come back three years later and come play football again he also recruited my brother. So I've known him for as long as I can remember in terms of knowing college coaches. And I think as I came of age to be recruited by, he was one of my main people always me calling, texting me, checking up on me."
Ahmad Wagner played three seasons of basketball at Iowa before switching sports and playing football as a Wildcat.
Marrow is keen on establishing relationships early and he picked a good one in Wagner. The recruiting specialist did the same thing with Kiyaunta Goodwin, first making contact with him in the eighth grade as well. That early effort paid off then, too, and Marrow is surely hoping it will once again.
Both Wagner and Goodwin were pictured together during the game on Saturday, chatting it up in between deep throws from quarterback Will Levis.
"(We) kinda met through recruiting really," Wagner said about his relationship with Goodwin. "I think I've met a lot of people around the recruiting circuit so he's one of them. I think when he committed to Kentucky he was one of the first people to text me and try to get me on board. Kinda just say that we got one of the best o-lines in the state with me, Grant (Bingham), and Kiyaunta all together."
There's no arguing that Wagner committing to Kentucky would form the most talented offensive line class in the Mark Stoops era, if not the entire history of the program. Goodwin is a top 20 player, Bingham is a four-star, and Nikolas Hall is a three-star with Kentucky pedigree. Adding Wagner into the mix would be some heavy icing on the cake.
That being said, Kentucky had to revamp its offense in order to convince those commits that Lexington was the place to be. Wagner wanted to make sure he saw the new offense in person, and he sure got a heavy dose of it. Kentucky threw for 419 yards and rushed for 135 more in the win over ULM.
"As a tackle especially I need to be able to display my pass-blocking abilities and run-blocking abilities," Wagner added. "So getting a chance to see that Kentucky is not just one-dimensional as they might have been in the past and being able to actually (throw) 31, 30 passes, was really a good sight to see."
Kentucky has been trending for Wagner over the last couple of weeks, and that train picked up even more steam after his game visit on Saturday. It was clearly an important trip, but not the deciding factor in his recruitment. Wagner plans to take more game visits to various schools this fall.
Wagner told KSR that he'll be in Columbus this weekend for Ohio State's top 15 matchup against Oregon. After that, he'll head to Penn State to watch the Nittany Lions take on a ranked Auburn squad the following weekend. Wagner also hopes to see a Notre Dame game this fall, too, either against North Carolina or Southern California, while potentially setting up a trip to visit Maryland for a game.
There is also the possibility he comes back to Kentucky for a second game visit this season. Wagner hinted at either the LSU or Florida home games in early October as possible visits.
If you think that's good news for Kentucky, consider the fact that Wagner also said he isn't ruling out making an early decision, ahead of his predetermined January timeline.
"As of right now I will be announcing at the All-American Bowl in January," Wagner added. "But I said multiple times that if I feel comfortable enough to make a decision with a school that I will. It could be early on, it could be later. But I just got to figure out what's best for me."
Kentucky is going up against some juggernauts programs in Ohio State, Notre Dame, and Penn State. But the staff managed to pull Goodwin away from Ohio State and Bingham away from Notre Dame, so there is no reason to believe they can't do it again.
With his long-standing connections to Kentucky through his older brother and Coach Marrow, Wagner has already been to Lexington several times over the years. He wants to take these upcoming game visits to other schools mostly because he wasn't able to as a junior last season due to COVID-19. Wagner is being diligent and covering all his bases.
There is another minor Kentucky connection to Wagner, too: his offensive line coach at Wayne High School, who was once a player at Youngstown State under Kentucky's current offensive line coach, Eric Wolford.
Wagner wears the same jersey as his high school offensive line coach, and credits him as the reason he switched from playing wide receiver to the offensive line. Once he gave Wagner the stamp of approval on Wolford, that was all Wagner needed to hear.
"Coming into my visit and when he (Wolford) took the job, the first day he took the job actually, my coach texted me and said there's a good guy at Kentucky now, he's a really good guy," Wagner said. "So I already had a good impression of him and everything was just confirmed when I got to meet him in person."
Wagner could still be a few months out from making his decision, but Kentucky is an excellent spot to add to the future of the Big Blue Wall.