UK Football recruits visit Kroger Field for big win over ULM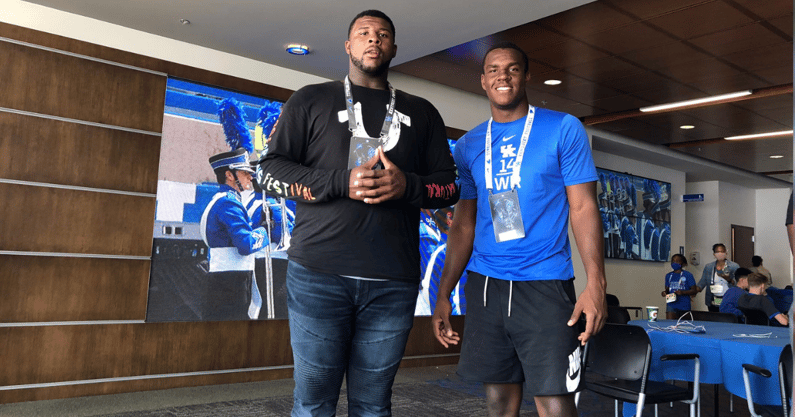 Kentucky Football put on a show for a group of important four-star recruits in the 45-10 blowout over Lousiana-Monroe on Saturday afternoon at Kroger Field
Three current commits and two still undecideds were in Lexington to watch the Wildcats throw for over 400 yards, rush for 135 yards, and hold the Warhawks to just 87 total yards on offense. Nick Roush introduced them ahead of the game on Friday, but now it's time to see what they were up to.
Future Kentucky players from the class of 2022, Kiyaunta Goodwin and Grant Bingham, along with 2023 commit Ty Bryant, were at Kroger Field on Saturday. Two players the UK coaching staff are hopeful to add in the future, four-stars Dane Key and Aamil Wagner, also made the visit.
From the looks of it, everyone had a good time watching the 'Cats win in impressive fashion.
Kiyaunta Goodwin and Aamil Wagner
Goodwin and Wagner, both pictured below, are two of the top offensive tackles in the class. Goodwin, a top 20-player in the country according to On3, has been solid with Kentucky ever since committing back in April. He's still expected to take visits to other power programs this fall, but UK remains in good shape.
Wagner is another four-star prospect ranked by On3 as the no. 110 player in his class. Kentucky is in a battle with Ohio State and Notre Dame for the Ohio product.
Dane Key and Ty Bryant
Key, a four-star wide receiver from Frederick Douglass High School right down the road in Lexington, is at the very top of the Wildcats' Big Board. Like Wagner, he's also uncommitted, and UK is fighting against schools such as Oregon and South Carolina for his services. That being said, e's Kentucky's to lose at this point.
For someone as talented as Key, it would be in his best interest to play on a team that can highlight his abilities. The Kentucky of old, admittedly, didn't check those boxes. But after watching two receivers haul in 125-plus yards each and a third rake in 83, Key had to leave Kroger Field impressed with Liam Coen's product.
Speaking of Coen, Key and Kentucky's new offensive coordinator were caught embracing each other with a hug on the SEC Network broadcast.
Key was also spotted by reporter Larry Vaught walking into the stadium accompanied by his Frederick Douglass teammate and recent Kentucky commit, Ty Bryant.
Bryant is a three-star from the class of 2023 who plans to play defensive back at UK.
Not a bad day to debut the new version of Kentucky Football…