Dakota Patterson, a 4-star WR from Corbin, visiting for UK-Mizzou game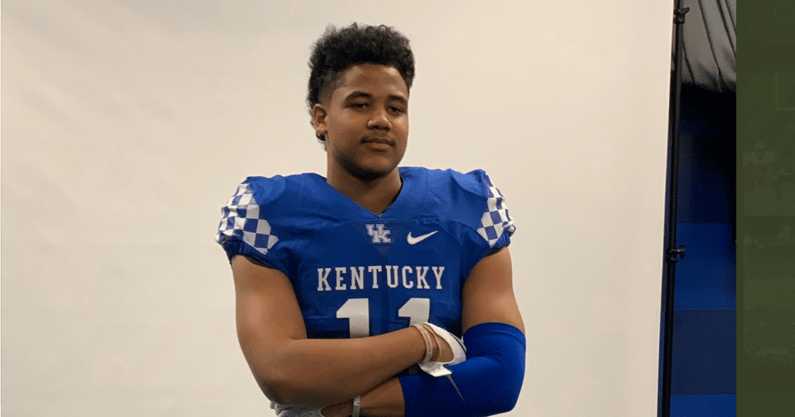 The Kentucky-Missouri matchup scheduled for next Saturday is going to be an important one on the field, but also in the stands. Corbin's Dakota Patterson, arguably the best player in the Bluegrass State from the class of 2023, will be there to hopefully witness a Wildcats win.
Patterson tweeted out on Wednesday, the first day that college coaches are allowed to make contact with high school juniors, that he will be in Lexington on Saturday, Sept. 11. Kentucky will face the Missouri Tigers that night at 7:30 p.m. EST on the SEC Network.
High school teammates with current Kentucky commit, class of 2022 ATH Treyveon Longmire, the 6-foot-1 Dakota Patterson has been on the Wildcats' radar for years. He initially received his scholarship offer from associate head coach Vince Marrow all the way back in Oct. 2019, his very first from a Divison I program. He later visited Lexington in Jan. 2020.
Since then, Patterson has hauled in offers from the likes of West Virginia, Tennessee, Purdue, Pittsburgh, Wisconsin, Virginia, and Memphis. 247 Sports has him tabbed as a four-star recruit and the second-best high school junior from the state of Kentucky.
Listed as an athlete by most recruiting services, Patterson mainly suits up at wide receiver. He also competes in two sports in addition to football: basketball and track. Through two games with Corbin in 2021, Patterson has caught 10 passes for 108 yards in a pair of wins.
Once Patterson completes his visit to Lexington, he'll then turn around and head to West Virginia the next weekend for the Mountaineers matchup against Virginia Tech at noon EST.