Kentucky cracks the top 5 for five-star '23 PF Ron Holland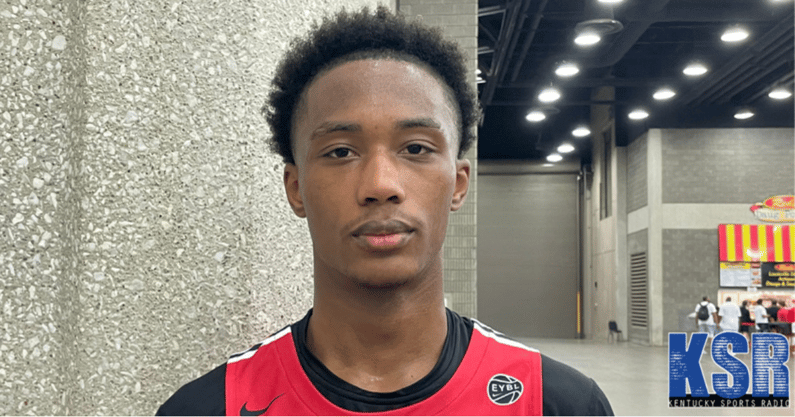 Five-star 2023 power forward Ron Holland is down to just five potential options for the next stage of his basketball career.
On Sunday night, the 6-foot-8, 195-pound Duncanville (TX) product announced that he is considering Kentucky, Texas, UCLA, Arkansas, and the NBA's G League Ignite. Holland was in Lexington for an official visit earlier this week, where he earned a scholarship from UK head coach John Calipari.
"I just left a visit from the University of Kentucky, coach (John) Calipari and them," Holland told On3's Joe Tipton. "Great program, with a resume of getting guys to the league and he lets his dudes rock out so that's why I like them and why I'm strongly considering them."
Back on May 8, Holland trimmed his list down to eight options but has since removed Houston, Auburn, and Texas. In addition to his Kentucky visit, he's been on OVs this year to Arkansas (June 9) and UCLA (May 13). Texas expects to get a visit in August, according to Tipton. The G League has always loomed as a darkhorse factor, too.
Holland, who is considered the No. 5 overall rising senior per the On3 Consensus, previously told KSR that Kentucky was a school he's always been a fan of and was hoping to receive a scholarship from the program.
"I've always liked Kentucky growing up," Holland told KSR at EYBL Session II in Indianapolis. "It was one of the schools I really looked out for. Their level of communication, they text me before games, tell me what I'm getting better at and ask me what I'm working on, which I like because he wants to know how I am as a person."
Between EYBL Session II and Session III, an official visit got scheduled to Kentucky, one he said he had high expectations for.
"I'm looking for a lot. I'm looking for the vibes around there, the facilities," Holland told KSR prior to his visit. "I ain't ever been there. I feel like there's a whole lot I can look into. … Me and Coach Chin (Coleman), we're building a great relationship, he wanted to get me out there. I feel like he sees a lot in me. He wants me over there. He feels like he can help me reach my goals. What more can you want in a program?"
With an offer in hand and Kentucky in his top five, he must've found at least some of what he was looking for. We'll just have to wait on a final decision to see if he found everything.