Kentucky football ranked No. 7 in AP Poll for first time since 1977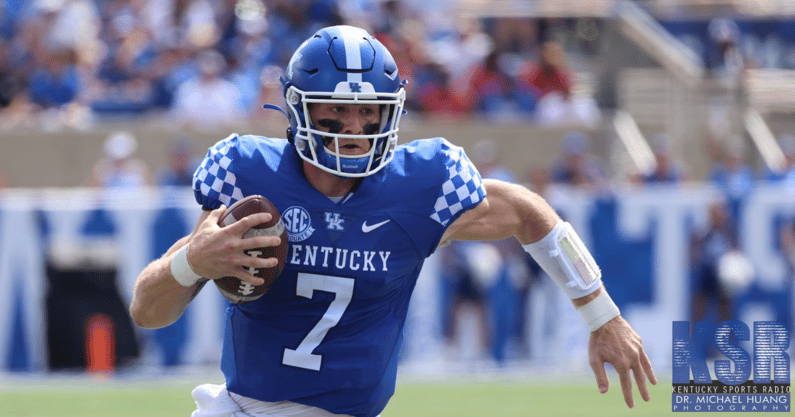 With a 4-0 record to start the 2022 season, Kentucky football is partying like it's 1977.
On Sunday afternoon the Associated Press released its Week 5 college football Top 25 rankings. Kentucky landed at No. 7 in the country, the program's highest ranking since head coach Fran Curci did it for the Wildcats six consecutive times during the 1977 season. UK ended that year ranked No. 6 by the AP Poll.
Kentucky came in at No. 8 in the updated Coaches Poll that was also released on Sunday.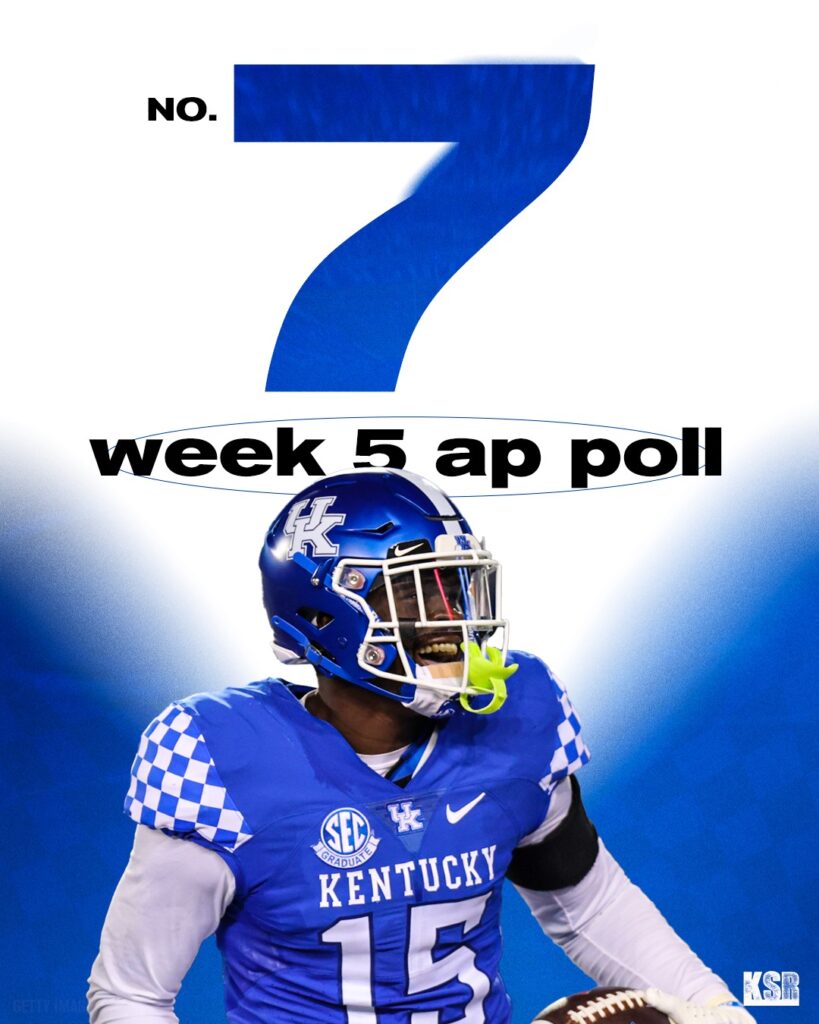 Kentucky's No. 7 ranking is a one-spot rise from last week's poll. UK is coming off a 31-23 win over Northern Illinois on Saturday that was much closer than expected, but thanks to a loss by previously No. 6 ranked Oklahoma, the 'Cats were able to make a little bit of history in the rankings despite some issues against the Huskies.
Across the Southeastern Conference, Georgia and Alabama continue to hold down the top two spots respectively. Kentucky is the third-highest ranked SEC program at No. 7 followed by Tennessee at No. 8. The Wildcats' opponent for next week, Ole Miss, moved up two spots to No. 14. Texas A&M (No. 17) and Arkansas (No. 20) round out the SEC's AP Top 25 schools.
Check out the entire AP Poll Top 25 below.
Week 5 AP Poll
Georgia
Alabama
Ohio State
Michigan
Clemson
Southern California (+1)
Kentucky (+1)
Tennessee (+3)
Oklahoma State
NC State (+2)
Penn State (+3)
Utah (+1)
Oregon (+2)
Ole Miss (+2)
Washington (+3)
Baylor (+1)
Texas A&M (+6)
Oklahoma (-12)
Brigham Young
Arkansas (-10)
Minnesota
Wake Forest (-1)
Florida State
Pittsburgh
Kansas State
Others Receiving Votes
Kansas 125; Cincinnati 60; Florida 56; Washington State 31; Syracuse 22; Oregon State 16; Texas Tech 11; North Carolina 9; LSU 7; UCLA 3; Tulane 3; TCU 1