Kentucky PFF grades and snap counts versus Akron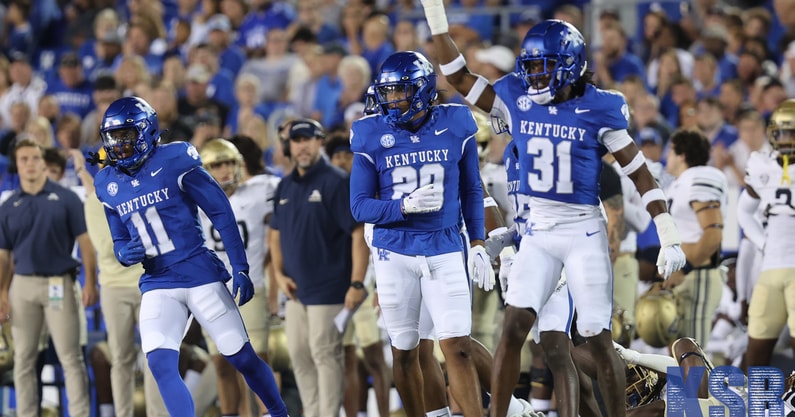 We've seen multiple breakdowns of Kentucky's 35-3 victory over Akron on Saturday night. From a look at the explosive plays to tight end utilization to the lack of affinity for the run game, the KSR staff has been busy bringing you all the takes. It's now time to defer to the national analytics guys and let us know what we missed.
If this is your first time looking at PFF grades, the folks over at Pro Football Focus use advanced metrics to assign individual scores to each player's performance on a scale of 1-100. For reference, 60 indicates an average game, anything above 80 is a very good game, and a number in the 40s or below means it wasn't that player's best outing.
What is good about these grades is that they go beyond standard box score statistics and break down every aspect of every play of the game.
Defense
Brad White's bend-but-don't-break Kentucky defense was on full display against Akron. Despite a few drives they might wish they had back, they did not allow a touchdown all game. Maxwell Hairston had a huge game, making several big plays, and the analytics backed up that basic observation. He finished second on the defense in PFF grades with a score of 86.8.
Reserve lineman, Josaih Hayes, led all defensive players in individual grades with a 90.5 despite only seeing the field for 15 snaps. He also only had one tackle, so this is one of those issues where you kind of have to just trust the math.
On the opposite end of the spectrum, it is a little surprising to see that Trevin Wallace only had a score of 48.7, however, a closer look showed he had a solid game with regards to tackling and pass rushing, with grades of 79 and 77.1 in those subcategories, respectively.
Kentucky Defensive PFF Grades and Snap Counts versus Akron
Defense
Player
Pos
Snaps
Grade
Josaih Hayes
DL
15
90.5
Maxwell Hairston
CB
25
86.8
Daveren Rayner
LB
14
83.9
Jonquis Hardaway
CB
20
82.9
Keeshawn Silver
DE
15
78.3
Tre'vonn Rybka
DL
28
77
Jordan Robinson
CB
25
73.6
Andru Phillips
CB
50
72.7
Jantzen Dunn
CB
13
71.1
Deone Walker
DT
37
68.2
Kahlil Saunders
LB
19
68.1
Jalen Geiger
S
32
66.9
Tyreese Fearby
LB
21
66.3
D'Eryk Jackson
LB
40
64.7
Zion Childress
S
38
64.6
Martez Thrower
LB
18
61.8
Alex Afari
CB
32
61.6
Jordan Lovett
S
35
61
Darrion Henry-Young
DT
16
61
JJ Weaver
LB
37
55.8
Keaton Wade
LB
19
54.9
Jamarius Dinkis
DT
27
53.7
Octavious Oxendine
DE
17
52.5
Trevin Wallace
LB
39
48.7
Noah Matthews
LB
29
38.1
Offense
Forget the mistakes, the premium stat gatherers continue to grade Devin Leary's performances well. Kentucky's QB1 finished the game with a PFF score of 82.6, third-best among offensive players. It was Tayvion Robinson, similar to last week against Eastern Kentucky, who led all starters in grades with a score of 83.3.
Demie Sumo-Karngbaye wasn't on the field much, but made the most of his nine snaps, having a great game by advanced analytics standards, leading all offensive players with a grade of 90.2.
At the bottom of the list, it isn't a surprise to see Jager Burton's overall grade low after sending two snaps over Leary's head, however, it is important to point out that he had a great pass-blocking score of 85.4.
Kentucky Offensive PFF Grades and Snap Counts versus Akron
Offense
Player
Pos
Snaps
Grade
Demie Sumo-Karngbaye
RB
9
90.2
Tayvion Robinson
WR
30
83.3
Devin Leary
QB
45
82.6
Ray Davis
RB
36
77.2
Anthony Brown-Stephens
WR
11
74.7
Jeremy Flax
T
30
72.6
JuTahn McClain
RB
6
72.2
Dylan Ray
G
50
72.1
Josh Kattus
TE
23
70
Jordan Dingle
TE
20
69.2
Khamari Anderson
TE
6
66.9
Marques Cox
T
46
66
Ramon Jefferson
RB
5
64.6
Eli Cox
G
46
64.5
Barion Brown
WR
31
64.4
Courtland Ford
T
20
61.4
Brenden Bates
TE
14
52.3
Izayah Cummings
TE
12
49.1
Dane Key
WR
39
47.3
Jager Burton
C
50
45
Discuss This Article
Comments have moved.
Join the conversation and talk about this article and all things Kentucky Sports in the new KSR Message Board.
KSBoard