Four positions Kentucky could still address in transfer portal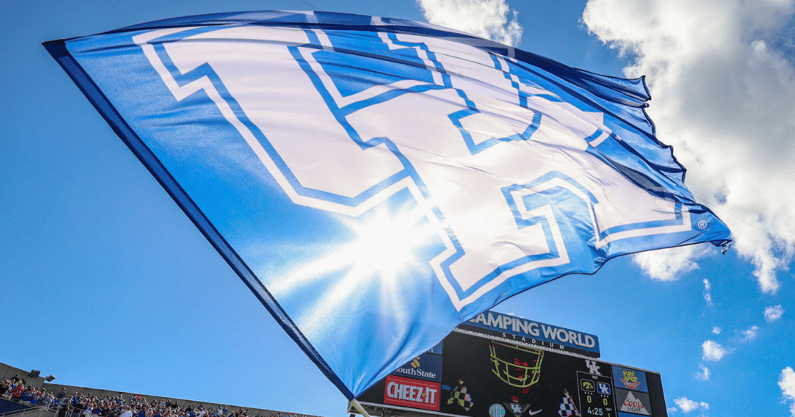 The first transfer portal window of the offseason opened on Dec. 5, and we saw Kentucky's coaching staff quickly go to work. UK signed six transfers, and each will begin classes on Monday. However, the Wildcats are not yet done working the portal.
The current window is open for two more weeks before closing officially on Jan. 18. We're starting to see some heavier volume after things calmed down. Unfortunately, that volume hit Kentucky on Tuesday when starting nose tackle Justin Rogers entered the transfer portal.
Kentucky's coaching staff is still looking to make some additions to the roster as the Wildcats seem to have five available scholarships to use following the departure of Rogers. There are still some needs that this football program needs to address.
There are two weeks left in the current window and then another two-week window in May. Kentucky must work quickly and efficiently on its final roster additions. Let's dive into the four biggest positions of need as an important two weeks stretch arrives.
Backup QB
Kentucky addressed its biggest roster need by beating out Hugh Freeze and Auburn for NC State transfer Devin Leary. The former four-star recruit from New Jersey will be QB1 in Lexington this fall spending his super senior season in the SEC.
Leary addresses a major need, but this will be a one-and-done experiment. Kentucky still finds itself with an iffy backup quarterback situation and will likely need to go into the transfer portal again next year to find a starter. Kentucky could choose to start a succession plan right now.
Going into the portal and finding a backup quarterback with multiple years of eligibility could be an option for Kentucky. There is an avenue to be QB1 in Lexington in 2024 and with the return of Liam Coen, there is some buzz for the program to sell about what the future might look like.
In this cycle, we saw Wisconsin add SMU transfer Tanner Mordecai and Oklahoma transfer Nick Evers. The former is a super senior who will run the offense in 2023, and the latter is a former blue-chip recruit that will be a redshirt freshman with four years of eligibility remaining. That could be something Kentucky is looking for.
Brady Allen (Purdue) and Jay Butterfield (Oregon) appear to fit the mold of former blue-chip recruits with multiple years of eligibility looking for a new home. However, since neither has played to this point in college, their options could be limited. Kentucky could offer a chance to play in the SEC for an NFL offensive coordinator with a shot at being a starter in 2024.
Or Kentucky could look at the Group of Five level and add a player such as Brett Gabbert (Miami, Ohio) who has two years of eligibility remaining. In that instance, Kentucky could sell a year to learn the offense and then a chance to be the starter in 2024.
Currently, the Wildcats have four scholarship quarterbacks with both Kaiya Sheron and Destin Wade owning one career start under their belt. This position is in better shape, but the Cats could use a transfer to bolster the room after missing out on the position in the class of 2023.
Right tackle
QB was very important to address in the transfer portal, but so was the offensive line. You could easily make the case that Kentucky had the worst offensive line in the Power Five last season, and drastic changes were needed to this group in the offseason.
Kentucky is hopeful that Kenneth Horsey will return for a super senior season and slide back inside to left guard. Northern Illinois transfer Marques Cox was added to play left tackle. Alabama transfer Tanner Bowles is returning to his home state and will likely compete for a starting spot with Jager Burton at right guard as long as Horsey stays.
Kentucky feels good about Eli Cox at center. That only leaves right tackle. Jeremy Flax is returning next year, but the former junior college transfer struggled in 2022. Kentucky needs to add depth at the position and could add someone to compete with Flax for a starting spot.
The Cats were in on Savion Washington (Kent State) before he committed to Colorado. Don't be surprised if another name or two emerges soon as Kentucky could use a third transfer to add to the Big Blue Wall.
Interior defensive line
Following the transfer of Justin Rogers, Kentucky is left with nine scholarship players to play at the three defensive line spots. There is depth as both Josaih Hayes and Jamarius Dinkins have played snaps in SEC games, but after those two, there is not another option at nose tackle.
Expect Kentucky to attempt and address this in the transfer portal.
Keeshawn Silver (North Carolina) and Davon Sears (Texas State) could be some names to keep an eye on. Kentucky is in overall good shape as every player in Anwar Stewart's position room has multiple years of eligibility remaining but the Cats could use another capable player at nose tackle.
Kicker
Matt Ruffolo is moving on after serving as Kentucky's starting placekicker since 2020, but Kentucky does not have a clear option behind him. Chance Poore could return for a super senior season in 2022, and Jackson Smith will be a redshirt freshman. Each will be on scholarship.
Going into the transfer portal and signing a proven kicker would make a lot of sense.
Cole Becker (Colorado) just entered the transfer portal after going 25 of 33 on field goals over the last two years in the Pac-12. New special teams coordinator Jay Boulware's first big decision could be on whether to get a kicker from the transfer portal or roll with a current player on the Kentucky roster.