Kentucky's done flying under the radar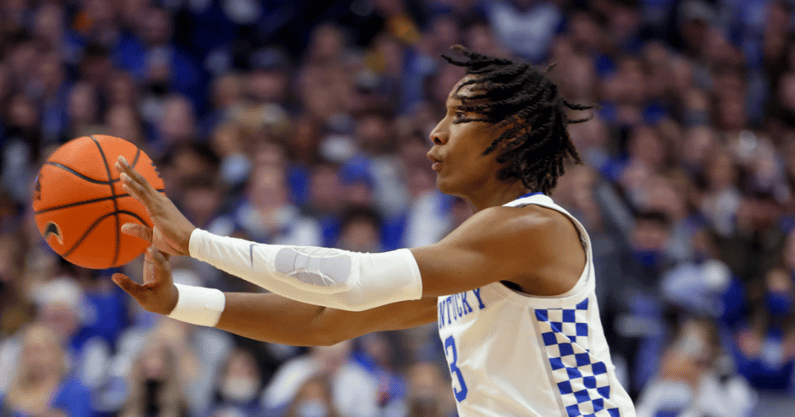 For two and a half months, John Calipari's Kentucky Wildcats were an afterthought in college basketball. That sentence may sound like an oxymoron, but it's true: since losing to Duke on opening night — and failing to beat anyone of consequence in the ensuing weeks — UK basketball has existed on the fringes of the national conversation; good, sure, but not good enough.
It was a perfectly understandable misconception. By virtue of a few odd scheduling quirks (Ohio State pulling out of the CBS Classic, Louisville contracting the heebie-jeebies) and unfortunate injury luck (Sahvir Wheeler and TyTy Washington getting sniped down in Baton Rouge), the fully-realized team we blue-hairs had grown to love never got the chance to prove its mettle to a national audience.
On Saturday, that changed. By stomping Tennessee so thoroughly on primetime ESPN, the 'Cats firmly reinserted themselves into the Final Four contender conversation. There's no going back now — but what does this mean going forward?
TyTy Washington finally makes his star turn
Perhaps the biggest disappointment of Kentucky's early stumbles was freshman TyTy Washington's inability to show out in big moments. That's not to say that he wasn't clutch, or that he failed to live up to the hype in any way; he scored double-figures in seven of his first eight games. If anything, it was a factor of him being among the youngest players on the team (pre-Shaedon Sharpe, anyway) and the associated inexperience rearing its head at the worst times.
Regardless, there's no denying that the basketball bennies of the world were sleeping on Washington. He had his four worst games of the season at the four biggest moments (vs. Duke, at Notre Dame, vs. UNC and @ LSU), albeit with the latter due mostly to ill-timed cramps. When Kentucky played well, Oscar Tshiebwe deservingly scooped up all the headlines, leaving TyTy to quietly build his craft outside the spotlight.
However, in the last three games, Washington has truly ascended. Since breaking John Wall's single-game assists record against Georgia, the freshman guard is averaging 20 points, 8.7 assists and 2.0 steals per game while shooting a beastly 65% from the field — 43% from beyond the arc and 70% inside it. He's scored and dished at will in the paint, highlighted by Saturday's career-best 28-point performance where he made 10 of 13 shots.
Is this kind of shooting unsustainable? Probably. But the point is, Washington has established himself alongside Tshiebwe as that dude on this Kentucky team, and his national profile is rising along with his team's.
Another kind of dominance
As CBS Sports' Matt Norlander observed Wednesday night, Kentucky has been winning games by an unprecedented margin this year. Every one of UK's 14 wins this season have come by double-digits, leading to a remarkable 26.6 point average margin of victory. Norlander pointed to that stat as an indication of the 'Cats better-than-you-think status in college basketball, which was backed up by the numbers even before the Tennessee game.
Now, the cat's out of the bag. Kentucky is done flying under the radar. And if they keep playing like this, they may obliterate the radar altogether.
Granted, the wins aren't the only games that count. As much as we'd like to forget that Notre Dame loss, it's still going to count come Selection Sunday; and given the strength of the SEC this year, there's no doubt the 'Cats will drop another game or two (or three, or four) before that day comes. At Auburn next weekend will be their biggest test yet, and they could even lose on Wednesday, traveling to College Station to face a 15-2 A&M team that's riding an eight-game win streak.
But even if they do, it won't change this fact: Kentucky is good enough to win it all, and the nation knows it. You wanted respect? Now you got it. Things are about to get real, and I for one cannot wait to watch it.