Kentucky's rotation will continue to be a game-by-game decision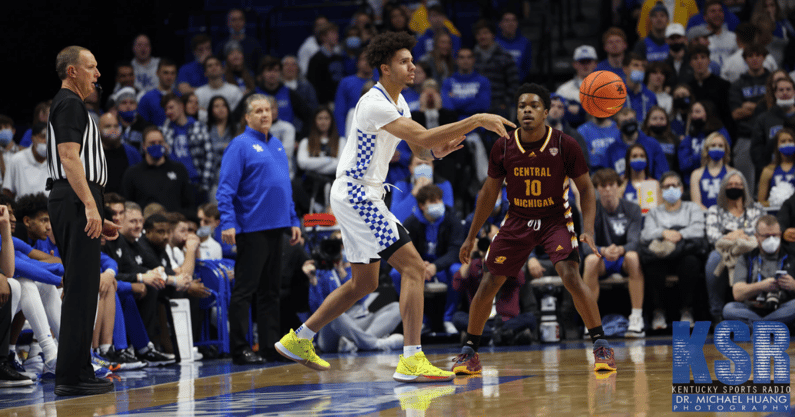 Minor injuries and locker room illnesses have prevented Kentucky Men's Basketball from playing with a full roster this season. Keion Brooks Jr., Davion Mintz, Jacob Toppin, and Lance Ware have all missed time early on with various ailments. Even freshman Bryce Hopkins continues to deal with a nagging back injury. Toppin and Ware are still not yet back to 100 percent strength, either. This is all without mentioning CJ Fredrick's season-ending surgery.
While core starters such as Oscar Tshiebwe, Sahvir Wheeler, TyTy Washington, and Kellan Grady have been lucky enough to play and start all seven games thus far, the absence of the others has made chemistry building a bit more difficult. During Kentucky's blowout win over Central Michigan on Monday night, head coach John Calipari had all nine rotational players clock at least 13 minutes of action.
As UK gets closer and closer to facing more high-caliber opponents, don't expect the spreading of minutes to change all that much.
"I think it's gonna be game-to-game, and guys are gonna have to accept that," Calipari said of the rotation moving forward after the win over CMU. "Someone's playing well I'm gonna play them a lot of minutes. You're not quite ready and you're not quite into it that's fine, still love you, I'll have you at the house, I'll make you breakfast, but you're just not playing a whole lot tonight. It's just what it may be."
The typical starting five of Wheeler, Washington, Grady, Brooks, and Tshiebwe feels cemented for at least the immediate future. But it's the next two to three spots that have five players all competing for the same minutes. Someone is going to get the short end of the stick on a nightly basis as the season progresses.
But as Calipari later pointed out, all of these off-court obstacles have presented ample opportunities for the reserves that wouldn't normally be there. Dontaie Allen is filling in for lost Mintz minutes while Hopkins and Collins have been doing the same for Ware and Toppin. For now, they'll continue to provide spot playing time–unless they can make a more significant impact.
"Now if guys keep separating–here's a good thing about all the injuries and sickness," Calipari added. "Who got a good chance to play a bunch? Dontaie (Allen) got his chance to play a whole lot. Bryce (Hopkins) got a chance to play a whole lot. Daimion (Collins) got a chance to play a whole lot. You have your chance now get in there and do it."
Allen played the most minutes of the three on Monday, finishing with nine points and six rebounds in 19 minutes. It was tied for the most minutes he's seen all season, to which he shot just 3-11 overall and 1-7 from distance. But the effort on defense was there, which led to the extended action. The more time Mintz misses, the more Allen will be able to approach the 20-minute mark on a regular basis.
Hopkins and Collins are still working through freshmen mistakes, but they're getting opportunities. At this stage, that's what is best for their development. But the schedule will heat up quickly starting next weekend. Three games in a row against Notre Dame, Ohio State, and Louisville will provide all of the challenges that Kentucky needs at this point in the season.
Whether Calipari admits it or not, by the end of December, we should get a much clearer idea of what the actual rotation this season will look like moving forward. Injuries and illnesses will keep it game-to-game for now, but eventually, the tightening will have to come eventually.